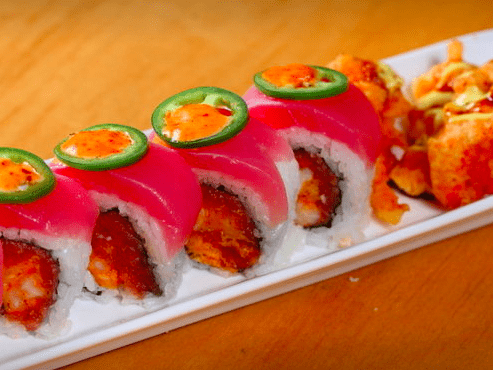 Dining
Best Sushi in San Diego: RB Sushi
By
|
San Diego is a place filled with endless restaurants, and a variety of new food to try. RB Sushi is the perfect place to go for fresh sushi and delicious drink specials. With three different locations in Hillcrest, Rancho Bernardo, and El Cajon, you can always get your sushi craving fulfilled with numerous options. Known as one of the best sushi places in town, RB Sushi is the perfect place to relax, enjoy a cocktail, all while embracing a laid back environment.
Every day throughout the week, you can be a part of the all-you-can-eat sushi experience, as long as you are seated at least 1 hour before closing. This special option includes hand rolls and other unique items from the kitchen. Bring your friends in after a long day at work or school, and enjoy the copious amounts of sushi and conversation in this upbeat environment. You can also enjoy the 50% off tap beer special, Mondays through Thursdays.
San Diego local Patty Sampson says, "I come religiously to RB San Diego in Hillcrest, it's the perfect way for me and my girlfriends to catch up after a long work day. It's kind of our way of making sure we all see each other at least once a week, and the environment is the perfect place to catch up at. My favorite is the 50% off tap beer deal!" Along with the drink specials and the endless sushi options, you can indulge on the daily lunch specials. The lunch specials start at 11:30 and end at 3:00 pm, and you can order your sushi online as well.
The newest feature is the delivery services available at the Hillcrest location, along with both other locations. With no extra charge for delivery, you can finally have sushi delivered right to your door. You can order online when you go to the website home page and click on "order online", and create the perfect night in complete with your sushi take out while staying comfy in your favorite sweats. You can also check out the Facebook page for the new promo codes for delivery service each month.
Another local Hannah Gaines says, "I just moved to San Diego after college, and my new co-workers and I always go to RB Sushi on Friday's after work to celebrate. It's the perfect place to interact with friends and co-workers, and gives me something to look forward every week. I'm definitely adapting to the San Diego culture!" This place has a delicious menu along with an environment that allows its guests to always feel at home. The casual environment creates a comfortable place for catching up with old friends, or celebrating a week well done with your co-workers.
Step outside your comfort zone and try something new, at one of the most successful sushi places in town. Whether you want a quick beer, or are planning on indulging in the endless sushi option, RB Sushi is the perfect place to visit for an occasion you might be planning.