Dining
Best Sandwich Spots In San Diego
By
|
If you're staring at the bland turkey and cheese sandwich you packed yourself for lunch today, then you might want to check out these sandwich places for tomorrow's lunch. There's nothing like a good sandwich, and San Diego has some top notch choices to make your lunch or dinner date so much better.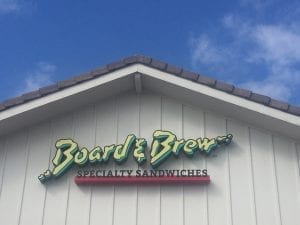 In tune with beach and palm tree vibes of southern California, Board & Brew is an awesome sandwich shop centered around surf culture and easy living. With locations in Carlsbad, Del Mar, Scripps Ranch, and Del Sur, Board & Brew offers up some of the best sandwiches on the planet. This sandwich shop is all about offering customers fresh sandwiches with natural wholesome ingredients, as well as having an ever-revolving list of craft beer available. I mean, we are in San Diego, and what goes better with a sandwich than an ice cold craft brew? If you ask anyone who's been there what's so great about, they're bound to rave about the secret sauce that comes with every sandwich. You could put that sauce on literally anything on the menu, and it would still taste delicious. Some of the star sandwiches offered on the menu include the Turkado, which is a turkey breast and jack cheese sandwich smothered with avocado on sourdough bread. My personal favorite, the Baja Chicken, is straight from the grill, and includes melted jack cheese and jalapeño peppers for that extra kick. If this all sounds good to you, check out their menu and a list of their locations on their website.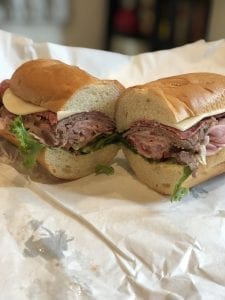 If you're looking for that wholesome deli sandwich experience, then look no further than Tina's Deli, located on Twin Oaks Valley Road in San Marcos. A local favorite for college students within the area, Tina's Deli has been serving up sandwiches to hungry customers since 1995, and continues to be an excellent place to get a sandwich. The sandwiches here are known to be huge and generously topped with mounds of meat and toppings. A few well-liked sandwiches, or "Tina's Favorites" include the San Marcos Stack, with roast beef. ham, salami, provolone, pepperoncini, italian dressing, and topped off with what's called "The Works". The sandwiches at Tina's Deli are well priced, averaging around $8, and they sell a wide range of kettle cooked chips that go perfectly with any choice. Tina's Deli also offers several beers on tap, including Lost Abbey and Stone Brewing. For more information on their menu, check out their website.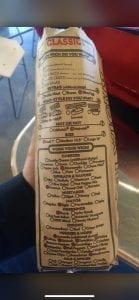 If you're one for being the ultimate master of what goes on your creation of a sandwich, then check out Which Wich. With locations all over San Diego, Which Wich allows you to create your sandwich entirely from scratch, all the way down to the bread. When you go in, you get a sandwich bag with a ton of different options, and you simply check off what you want, then hand it to the employee behind the counter, and they'll get to work crafting your masterpiece of a sandwich, with ingredients that are fresh and delicious. They even offer a "Bowlwich" which is essentially a sandwich without the bead, all thrown together in a bowl. Perfect for those who are gluten free. If you want a chance at crafting the sandwich of your dreams, head to their website, and check "wich" location is closest to you.