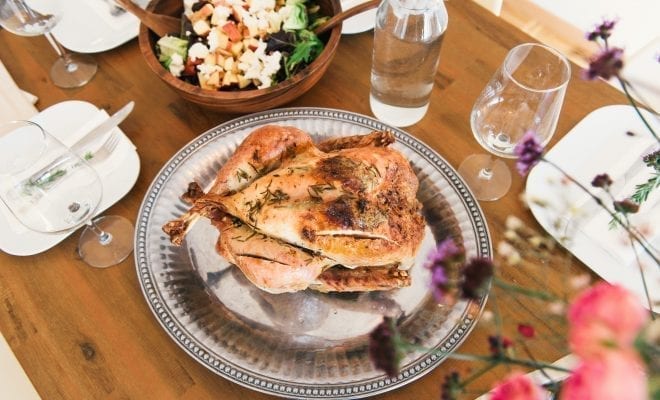 Dining
3 Healthy Side Dishes for Your Thanksgiving Meal
By
|
Thanksgiving is the time to get together with family and enjoy each other's company over some delicious food. While it is perfectly acceptable to go a little overboard for your Thanksgiving meal, that doesn't mean you can't include some healthy side dishes to balance it all out. Check out these delicious recipes that all pack a ton of flavor while helping you keep in line with your diet.
Sweet Potato Casserole
Total Time: 1 hour 10 minutes
Serves: 12
No need to load up your sweet potatoes casserole with tons of unnecessary sugar and fat. This recipe gets its signature sweetness from the vanilla and cinnamon, while still being lighter on the sugar and butter.
Ingredients
3 pounds sweet potatoes, peeled and cubed

3 tablespoons canola oil

2 tablespoons butter

1/2 vanilla bean

6 tablespoons packed brown sugar, divided

1 1/4 teaspoons kosher salt, divided

1 teaspoon cinnamon

1 (5-ounce) can evaporated milk

Cooking spray

1 cup old-fashioned oats

2/3 cup coarsely chopped pecans, toasted

1 1/2 tablespoons all-purpose flour
Step 1: Potatoes in the oven, cover with 2 inches of water and bring to a boil. Then proceed to reduce heat and simmer for 15 minutes, then remove, drain, and place in a large bowl.
Step 2: Heat oil and butter in a medium skillet, and add vanilla bean to the mixture and stir for 30 seconds. Go ahead and preheat oven to 375 degrees while mixture sits.
Step 3: Add 2 tablespoons of sugar, 1 teaspoon of salt, milk, and cinnamon to potatoes. Beat until smooth, then spread onto a 11 x 17 baking dish with baking spray.
Step 4: Add oats, pecan, flour, and reaming salt and sugar to butter mixture, and spread over potatoes. Bake at 373 degrees for 30-35 minutes.
Toasted Coconut Green Beans
Total Time: 25 minutes
Serves: 4 people
A seriously easy and delicious take on a classic dish, the coconut provides a perfect amount of sweetness, and the light amount of oil used makes for a much healthier alternative to butter.
Ingredients
1/2 pound green beans give or take few ounces

1/4 to 1/2 tsp garlic salt

1/4 cup sweetened coconut flakes

extra virgin olive oil cooking spray
Step 1: Preheat oven to 350 degrees
Step 2: Wash and trim green beans, then place on large baking sheet. Give a healthy sprinkling of garlic salt and a coat of cooking spray.
Step 3: Place in oven for 15 minutes until lightly toasted, then remove and sprinkle coconut over them. Place back in the oven for 4-5 minutes, toss lightly, then place back in until the desired level of toastiness is achieved.
Roasted Butternut Squash
Total Time: 35 minutes
Serves: 4-6 people
Butternut squash is loaded with tons of essential vitamins and minerals and makes for the perfect Thanksgiving vegetable.
Ingredients
1 medium butternut squash 3 pounds

2 tablespoons olive oil

2 tablespoons fresh chopped sage leaves or rosemary

1/2 teaspoon  granulated garlic powder

1/2 teaspoon salt

1/4 teaspoon black pepper

Balsamic vinegar or syrup optional, to finish
Step 1: Preheat oven to 400 degrees
Step 2: Cut the top and bottom of the squash where the neck and bulb meet, then use a sharp vegetable peeler to remove the rough skin. Next, dice the squash into 1-inch cubes.
Step 3: Place pieces of squash into bowl and toss with olive oil, salt, pepper, sage, and garlic. Once properly covered, place cubes on a foil-lined baking sheet, and bake for 25 minutes until the piece can be pierced with the tip of a sharp knife, or are golden brown around the edges. Drizzle with balsamic vinegar or syrup, and get ready to dig in.