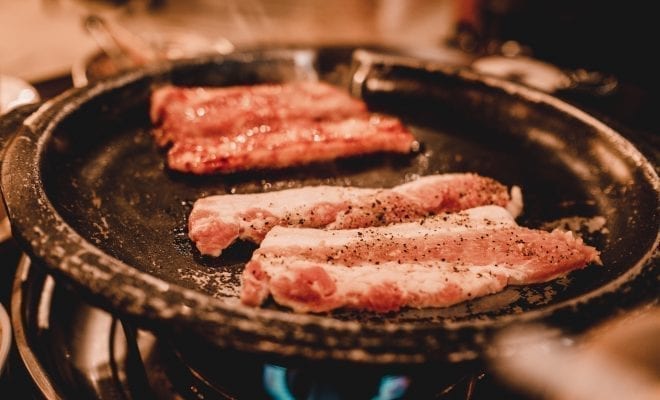 Dining
Best Korean BBQ in San Diego
By
|
Korean barbecue is one of the most unique dining experiences out there, giving you the chance to be the master of your own meal. With a variety of delectable meats, side dishes, and dipping sauces to choose from, Korean barbecue is a solid dinner choice with a pretty great bang for your buck. Check out these amazing Korean barbecues joints around San Diego for your next night out.
Jeong Won is great for the fact that is an all-you-can-eat, self-serve restaurant. The self-serve stations are piled high with all sorts of meat, poultry, seafood, and vegetables, along with all of the necessary sauces and sides. While this means you can't take any leftovers, a trip to Jeong Won means business when it comes to eating your fill. Be sure to remember this restaurant is a bit on the small side, so there might be a wait during busier times.
This upscale Korean barbecue restaurant does not skimp when it comes to quality. Each table is fitted with real charcoal grills, and the meat quality is top notch. Here you'll find service is either through a call button, or via a la carte menu. Dae Jang Keum is a great choice if you're venturing out with a large group, and their table side service means you'll be getting a top-tier experience with your meal.
Manna Korean BBQ – Mira Mesa, Kearny Mesa, San Marcos
Manna offers a "Gold" and "Black" price level on their all-you-can-eat menu, giving you the option to choose from a variety of high-quality meats. Manna is known for its excellent service, superbly marinated meat, and a very large menu that offers something for everyone. The prices here are reasonable, especially considering the amount of food you can try. Manna is one of the more popular Korean barbecue options in San Diego, so there may be a wait at some times.
This new Korean barbecue spot is already making waves as being one of the best in San Diego. The menu at Olleh comes with three price levels, with each featuring high-quality meats for all preferences. Their prime chuck flap, pork belly, and marinated beef bulgogi are highly rated among customers, and the expansive side dish menu perfectly compliments the meal. Service is excellent, and Olleh is highly accommodating of large groups, just be sure to call ahead as it has been a busy spot since their opening.
An all-you-can-eat Korean barbecue joint with some of the most authentic flavors and high-quality ingredients. The brisket here is outstanding, with each slice marinated to perfection. If you're feeling adventurous, Handoo's beef fingers and tongue are packed with flavor and cook effortlessly on the grill. Prices are reasonable as well, with the first of three tiers starting at $19.99.