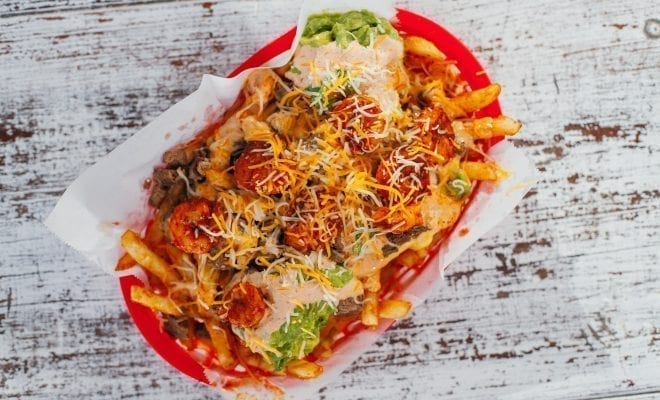 Photo courtesy of Taco Stand
Dining
Fry-Day: Where to Load Up on Loaded Fries
By
|
Is there anything better than French fries? The answer is loaded fries. these fry-centric foods that are piled high with delicious toppings making it the ultimate crispy meal. If loaded fries sound like your thing, come check out these tantalizing creations being served around town.
Pacific Beach Shore Club is one of the premiere beach hangout spots in PB, with incredible scenic views and a wide menu of food and drinks. Enjoy a massive plate of their Cali Fries, loaded with carne asada, mixed cheeses, avocado sauce, sour cream, and pico de gallo, all while lounging out on the open-air deck.
barleymash brings a lively atmosphere with delectable bar fare and a superior selection of beer and bourbon. Offerings here are sure to please even the heartiest meal seekers. Try out their All-in Iron Fries, topped with generous helpings of applewood smoked bacon, chili-braised short rib, ale-braised pork shoulder, pepper jack beer-cheese sauce, and fresh chilis for a fresh wave of heat.
Whip Hand combines the traditional atmosphere of a French brasserie with distinctive twists on classic American bites. Providing the ultimate urban hangout spot, Whip Hand serves its customers with good drinks, great food, and smooth vibes. Their Reuben Fries are a favorite, topped with massive heaps of pastrami and jalapeno slaw, then covered with swiss cheese and Chef Q's special sauce. Looking for something cheesier? The Short Rib Fondue Fries are practically dripping with white cheddar bechamel, while the short rib provides a savory kick.
The Taco Stand may have some of the best tacos in all of San Diego, but that's not all they're known for. They utilize that south-of-the-border flare to craft up the delicious Mar y Tierra Fries. Smothered with grilled shrimp, angus steak, guacamole sour cream, and melted cheese, these are perfect for an end of the night splurge after a night out on the town.
Westroot Tavern, an eatery located in Carmel Valley The Village at Pacific Highlands Ranch, take price in producing Southern California-style dishes inspired by locally sourced ingredients from both land and sea. Paired with the exceptional lineup of live music and carefully crafted cocktails, Westroot Tavern makes for an exceptional destination for a night out with friends. The San Diego Fries are topped with piping hot carne asada, roasted poblano beer cheese, sour cream, pico de gallo, guacamole, and house chili rub fries.
Funky Fries and Burgers is one of the best burger joints in San Diego, and as their name implies, they do loaded fries oh so well. Their menu has tons of loaded fries options, each with your choice of regular fries, tater tots, sweet potato, or waffle fries. The Buffalo Mac N Cheese Fries are smothered with creamy Mac N Cheese, then drizzled with Buffalo Sauce and Chicken and some House Ranch for the finishing touches. This is a filling meal, so you might want to bring along a friend to conquer it.
Cross Street Chicken and Beer knows a thing or two about whipping up some serious food. While chicken is this locations forte, they do have a secret ace up their sleeve. The Loaded Franken Fries/Tots are covered in hot blanket of caramelized onions and drizzled with house sauce, then loaded with tender pieces of white chicken meat. The sweetness from the onions contrasts beautifully with the heart from the house sauce, making for an incredible experience.
Mastiff Sausage Company is known for its delicious selection of grilled cheese and meat treats, but it's important to not overlook their loaded fries. The Pig Fries are House-cut and topped with harissa aioli, cotija cheese, cilantro, confit ham hock, bacon crumble, and house sausage. They also offer the Mastiff Fries, which come with the same toppings minus the meat. Both of which are effortlessly mouthwatering in their own right.