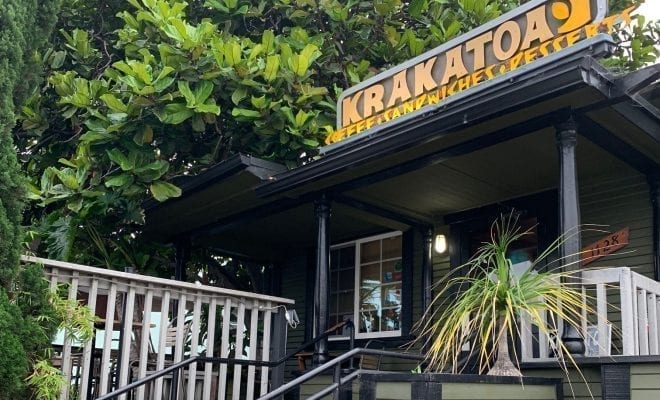 Dining
Golden Hill Pop-Up at Krakatoa: Hija Del Maiz Beer Dinner
By
|
Golden Hill has been my dwelling of choice and favorite nook and cranny in San Diego for nearly a decade. The sidewalks could tell stories – cracked, broken and stepped on. The homes are old and full of history. There's a weird Cricket store that somehow stays in business on the corner of Broadway and 25th and a constant riffraff coming on and off the bus line. Ahh, it's where I call home. It's old. It's odd. It's perfect.
G.H. residents only have a few staple spots to grab a bite or a drink in the area, so when a new kid on the block comes along, which is rare, we lose it. When I heard chef Lety McKenzie (previously with Beerfish in North Park) was crafting a pop-up dinner at the neighborhood Krakatoa, I was all in.
Nestled between Jaroco Market and the famous Turf Club lies Krakatoa. This spot serves amazing potato salad and sells mimosas for about $3 bucks, among other items. But next week, chef Lety will introduce the Hija Del Maiz Beer Dinner, which she says has been in the back of her mind for a while.
"It was an idea that was based on dishes I grew up with," said McKenzie. "I constantly noticed that whenever I spoke about food, I always used words my grandmother would say."
Hija Del Maiz translates to 'Daughter of the Corn.' This dinner will kick off the first in a series of unique pop-ups created by chef Lety. She's collaborating with chef Dominique Chantelle Cancio of Taste Venture Tours, Thorn Brewing Co. and Krakatoa on June 10th at 6:30 p.m.
"We are very similar in our cultural upbringing," says McKenzie about chef Dominique. "We celebrate our ancestral background when we make food, and this is our first dinner that represents it. We love our community and we would love to see it blossom in many ways."
Join chef Lety and chef Dominique in an intimate, five-course dinner with beer pairings on June 10th at Krakatoa, located at 1128 25th Street. Tickets can be bought via EventBrite. Come eat, drink and hang out in Golden Hill – you'll love it.