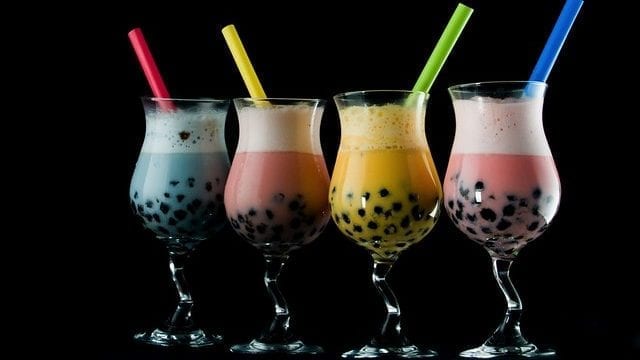 Bubble Tea by Larry Jacobsen via CC 2.0
Dining
Best Boba in San Diego
By
|
Boba, also known as bubble tea, has become an incredibly popular beverage in the U.S. in the past decade. Characterized by the jelly-like dark tapioca pearls that are poured into a variety of different flavored teas, boba is an exceptionally satisfying drink that is instantly enjoyable. Whether you're a first-timer or an experienced boba veteran, check out these top places to get your fix in San Diego. 
While Kung Fu Tea is a growing national chain, don't let that take away from the fact that they craft up some seriously excellent boba. Despite its widely acclaimed popularity and international reach, Kung Fu Tea keeps with providing traditional boba flavors for its customers. With flavors ranging from Pina Colada to Taro Root, you can rest easy that each order will be to the highest degree of quality and freshness.
With several locations in San Diego, Boba Bar is the undisputed winner to some when it comes to Boba for San Diegans. Here you'll find an exceptional selection of a wide variety of boba flavors, including standards teas, milk teas, Thai tea, and slushies. They also offer smoothies with exotic flavors like avocado and lavender, which, of course, are given a generous helping of boba as well.
Starting out as a pop-up shop back in the summer of 2014, ICESKIMO has since grown to become one of the best boba providers in San Diego. Here, you'll find Asian-inspired desserts like Taiwanese shaved snow, a delectable dessert that is perfect for hot summer days. Their bubble tea is made fresh to order, with traditional flavors like black, green, Thai or Early Grey, as well as matcha and coffee.  
A locals favorite in Hillcrest, Little Nap Cafe serves up unique boba-inspired beverages. Here, each drink order is handcrafted and made with that extra flair. Try out one of their specialty boba drinks like the Taro Frappe Cookies and Cream with boba and vanilla soft serve. 
Boba makes for the perfect beach vibes drink, and Ding Tea is the place to visit if you find yourself in La Jolla. Known for their signature Jasmine green tea with milk tea, you can also find some special boba creations at Ding Tea La Jolla. Try out the Hokkaido Tea, a toffee-like caramel milk tea and get the Golden Boba for a truly unique experience.