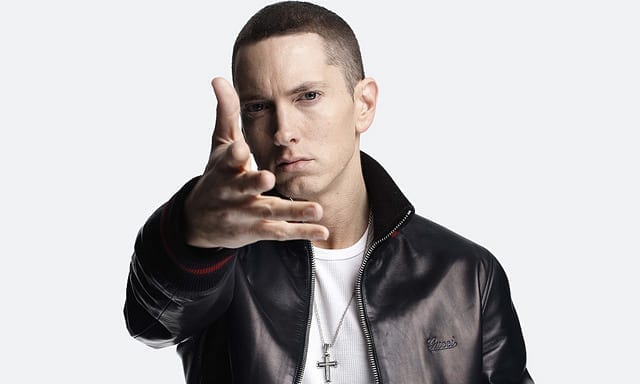 Music
Eminem closes out Coachella Weekend 1 with fiery performance
By
|
When Eminem was announced as the headliner for day 3 of Coachella, there were concerns the self-proclaimed "Rap God" would only focus on playing his less popular newer material, but last night, fans were treated to one of his finest performances ever. Following The Weeknd and Beyonce's electric performances, the rap MC had his work cut out for him as the final performer.
He started the set off with some self-deprecating humor, asking "Coachella, can I take you back to a time when I was actually dope?" Met with laughter and cheers, a pre-recorded video of "mean tweets" began playing viciously laying into his mid-career. Eminem appropriately responded with his breakthrough single "My Name Is" and the crowd knew they were in for a performance of a lifetime.
Dressed in a signature white hoodie, the Detroit MC came on stage ready to showcase his incredible lyrical ability, starting off with classics from the 2002 album The Eminem Show including "Till I Collapse", "Square Dance," and "White America." Without skipping a beat, he launched into "Rap God" demonstrating his innate ability for rattling off lyrics like a turret, and showing the mumble-rap stars of modern age hip-hop how it's done.
Em brought out frequent collaborator Skylar Grey, who joined him on songs including Beyonce-featured track "Walk on Water", then later on hit-songs "Stan", and "Love the Way You Lie." With live percussionists and violinists behind them, the duo tore up the stage, delivering a raw performance laced with precision and zeal.
Switching gears, Em had former apprentice 50 Cent join him on stage, where they proceeded to deliver a heavy dose of hip-hop nostalgia to fans in the crowd. They connected for their hit track "Patiently Waiting", then commenced into rapping along to 50's catalog, with "I Get Money" and the hard-hitting "In Da Club." With the momentum building to a climax, the duo finished their time together on stage by performing their 2009 single "Crack a Bottle."
Capping off his star-studded list of guest appearances, Em brought out Dr. Dre, collaborating on classic songs like "Forget About Dre." It was apparent that Dre, who rarely appears on stage, still has what it takes to move a crowd and keep the energy flowing.
Before ending an already spectacular performance, Em treated his fans to some of his greatest songs, including "My Name Is", "Not Afraid", and then for an encore of "Lose Yourself." As fans left the Polo Field that night, one thing was clear about the 45-year old rap MC: he truly is a rap god among mortals.