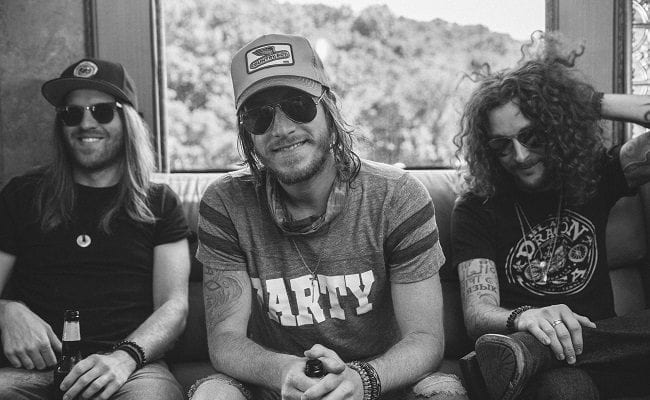 Music
Country Rockers, The Cadillac Three, to play Belly Up
By
|
The trio that makes up The Cadillac Three have been playing together for over ten years. Jaren Johnston (Guitar & Lead Vocals), Kelby Ray (Bass Steel Guitar, Dobro, Acoustic & Vocals) and Neil Mason (Drums, Percussion & Vocals) are Nashville natives. They play a mix of radio-ready country anthems, Southern rock, love songs, and whatever else feels right. As they travel the US and Europe, fans can't seem to get enough.
The band is made up of three musicians, and that's it – there's no guest keyboard player, no second percussionist and no bassist. Jaren impresses with gritty vocals on one end and Kelby holds down the low end on his lap steel. What's created by the band's simplicity is a style that is unique to The Cadillac Three.
The trio are coming off nearly a full year on the road in support of 2016's album "Bury Me In My Boots." They have experienced a lot on tour, whether opening arenas across the country on Florida Georgia Line's "Dig Your Roots Tour" or headlining their own consistently sold-out string of smaller shows in the U.K. and Europe.
For the remainder of the summer, they'll be touring cities across the U.S., stopping in San Diego at the Belly Up on July 24th.
If you're a fan of The Cadillac Three already, or an avid country music listener, keep your ear on the radio for their first single of their new album, Legacy. The song "Dang If We Didn't" should be making the waves soon; just in time for summer barbeques and beach bonfires, this party anthem needs to be on your playlist.
If you're not a fan of The Cadillac Three (yet), maybe you should be. Don't think you've ever heard their music? You are probably wrong. They have cuts for superstar artists like Tim McGraw, Rascal Flatts, Miranda Lambert, and more. Guitarist and lead singer, Jaren Johnston is a Grammy Nominated songwriter that has credits on top radio hits "Meanwhile Back at Mama's" (Tim McGraw), "American Country Love Song" (Jake Owen), and "It All Started With A Beer" (Frankie Ballard).
We recently caught up with The Cadillac Three, who explained that they're constantly writing and making music. The band wrote many of the eleven songs that makeup Legacy on the road, cut the tracks on rare days off in Nashville and then recorded all of Johnston's vocals in the back lounge of their bus in between shows. They also produced the album themselves.
Kelby explained that not every song they write ends up a Cadillac Three Song. "You never know what a song is going to turn into. Sometimes it turns into our song."
And that's what happened with the title track, "Legacy." The song may not have made the cut a few years ago, but is now their latest single. Coming off their latest album by the same name, "Legacy" is a tribute to where the artists are in their lives. The song is a natural progression for the band who has been creating music together since high school. Jaren and Kelby are now married and Jaren has a four-month-old.
Kelby explained that recording a song like "Legacy" is a natural progression for them. Jaren has been quoted saying, "I think our band is ready, and I am there now. This is the perfect song for where we all are in our lives."
"Legacy" may be a deeper, more emotionally-driven song than some of the bands other tracks, but don't you fear – you can still find those beer-drinkin', whisky-lovin', party lyrics on their upcoming album. What's important to note is that their latest single proves the band has the range to leave a legacy of their own.
The Cadillac Three have hit some major milestones on their way to creating their legacy. From boundary-pushing albums, Grammy-nominated No.1 songwriting across genres and fan-favorite singles to sold-out club show sand massive festival gigs alongside Aerosmith.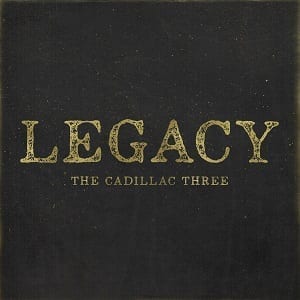 Their latest album drops on August 25th, and The Cadillac Three are kicking off their latest project in a big way. On August 31, they will take the stage for their first-ever headline show at the historic Ryman Auditorium in Nashville. The Ryman is home to The Grand Ole Opry and has hosted performances from country's biggest stars.
"With this album, we're continuing to build this thing we've created. We're touring nonstop, headlining shows in the U.K., playing the Ryman, and putting out a new record," says Jaren. "Shit, that's a pretty good legacy so far."
"You grow up seeing your favorite bands with your buddies, date nights with your love and special shows with your family here," explained Neil. "The Ryman is an institution, and we're really excited –and honored –to share the night with so many people who've been a part of our journey."
Kelby explained, "We're going to go out and do what we normally do… The timing is great. Being from there and being able to release an album out that they're proud of; plus, playing one of the coolest venues – it's a huge accomplishment. The timing couldn't be better."
The timing couldn't be better for San Diegans either. Not only will The Cadillac Three be playing fan-favorites when they stop at the Belly Up, but they'll be testing new material off their upcoming album as well.
Follow the band:
Twitter: @TheCadillac3
Instagram:@TheCadillac3
Facebook: Facebook.com/TheCadillacThree
Website: TheCadillacThree.com