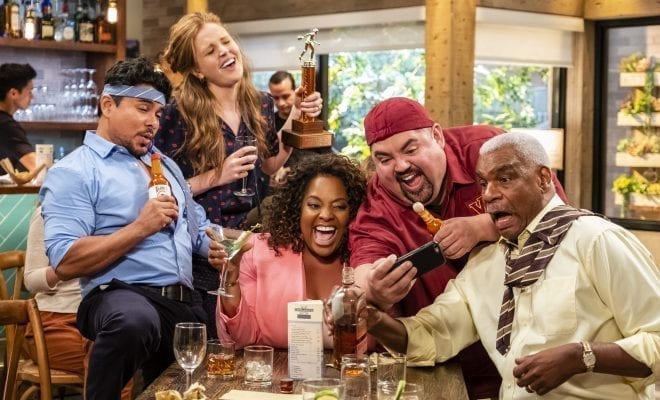 Photo Credit: Lara Solanki/Netflix
TV
Netflix Review: Mr. Iglesias
By
|
Comic Gabriel " Fluffy" Iglesias brings Netflix a new multi-camera sitcom that is delightful and might fill the void left by One Day at a Time. 
In Mr. Iglesias, Gabriel "Fluffy" Iglesias is Gabriel "Gabe" Iglesias, a fun history teacher at Woodrow Wilson High School, whose specialty is bringing history to life for the misfit students other teachers have given up on. But, when the assistant principal Carlos (Oscar Nunez) tries to get rid of those students in order to improve the school's overall reputation, Mr. Inglesias steps up to protect, inspire and educate them.
The series is created by Iglesias and showrunner Kevin Hench, which Iglesias ends the first episode with a dedication to a high school teacher who believed in him when no one else did. In each episode, Gabe's dedication inspires him to teach the kids a lesson, and sure he learns lessons along the way too. 
Mr. Iglesias is creatively charming and does a great job at having the lessons Gabe teaches in his classroom imitate whatever he and the students are experiencing outside the classroom, whether its a protest over privacy or lecturing about Prohibition in an episode where you discover Gabe is a recovering alcoholic. 
There is an episode when the teachers go on strike that came across weirdly anti-union, but it was still an entertaining episode. 
There is a lot that Iglesias does well, like his wide range of voices and accents which will have you laughing so hard your cheeks will hurt. The character's alcoholism gives Iglesias a chance to play a more dramatic tone, which he does very well. 
Overall, Mr. Iglesias is definitely a show to watch right now, and it is a good filler for those missing new episodes of One Day at a Time. Give it a chance, you won't regret it.
Critic Rating: 4.5/5 stars
What did you think of Netflix's new show? Sound off in the comments.