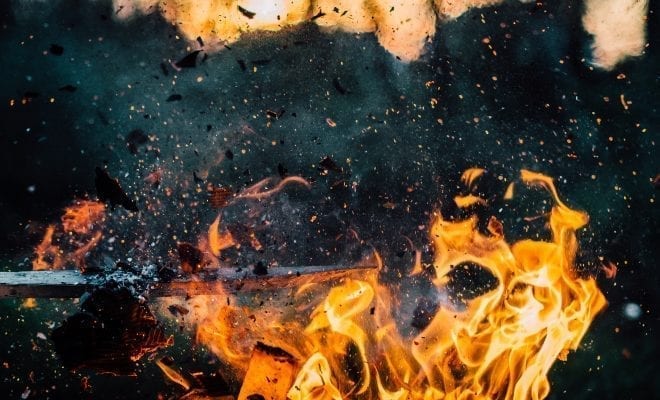 News
Wildfires Spread Across Northern California
By
|
Two major wildfires in Northern California have begun to rapidly spread, engulfing a wide swath of land and forcing over 300 people to evacuate from their homes. Named the County Fire, the California Department of Forestry and Fire Protection reports that the blaze is only 3 percent contained, and is continuing to grow. The fire has posed a clear threat to over 100 structures so far, with many more close to being in the path of the flames.
The County Fire started Saturday afternoon, and grew by 12,000 acres by Sunday night. The fire went on to scorch more than 44,500 acres, a figure that has since grown. Smoke from the flames billowed into the skies of San Francisco, Napa, Sonoma, and San Mateo, darkeing the clouds with soot and ash. Across the Golden Gate Bridge in Sausalito, Shell station employee Sergio Garcia told the AP "The sky is very dark, even in the middle of the day. It's a little scary."
The National Weather Service Sacramento said on Twitter "Due to a wind shift yesterday, smoke from the #County Fire has moved into the Sacramento Valley and continues to impact the Bay Area as well." Over the weekend, residents of the Bay Area woke up to eerie orange skies and a heavy dusting of smoke and ash. The San Francisco Department of Emergency Management issued an air quality warning, advising that the elderly and residents with heart or lung conditions avoid any sort of exertion. It is projected that the smoke will clear by mid-week, but this is dependant on the status of the fires.
The sharp decrease in air quality comes just around the time residents will be spending time outdoors to enjoy the fireworks displays during Fourth of July celebrations. Fireworks release hazardous particles such as soot, metal, and ash into the atmosphere, which can result in amplifying the already strained air quality.
The sky over San Francisco today from the Yolo County Fire.#countyfire pic.twitter.com/auVcITZomW

— William Chamberlain (@chamberlainwill) July 1, 2018
So far, aircrews and firefighters are working around the clock, dropping water and flame retardant on the wildfire and digging firebreaks to stop the spread of the flames. The scene is reminiscent of last year's devastating wildfires that consumed Northern California, resulting in the destruction of hundreds of homes and the displacement of thousands of people. Just like the previous fires, the winds are blowing flames in a southwesterly direction, making it increasingly difficult to effectively contain the fires.