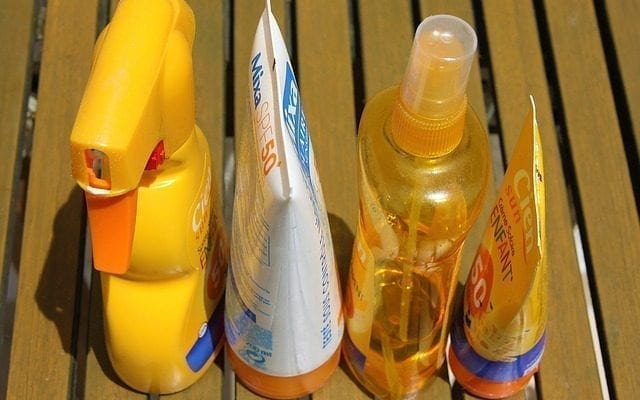 News
Hawaii Passes Bill Banning Sunscreen Believed to be Harmful to Coral
By
|
Hawaii legislators have approved a bill that will effectively ban all sunscreen containing oxybenzone and octinoxate, harmful compounds that have been linked to the death of coral reefs. Both of these ingredients are present in over 3,500 brands of sunscreen around the world. According to NPR, over 14,000 tons of sunscreen ends up being washed off from swimmers, making its way into coral reefs.
The bill made it through the Hawaii state legislature, passing with a 76-4 vote. State Senator Mike Gabbard told the Honolulu Star-Advertiser that this bill is the first of its kind anywhere in the world.
He said "So, Hawaii is definitely on the cutting edge by banning these dangerous chemicals in sunscreens. When you think about it, our island paradise, surrounded by coral reefs, is the perfect place to set the gold standard for the world to follow. This will make a huge difference in protecting our coral reefs, marine life, and human health."
While the bill has yet to be signed by Hawaii Governor David Ige, many Hawaiian businesses have begun to purge sunscreen products containing these compounds. There has also a been surge of growth in Hawaiian-made natural sunscreen products.
The passing of the bill has been opposed by big brands like L'Oreal, with them citing a lack of evidence for implementing a ban on their products. As reported by The Star Advertiser, Bayer, the maker of Coppertone sunscreen, stated that there are limited active ingredients available that are as effective as oxybenzone in protecting skin from the sun.
However, there have extensive scientific research reinforcing the claims that these compounds are an inherent danger to the fragile ecosystems of our oceans.
In a 2015 study in Environmental Contamination and Toxicology, researchers concluded that oxybenzone causes irreversible damage to coral larvae, deforming them to the point where they are unable to spread across the ocean. The study also concluded that the the compound damages coral DNA, which leads to bleaching, a phenomenon where corals purge beneficial algae from inside of them, causing them to starve to death.
Craig Downs, author co-author of this study, told The Washington Post "We have lost at least 80 percent of the coral reefs in the Caribbean … Any small effort to reduce oxybenzone pollution could mean that a coral reef survives a long, hot summer, or that a degraded area recovers."
Coral is experiencing a major threat to its survival, with scientists predicting a 90 percent die off by the year 2050. A recent study concluded that over 50 percent of the planet's coral population has already died off. Scientists have warned that if we continue to experience such drastic coral die-offs, it could result in devastating consequences for other marine life.
Along with this proactive approach by Hawaii, Australia has also pledged $379 million to invest in protective measures to save the Great Barrier Reef, which experienced a third of the reef dying off. In the coming years, expect a greater push for protection of coral population in the global oceans.