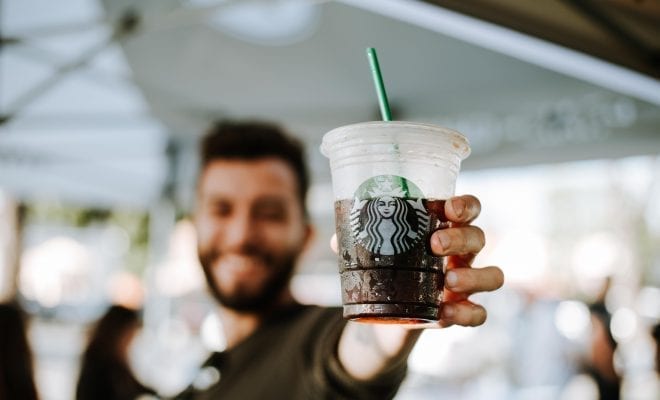 News
Starbucks Teams With Uber for Fast Coffee Delivery Service
By
|
Starbucks and Uber Eats are teaming up to bring everyone's favorite coffee shop into the 21st-century world of on-demand food and drink delivery. Starbucks announced its new Starbucks Delivers program in partnership with Uber Eats. The service will be rolling out to six select US cities, including San Francisco, New York, Boston, Chicago, Washington D.C. and Los Angeles over the next few weeks.

By the end of the rollout, Uber Eats couriers will be able to pick up Starbucks orders from 25% of all stores nationwide, amounting to a total of 3,500 branches. Starbucks says that approximately 95% of its menu will be available to order for delivery using the Uber Eats app, in addition to having the ability to customize your orders just like you would in-store.

The program will include deliveries guaranteed in 30 minutes, while Starbucks is working on developing specialized packaging solutions to help keep items hot or cold. Delivery orders will come with an initial $2.49 booking fee on top of the overall cost of the items you purchase.

Starbucks Delivers was first launched 2018 in China in partnership with Alibaba. By the end of 2018, it had expanded to 2,000 stores across 30 cities in China, and finally made its way to states with trial testing in Miami. The pilot program was a resounding success, which has the led the company to pursue further expansion throughout the country.

"We know we have untapped customer demand for Starbucks Delivers in the U.S. and starting today, we're expanding our best-in-class experience to our customers both in and out of our stores," said Roz Brewer, group president and chief operating officer for Starbucks. "We're building on key learnings from past delivery pilots and by integrating our ordering technology directly with Uber Eats, we've unlocked the ability to bring Starbucks to customers for those times when they're not able to come to us."

Uber Eats is the fastest-growing meal delivery service in the US, accounting for $2.1 billion in overall gross bookings. "At Ubereats, we're always looking for new ways to offer people the widest selection of food they love. That's why we're so excited to deliver Starbucks fans their favorite food and beverages in a way that's as easy as requesting a ride," said Jason Droege, Vice President and Head of UberEverything. "Be it breakfast delivered straight to the soccer field or afternoon lattés to the office, we know this partnership will delight our customers."