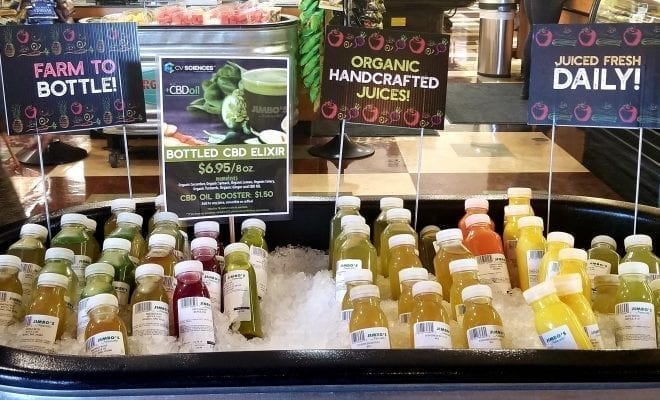 News
Jimbo's Launches CBD Infused Juices
By
|
Jimbo's… Naturally, the San Diego local grocery store focused on natural, healthy, and organic nutrition, just launched their "CBD Elixir" bottled juice made of cucumber, spinach, lemon, celery, turmeric, ginger, and PlusCBD Oil (also based here in San Diego). They also have the option to "boost" any of their juice bar smoothies, juices, or even coffee with CBD.
CBD has been a hot topic in San Diego for some time, first being added into cocktails at bars like Madison on Park and now Prohibition. Jimbo's adding CBD to their juice bar shows that it is being accepted into the mainstream.
For those unfamiliar with CBD, or confuse it with marijuana, here is the low down. PlusCBD Oil National Education, Maggie Frank, shares, "Both are cannabis plants, but hemp and marijuana are not the same. Marijuana gives you the psychoactive high, hemp does not. Just like buying hemp seed or hemp protein is not going to get you stoned, neither is CBD-rich whole plant hemp oil."
So if it isn't going to get you high, what is the point? Frank offers, "The reality is that this is just a super food. CBD-rich whole plant hemp oil just happens to be the very best food to feed a system that most of know nothing about – the endocannabinoid system (ECS).  Essentially, your ECS is your body's main adaptogenic system. It means it's helping you adjust to change on daily basis. Your mental, your physical, and your emotional well being is maintained and regulated by your ECS system. Jimbo's is using a relatively low dose. For most people this would be a maintenance dose. They may feel that when they take this they get a little bit of a lift; some people may find that it helps them deal more effectively with stress."
But does it taste good? I sampled the CBD Elixir, which was a deliciously "green" tasting juice blend. The cucumber and lemon made it taste very fresh while the turmeric and ginger gave it a subtle kick. It is available at all Jimbo's locations as of today.