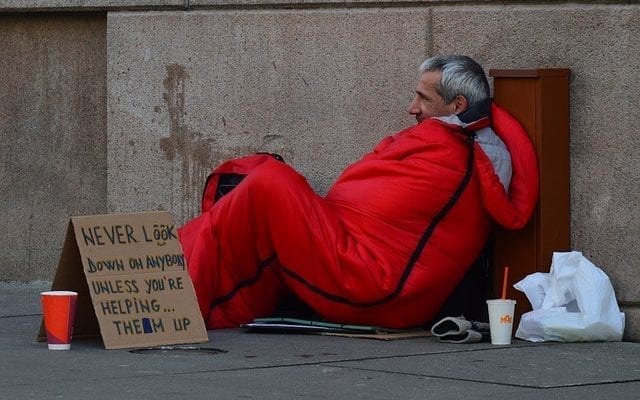 News
Homeless Population Soars by Thousands in Northern California
By
|
Homelessness has continued to rise in California, as the state is spending millions to provide aid for the thousands of people living on the streets without aid. The homeless problem is worse than ever in several Bay Area cities, with a marked increase in homeless residents over the last two years.

San Francisco saw a 17% increase in homeless residents, with volunteers recording 8,011 people living in the cities homeless shelters, up from 6,858 people in 2017. Due to shelters operating at maxed out capacity, there has also been a massive increase in people living in cars, campers, and even on the streets.

A big issue contributing to the sharp uptick in homelessness is the high cost of living in San Francisco. Rental prices have continued to skyrocket, with people finding it difficult to keep up with increased living expenses in a city of 880,000.

This has prompted a housing crisis in the Bay Area, with California Governor Gavin Newsom saying, "We've got a housing crisis. We've build 77,000 housing units last year, less than the year prior. We need to be building close to 400,000. Affordability is the issue in the state of California. Housing is the biggest issue in relation to affordability."

"The initial results of this count show we have more to do to provide more shelter, more exits from homelessness, and to prevent people from becoming homeless in the first place," the city's mayor, London Breed, said in a statement.

San Jose and Santa Clara Counties have also seen a sharp increase in homelessness, up some 40% over the past year. Both counties have found it difficult to keep up with providing affordable housing as the level of homeless residents continues to outpace production. According to data gathered byEveryOne Home, about 1,500 people return to permanent housing every year, but that number is surpassed by the 3,000 people that fall into homelessness for the first time.

There is an estimated 129,972 homeless people across the state of California, making it the highest in the country by more than 30,000. According to the U.S. Department of Housing and Urban Development, this figure comprises of 12,396 unaccompanied young adults and 6,702 family households.