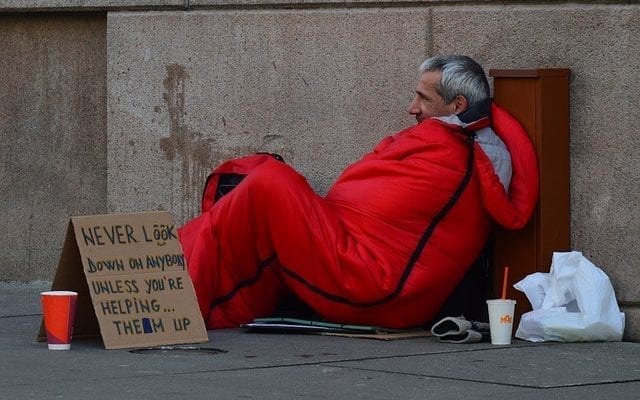 News
New pilot program aims to give the homeless jobs in San Diego
By
|
A new program in San Diego is hiring homeless people to clean up the city's streets. The program, called "Wheels of Change" picks homeless men and women, and drives to areas in need of cleaning, where they will pick up trash and bottles. Wheels of Change was started by 16-year old Kevin Barber, who wanted to make a positive difference in the community. He got the idea from watching a TED Talk video that highlighted a similar program in Albuquerque, New Mexico, which had homeless people clean streets in exchange for wages and access to city services.
There have been similar programs to pop-up all around the country, providing steady part-time work and access to basic necessities that many homeless people are living without. In an interview with CNN, Kevin said, "It just looked really simple, and the statistics were staggering." Barber is currently a high school junior, and this issue has been on his radar for some time after learning of the high rates of homelessness in San Diego. Kevin had a conversation with his mother, who agreed that something must be done. She told CNN, "I see so many people who just don't have many opportunities."
Kevin and his mother, Dr. Carolyn Barber, decided to reach out to the local city government to start a trial run of a new homeless aid program. Wheels of Change will pay those participating in the program a wage of $11.50 an hour, with the program currently being financed for the next six-months due to a donation by Dr. Carolyn Barber. Going forward, they hope to have the city sponsor the program to provide further funding after the pilot period is over. Several local politicians are getting on board as well. City Councilman Scott Sherman told CNN, "It's a win-win for everybody," referring to the already overburdened San Diego sanitation department.
A few times a week, a Wheels of Change van will pick up eight to ten people from several downtown homeless shelters, and transport to locations in need of cleaning. Once they complete their shift, they are brought back to the shelter with their pay given in cash. They are encouraged to connect with other homeless people and spread the word of Wheels of Change. Currently, there are over 150 names on the waiting list for the program.
Bob McElroy is one of the people who volunteers with the non-profit Alpha Project, which provides aid for homeless people, and he said the program has already made an impact in the homeless population of San Diego. He told CNN, "It's just so medicinal for our folks who have always been marginalized and irrelevant." He added "Lord have mercy, our folks just wanted to participate. San Diego is going to be spotless by the time we are through with this."
San Diego has the fourth highest homeless population in the United States, and programs like these are allowing cities to fight back against this problem in a way that benefits all involved. As for Kevin Barber, he hopes to expand this program beyond its current scope, in order to improve the quality of life for the homeless as well as the city of San Diego. He says "Our goal is to get another can and have it go more days of the week. Helping as many people as we can."