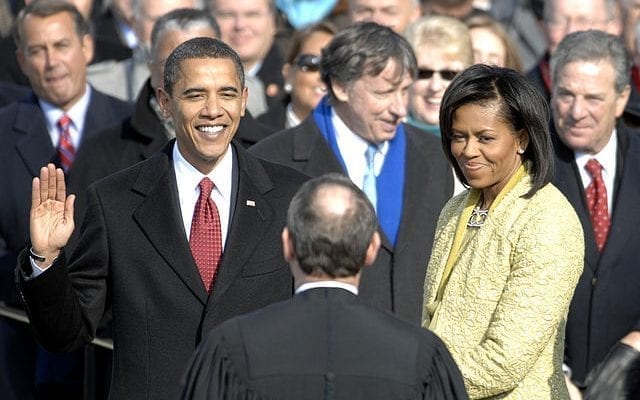 News
Barack and Michelle Obama to Produce Shows for Netflix
By
|
Former President Barack Obama officially announced he and his wife, Michelle, have signed a multi-tier production deal on Netflix. The couple will be producing a number of television shows and films for the video streaming service. The deal is a step towards providing the Obamas with an international platform, allowing them to reach millions.
Mr. and Mrs. Obama have created "Higher Ground Productions", a company that will assist them in providing new content for the Netflix videos catalog. Mr. Obama has stated that he will not be using this platform to start political controversy, nor will it be used to incite slander against current Oval Office politicians or conservative voices in the media.
In a statement, Mr. Obama said "One of the simple joys of our time in public service was getting to meet so many fascinating people from all walks of life, and to help them share their experiences with a wider audience." He continued, "That's why Michelle and I are so excited to partner with Netflix — we hope to cultivate and curate the talented, inspiring, creative voices who are able to promote greater empathy and understanding between peoples, and help them share their stories with the entire world."
So far, we know these releases for Netflix will see the Obamas producing "scripted series, unscripted series, docu-series, documentaries and features" that will highlight the key issues and themes that Mr. Obama championed during his eight years in office. One thing is for certain, the content produced by the Obamas won't contain heavy partisan rhetoric that could potentially polarize viewers.
There has been no word on the financial details of the deal with Netflix, though deals similar to this one have gone for tens of millions of dollars over the past few years. However, according to Ted Sarandos, the chief content officer for Netflix, the deal will focus on the benefits for the Netflix audience. Sarandos stated "Barack and Michelle Obama are among the world's most respected and highly recognized public figures and are uniquely positioned to discover and highlight stories of people who make a difference in their communities and strive to change the world for the better. We are incredibly proud they have chosen to make Netflix the home for their formidable storytelling abilities."