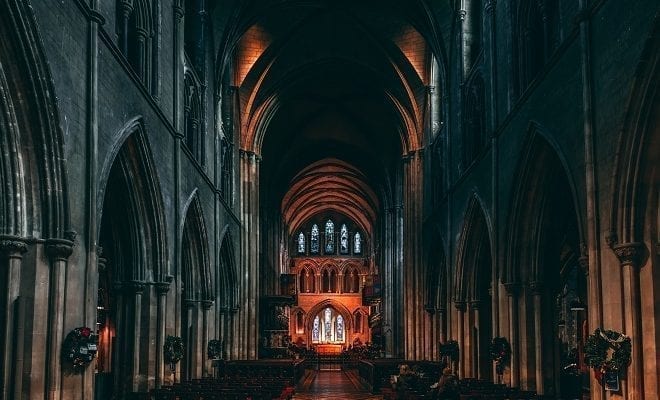 Movies
Movie Review: The Nun
By
|
The Conjuring Universe comes full circle with its latest and darkest entry, The Nun, now playing in theaters.
When a young nun at a cloistered abbey in Romania takes her own life, a priest (Demian Bichir) with a haunted past and a novitiate (Taissa Farmiga) on the threshold of her final vows are sent by the Vatican to investigate. Together, they uncover the order's unholy secret. Risking not only their lives but their faith and their very souls, they confront a malevolent force in the form of a demonic nun.
The Nun marks the fifth film in the ever-expanding Conjuring film Universe and takes us back to the very beginning of the franchise. This prequel has Valak (Bonnie Aarons returns to the role that was introduced in The Conjuring 2) taking center stage and delivers scares that will leave viewers shaking with delight. There is something deliciously creepy about this icon of service made sinister.
Directed by Corin Hardy from a story by Gary Dauberman and producer James Wan, The Nun is just as frightening as it was advertised. Instead of focusing on family like the previous films, the films introduces characters whose interactions with each other are interesting to watch and the set pieces and cinematography by Maxime Alexandre offers the tension-and-release satisfaction we expect from the horror genre.
Taissa Farmiga (the younger sister and splitting image to Vera Farmiga who play Lorraine Warren in the first two Conjuring films) makes Sister Irene an appealing, hiply modern heroine, whose casting seems to hint at a connection between her and Lorraine Warren but never materializes. Demian Bichir is great as Father Burke, believably playing someone who is haunted by an earlier, unsuccessful exorcism, but the character turns out to be ineffective and useless. Jonas Bloquet is delightful as Frenchie who discovers the dead nun at the beginning of the film while delivering food to the abbey, but that hasn't stopped his flirtatiousness with Irene when he learns she hasn't taken her vows. Frenchie's character becomes more important towards the end of the film when the film nods at the shared universe.
The characters split up towards the second act, but when reunite viewers get a thrilling underground confrontation that takes a page out The Mummy, complete with flaming torches and even the odd quip from Father Burke. But its really Taissa Farmiga who is the heart of the film of the film, providing a breakout performance that will make you forget her uncanny likeness to her big sis Vera Farmiga.
Overall, The Nun has plenty going for it with enough scares to leave you shaking as you leave the theater and sleep with the lights on.