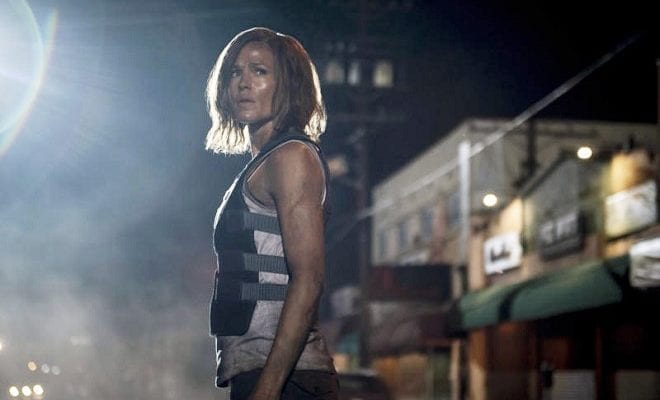 Photo Credit: Michael Muller; Motion Picture Artwork © 2017 STX Financing, LLC. All Rights Reserved.
Movies
Movie Review: Peppermint
By
|
Jennifer Garner Is Back In Action in Peppermint
Peppermint, now playing in theaters, marks Jennifer Garner's return to the action genre in an exciting and unforgettable movie that will leave viewers wanting more.
Riley North (Jennifer Garner) awakens from a coma after surviving a brutal attack that killed her husband and daughter. When the system shields the murderers from justice, Riley sets out to transform herself from citizen to urban guerrilla. Channeling frustration into motivation, the young widow spends years in hiding — honing her mind, body, and spirit to become an unstoppable force. Eluding the underworld, the police, and the FBI, Riley embarks on a deadly quest to deliver her own personal brand of punishment.
The revenge genre is fundamentally complex, even though it might look straightforward at times. Revenge is never a good thing and will never be a good thing. But in certain stories, watching the victim take down the ones who have wronged them can be a little therapeutic. But, then it begs the question of whether the film celebrates the victim, demonizes the bad guys, or completely neglects the traumatic reality behind the events that led to this showdown.
Peppermint does its best to cover all these aspects and avoids falling into the pitfalls of the genre. It's a well-directed thriller with an incredible performance by Jennifer Garner that will remind the world that she is a brilliant action star. It is a tale of revenge against a drug cartel, but what makes this film a bit different, and more exciting, is that Garner also goes after the corrupt bureaucrats who allow these organized crimes go unpunished. And it allows Garner's character to be treated like a tragic individual forced into action when no one else will, instead of a complete psychopath who just loves to kill.
It's very refreshing seeing Garner come back to the action genre after many years of maternal roles in films like The Odd Life of Timothy Green and Love, Simon, and she looks like she has been eager for a fight. She brings out a fierce, frustrated determination to every action sequence, and proves that she should have been a major action star all this time.
Peppermint is an exciting thriller that has Jennifer Garner deliver a standout performance that deserves recognition and hopefully means we will see the actress in more action movie roles in the future.