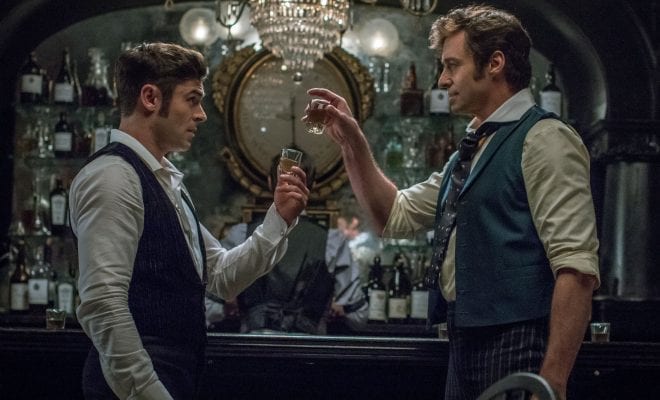 Movies
Movie Review: The Greatest Showman
By
|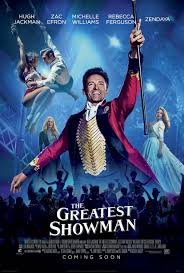 Hugh Jackman ("X-Men" series) was so iconic as Wolverine for almost two decades that sometimes we forget how multi-talented and charismatic of a performer he is. Not only can he act dramatically or spring into action ("Logan"), he can sing and dance flawlessly ("Les Miserables").
Inspired by the imagination of P.T. Barnum's (Jackman) life, "The Greatest Showman" romanticizes the story of the founding father of show business.
The story begins with boy meets girl. He grew up poor and she rich. Even though they were separated, their friendship endured through adulthood and they were eventually married. The rooftop dance union under the full moon is both exhilarating and sweet.
Two precocious daughters later, Barnum is jobless when the company he works for goes bankrupt. At a dire crossroad, this is not a life he promised his angelic wife, Charity (Michelle Williams, "Manchester by the Sea," "Oz: The Great and Powerful," "Shutter Island"). Believing he's capable to do more than being a number cruncher, his creative streak leads him to find a way to provide for his family. He gets a bank to lend him money to dip into the entertainment business. Barnum is convinced that people are eager to see things they've never seen before. He opens a museum. Alas, no visitors.
The ever-enterprising man dusts himself off and pivots his business model. As it turns out, people are indeed interested in seeing things they've never seen before, but instead of static or stuffed objects, living and breathing ones. Barnum goes out of his way to find people with unique skills or those considered as freaks by 19th century society simply because of their abnormal appearance. He brings them all together and creates an entertaining show.
As successful as the show is, it's not popular with everyone though. For one, a famous newspaper critic has searing words about the show. It's a circus. And not all segments of society is receptive, especially not high society. Protesters and detractors see the Barnum as a con-man, showing off or exploiting these outcasts. As talented as they are, people still stare and sneer at them because they are considered indecent, unacceptable by society standards.
In order to grow his business, Barnum finds himself someone from the upper class, a scandalous young man named Phillip Carlyle (Zac Efron). Barnum signs him on as a protege through a drinking game. Phillip opens the door for Barnum, putting him in touch with the upper echelons. One is a famous European opera singer, Jenny Lind or as known as the "Swedish Nightingale" (Rebecca Ferguson, "Mission Impossible: Rogue Nation," "The Girl on the Train"). Barnum knows a golden opportunity when he sees it as he seizes this by partnering with her. The benefits for him are obvious, and for her, she gets a handsome cut of each show and broadens her audience to America. The first time we hear her sing is shatteringly mesmerizing.
More success follows and money is no object anymore. As Barnum becomes more and more successful, however, things begin to crack. He's on road shows with Jenny and just not there for his family and inner circle. It's a good thing that at least he still has some sense of loyalty and recognizes what's truly matters to him before it's too late. When misfortune befalls, instead of getting destroyed, with a little luck, he reinvents himself and rises again. P.T. Barnum Circus, the Greatest Show on Earth, is born.
The vivid and vibrant set designs, colorful costumes and props are visually delightful. Nearly all the actors sing and dance their hearts out. There are a number of memorable numbers, extravagantly and intricately choreographed.  Catchy tunes include "A Million Dreams," "This is Me," "Never Enough, "Rewrite the Stars," "This is the Greatest Show," "From Now On."  They're a blend of modern and theatrical music. In addition to the actual circus acts, the starry-eyed trapeze sequence between Efron and Zendaya is show-stoppingly thrilling and tender. In addition to Jackman, Williams also has a shining moment through her soulful solo.
Coincidentally, the theme of inclusion and tolerance, the core of "X-Men" movies, is no stranger to Jackman. While events are magically glossed over, it's a musical and fits within this style of a film. The movie celebrates diverse shapes, sizes, colors and status. 
"The Greatest Showman" is a sensational musical spectacular. A touching, inspiring and joyful razzle-dazzle entertainment for the entire family, just in time for the holidays.