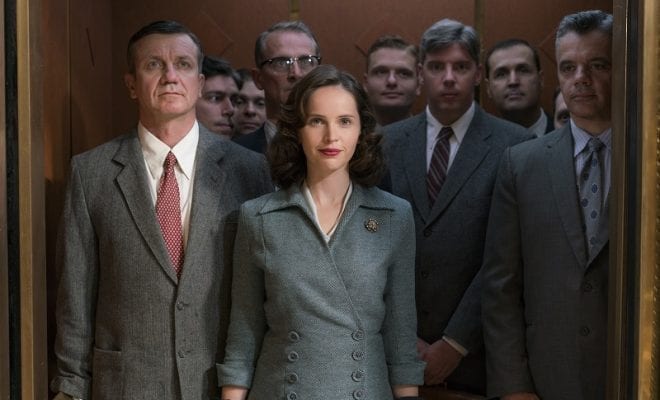 Felicity Jones stars as Ruth Bader Ginsburg in Mimi Leder's ON THE BASIS OF SEX, a Focus Features release.
Movies
Movie Review: On the Basis of Sex
By
|
"The word 'woman' does not appear even once in the U.S. Constitution," a judge tells Ruth Bader Ginsburg. "Nor does the word 'freedom,' Your Honor," she replies.
Director Mimi Leder opens the film with a classic contrast of a scene, a lone woman marches and steps into the esteemed institution among a sea of men in suits. In 1959, bright-eyed Ruth (Felicity Jones, "The Theory of Everything") is one of the nine women admitted to Harvard Law School. Her husband, cordial Marty (Armie Hammer, "The Man for U.N.C.L.E."), is a second-year student. When he is stricken with cancer, Ruth steps up by attending his classes in addition to hers, and caring for him and their toddler, Jane.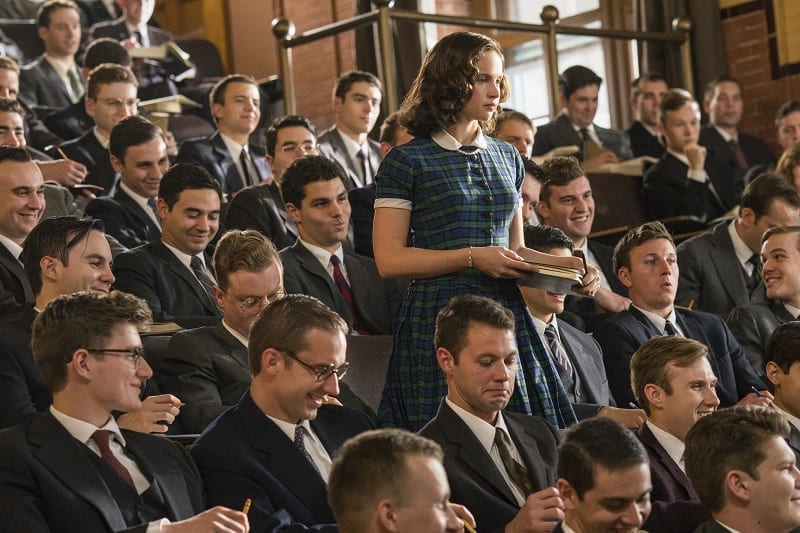 The film depicts the incomprehensible discrimination that women endured at that time. From the moment of the dean's dinner, female students are asked why they think they're worthy in place of a worthier man, ignored in class or not taken seriously by their peers or superiors, rejected by law firms for sexist reasons even after graduating the top of the class from Harvard and Columbia, and take a backseat to men in career and social circles. Women are expected to stay home and men to go to work. If women choose to work, they can only be secretaries, teachers or nurses. It's just a natural order of things.
Ruth ends up teaching about sex discrimination at a university whereas Marty is on a fast track to become the youngest partner of a major firm specializing in tax laws. The relationship between Ruth and Marty is illustrated wonderfully. Marty is admirably supportive and progressive. Their marriage is a truly egalitarian in all aspects of life – education, career, household chores, childcare and parenting – serving as role models for their growing kids, Jane and James (Callum Shoniker). It's no surprise that, Jane (Cailee Spaeny), now in her teens, grows up to be fearless and foward-looking.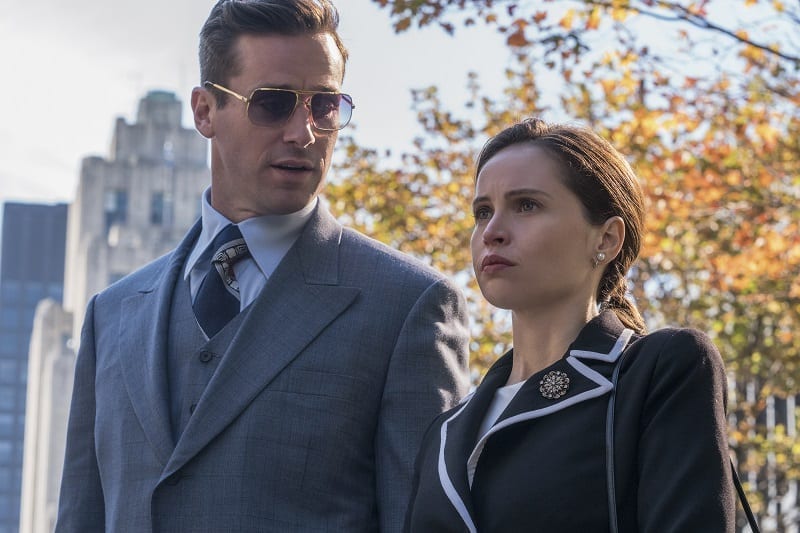 Ruth and Marty jointly take a pro-bono case about a man, Charles Moritz (Chris Mulkey), who is denied by the tax courts caregiver deductions. He is an unmarried man paying for a nurse to care for her ailing mother at home. Caregiver deductions are handily given to women, widowers or men whose wives are incapacitated because women are presumed to be caretakers. In an era where discrimination on the basis of sex is legal, this case has a transformational potential to topple the systemically discriminatory legal system and open the doors to gender equality.
Ruth makes an alliance with the head of the American Civil Liberties Union (ACLU), Mel Wulf (Justin Theroux), convincing him to add ACLU's name to the legal brief, essentially backing it. While being undermined at every turn by various parties, Ruth is undaunted. Constant challenges and setbacks do not deter her from moving forward with conviction, even as she's not without doubt. Armed with a brilliant legal mind and passion for doing what's right, she is an epitome of resilience, persistence and determination. Jones turns in a formidable performance.
When the government responds with a brief that lists all the federal laws that discriminate against women, the plan is to focus on winning this one case and then tackle these laws one by one. Far easier said than done when the law is not on your side. Asking judges to enforce or uphold the law is not the same as making or changing it. This case could set a legal precedent and result in a far-reaching impact that would touch generations to come.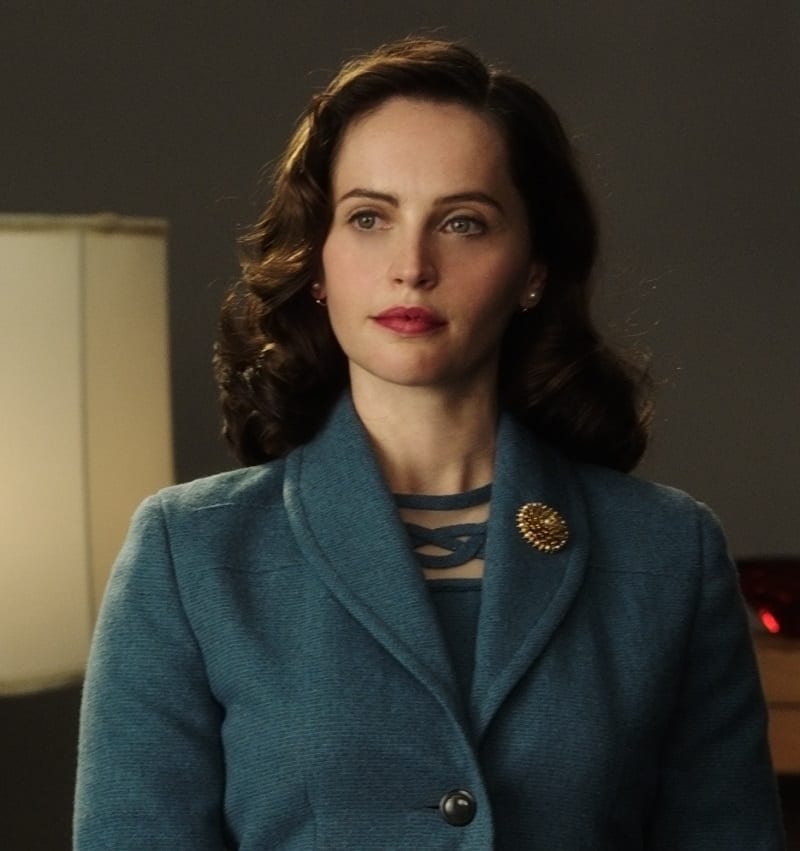 The courtroom showdown is one of the best aspects of the film. Dramatic oral arguments against ticking timers. Plan to deflect probing questions and redirect into the tax deduction aspect for one man derails, Ruth doesn't yield. When backed into a silent corner, she stands up and turns it into an impassioned speech about radical social change that resonates: Times are changing. In order for the country's culture and lives to change for the better, the laws have to change first. With her utterly compelling closing argument, soft-spoken Ruth sets the future on a different course and leaves a lasting legacy towards equal rights.
Glass-shattering figure Associate Supreme Court of Justice, Ruth Bader Ginsburg, didn't get nicknamed 'Notorious RBG' overnight. "On the Basis of Sex" is one poignant, remarkable story on how it all began. Full of fascinating insights, it is trailblazing, engaging and inspiring.
Copyright (c) 2019. Nathalia Aryani