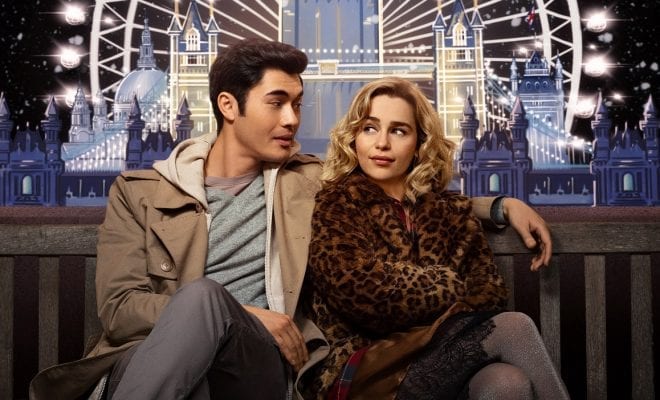 Movies
Movie Review: Last Christmas
By
|
Emilia Clarke and Henry Golding will warm your hearts in their new film Last Christmas, now playing in theaters. 
Kate (Emilia Clarke) is a young woman who has subscribed to bad decisions. However, when she meets Tom (Henry Golding), she begins to look at life a little differently. For Kate, it seems too good to be true.
It's a far and few between that those made-for-cable holiday movies starring D-list actors are actually entertaining. Recently they are becoming even more popular by attaching more and more A-list celebs to them. We see no different during the holiday season. Christmas movies aren't just a guilty pleasure anymore, they're money-making hits. Producer and actress, Emma Thompson and director, Paul Feig's new romcom Last Christmas feels a lot like a Hallmark/Lifetime movie, only with bigger stars and better music. 
Inspired by the popular Christmas tune and based on a story by Thompson and Greg Wise, Last Christmas transforms the literal meaning of the song onto the big screen and turns it into a heart-warming tale. The film follows the unlikely romance of Tom and Kate who accidentally cross paths outside the Christmas shop that Kate works at. 
The best way to describe Kate would be if Will Ferrell's Elf was having a Bad Santa day. A cynical drinker with rotten luck, she wanders through the world misunderstood and, as a result, shuts everyone out, including her family. She's recovering from a near-death experience and she hasn't felt like herself since then. Clarke is just brilliant and charming as Kate – showcasing her wild side while also delivering powerful and vulnerable moments. Golding's character Tom is a bit different: he's whimsical, mysterious, and finds joy in the little things. He ultimately inspires Kate to have faith, be aware of what's around her, and feel a little gratitude. 
Director Feig has created another hilarious film with meaningful moments. Emma Thompson who plays Kate's mom and Michelle Yeoh, Kate's boss, both have scene-stealing comedic performances. 
Even though it may feel more like a predictably TV holiday rom-com, it's the star-studded cast that makes Last Christmas a worthy holiday film sure touch audiences' hearts. 
Critic Rating: 5/5 stars
What did you think of the film? Sound off in the comments.