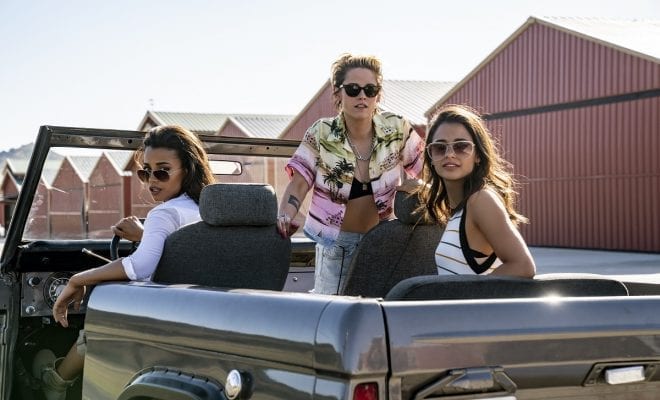 Photo Credit: Merie Weismiller
Movies
Movie Review: Charlie's Angels (2019)
By
|
Elizabeth Banks Reignites Charlie's Angels
Writer and Director, Elizabeth Banks brings Charlie's Angels back to the big screen with a new adventure that is full of surprises.
When a systems engineer blows the whistle on a dangerous technology, Charlie's Angels from across the globe are called into action, putting their lives on the line to protect society.
Charlie's Angels is non-stop fun from start to finish with exciting action sequences and female empowerment that is actually empowering. That is thanks to Elizabeth Banks, who is a triple threat in the film as writer, director, and co-star. Banks makes it clear very earlier on that this new iteration of Charlie's Angels is focused on its female characters and their experiences, which will take viewers on a wild ride.
Like most spy movies, the film takes audiences on a trip around the world, with characters hopping from Rio de Janeiro to Istanbul – among other locations. The movie also has a number of fast-paced and exhilarating action sequences that highlight the angels' skills. Jane, played by Ella Balinska, proves she is not be messed with in her many battles with Johnathan Tucker's Hodak. Banks' Charlie's Angels is much more grounded in hand-to-hand combat compared to the films in the early 2000s. The end result is a lot more fun and realistic in order to avoid overly CGI-ed sequences, keeping viewers. It all comes together to create an action film that lets its female stars shine.
As far as Banks' script goes, it does have its issues, but it plays into the expectations of the franchise and the spy genre. The Angels use society's ideals of female beauty against their targets and Banks' script uses that to pull off some surprising twists that allow the stars to have fun with their characters. Kristen Stewart is exceptionally entertaining as the flirty and comedic Sabina, while Balinska pairs well against Stewart. Balinska gets the majority of action sequences and performs them to perfection, most of which she did in real life. Noami Scott rounds out the trio and is instantly loveable. Much like the franchise's predecessors, all three women showcase a sisterly bond onscreen. As for the supporting players, Patrick Stewart is a delight to watch in his role, while Tucker is kind of one-dimensional; Sam Clafin and Noah Centineo have small roles, but memorable none-the-less.
Charlie's Angels promises to be all about women going above and beyond what's expected of them, and Banks' film delivers on that promise and then some. The film brilliantly showcases that putting women in charge of a franchise can reinvigorate one that has staled. Banks' Charlie's Angels gives viewers exactly what they wanted, even if they didn't realize it's what they wanted.
Critic Rating: 5/5 stars
What did you think of the film? Sound off in the comments.