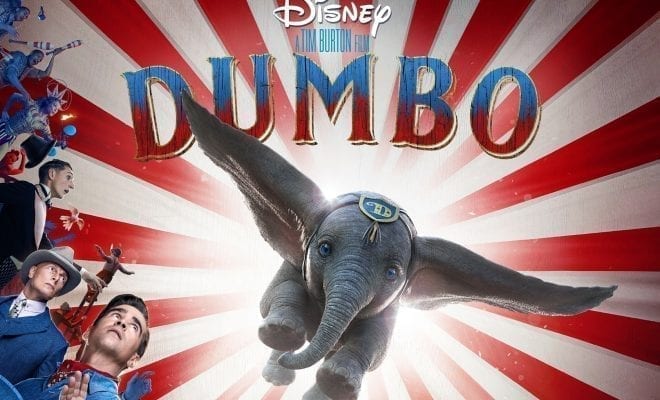 Movies
Tim Burton's Dumbo Is High Flying Fun
By
|
Tim Burton can now add Dumbo to his long list of amazing characters and his re-telling of the animated classic is a bundle of cuteness.
Struggling circus owner Max Medici (Danny Devito) enlists a former star (Colin Farrell) and his two children to care for Dumbo, a baby elephant born with oversized ears. When the family discovers that the animal can fly, it soon becomes the main attraction — bringing in huge audiences and revitalizing the run-down circus. The elephant's magical ability also draws the attention of V.A. Vandevere (Michael Keaton), an entrepreneur who wants to showcase Dumbo in his latest, larger-than-life entertainment venture.

Dumbo himself is a computerized bundle of cuteness who steals every scene he's in. What character designer Michael Kutsche does with Dumbo in terms of facial expressions and eye movements is movie magic gold. The film does have its villains, like Keaton's Vandevere who just sees Dumbo as a money maker. This generates conflict with Devito, which sets up a long-awaited reunion between Burton's Batman and Penguin. Then you add Eva Green to mix, who previously starred in Burton's Miss Peregrine's Home for Peculiar Children and Drak Shadows, brings so much heart and emotion to film as Colette, a sexy aerialist who finds herself in Dumbo an is just so much to watch.

Burton goes all out for this film, reuniting with composer Danny Elfman making it their 17th collaboration. Vandevere's Dreamland Colosseum is a mainstream circus that looks like something you would dream up and is just visually stunning. At heart, Dumbo is a story that is perfect for Burton. It's about a bunch of outsiders, Dumbo being the ultimate one, who are just looking for acceptance. Thankfully, Burton didn't have to use a whole lot to get that point across. Dumbo packs an emotional punch and you will instantly fall in love with the adorable elephant.
Critic Review: 4.5/5
What did you thing of Dumbo? Sound off in the comments!