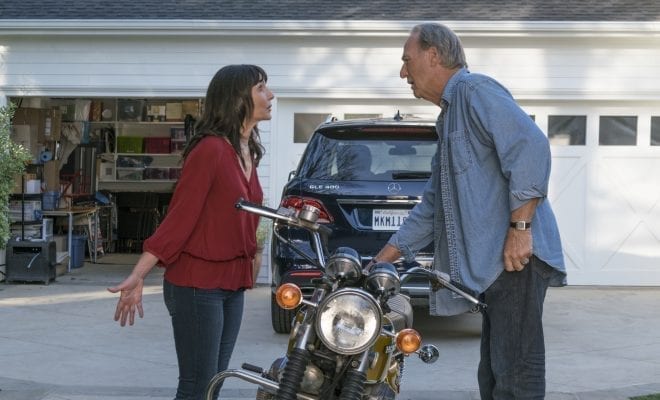 Mary Steenburgen, Craig T. Nelson in the film, BOOK CLUB, by Paramount Pictures
Movies
Entertainer Exclusive Part 2: Craig T. Nelson Shares Set Secrets from Book Club and Incredibles 2
By
|
Read Part 1 of our Entertainer Exclusive Interview with Craig T. Nelson HERE
From his early days on the comedy stage to playing lovable football fanatic, Hayden Fox, on the long running television sitcom Coach and Zeek Braverman on the dramatic television series, Parenthood to countless legendary big screen roles, actor Craig T. Nelson's career has been as versatile as it is prolific.
Movie audiences have been loving his work for decades in popular films spanning just about every genre: Poltergeist, Stir Crazy, All The Right Moves, Silkwood, The Devil's Advocate, The Family Stone and The Proposal. It was his voice work in the 2004 mega hit animated Disney Pixar movie, The Incredibles, that introduced Nelson to a younger audience. His voice is readily recognizable as the voice of Mr. Incredible, and as he tells it, the world stops spinning for a beat whenever a starstruck child hears him speak.
Nelson currently plays Mary Steenburgen's husband in the upcoming romantic comedy, Book Club, out May 18th. He's also resuming his role as Mr. Incredible in Incredibles 2, the long-awaited sequel to the 2004 blockbuster animated movie, The Incredibles, out June 15th.
In this exclusive interview to our San Diego readers, the conversation runs the gamut from overcoming the perils of aging in Hollywood, mid-life adventures, the secret to his long and happy marriage to wife, Doria Cook-Nelson, and the unique challenges of playing an animated icon for Disney Pixar.
AK: This is not your first time playing Mary Steenburgen's husband. You also played husband and wife in the 2009 movie, The Proposal, alongside Ryan Reynolds and Sandra Bullock. How was it playing her husband again in Book Club? This time around, was there a comfortable rapport already in place?
Craig T. Nelson: She's so much fun to work with. She's got this wonderful quirkiness to her that is so beautiful. It's also very challenging, because you need to stay on top of your game with her, as with all the actresses in this film. I've worked with Diane [Keaton], I've worked with Jane [Fonda], I hadn't met Candice [Bergen] until this film, so that was neat. I look forward to continuing to work with Mary. There is an understanding between me and Mary. You're able to ask questions of each other or address problems in a scene together. There's no wandering around, trying to get to the truth of something.
AK: How is the book Fifty Shades of Grey a catalyst for the comedy that ensues in this movie?
Craig T. Nelson: Fifty Shades of Grey wasn't an important part of my story in the film. It's part of the women's story. I think you're going to be surprised. The book is a catalyst in terms of Mary's character becoming aware of how bad things have gotten [in our marriage]. That's the only purpose the book serves. We've been having problems in our marriage and the book forces the issue to the surface.
AK: Do you recall a moment in your own life when you realized you weren't living your best life, or there were things still yet to be done?
Craig T. Nelson: I've had a number of them, and still they continue. One of the many things I felt the need to do was professional car racing, when I decided to go ahead and pursue it. Gradually I became better and better at it. It wasn't a death wish (laughs); it was a life wish. It was doing something that is very risky and challenging, but something I'd always wanted to do and never had the opportunity before. And now I'm going, "Wow, this is something I really enjoy!" It requires an enormous amount of concentration and focus, which is another reason I really like it.
AK: How does your real wife, Doria, feel about your race car driving?
Craig T. Nelson: It was something that my wife really suggested I do. She's very strong. She's a martial artist and she competes in Tai Chi Kwan all over the world in competitions. She said, "[Car racing] is something you should try." And once I got into it, she encouraged me to continue doing it.
AK: Let's switch gears and discuss another upcoming movie you're in, the much-anticipated Incredibles 2! Why the fourteen-year gap between the release of The Incredibles and Incredibles 2?
Craig T. Nelson: I don't know for sure, but I can tell you that [Incredibles writer and director] Brad Bird was busy with other things. He wanted to do some live action projects and then he made Ratatouille right after The Incredibles. He was very busy in his career.
AK: In the first movie, The Incredibles, your character, Mr. Incredible is struggling with living life as a civilian. He's dying to be a superhero again and to use his powers. Holly Hunter's character, Elastigirl, wanted a normal, low key family life. In Incredibles 2, it's reversed. She's out being a superhero and you're the stay at home dad. How does that go for Mr. Incredible?
Craig T. Nelson: He doesn't quite understand it and is feeling rejected, like, "Why don't they want me out there?" He now has to take a back seat and for him that's difficult. He makes the sacrifice for his wife. He's got a resentment going on, but as you watch him at home you get to know these kids in a way that's fun and interesting. And you get to see a guy have to adapt and get to know his children in a way that he hasn't. That was neat for me to play.
AK: When you're voicing an animated character like Mr. Incredible, are you in the recording booth with any other cast members, or is it just you in there?
Craig T. Nelson: You're not with the other cast members. You're with Brad, who's in every session. He's directing what you're responding to, and you go off that. Usually we'll do a session every three weeks, for four hours at a time. Then they'll put that into rough animation, so you can see what you've got. I've only done one session with another actor, and it was with Samuel L. Jackson who plays Frozone.
AK: How do you get into character when you're voicing Mr. Incredible?
Craig T. Nelson: You prepare ahead of time in the session, especially vocally because there are a lot of different ranges you have to get to. There are scenes when you're doing a lot of yelling and shouting. And it's a long and involved process that's complexly different from regular acting.
AK: I'm sure you've watched the first movie, The Incredibles, with your grandchildren. What do they think of you playing Mr. Incredible?
Craig T. Nelson: They don't relate the two. They still don't believe it (laughs). I have to do lines from the film, so they can hear me do the voice, and then it's, "Oh yeah, that's him." 
AK: When you're out, are you ever stopped by kids who know you're Mr. Incredible?
Craig T. Nelson: The other day my older son was visiting, and somebody overheard me talking to him and they turned around and said, "My God! Are you Mr. Incredible?!" They'll recognize the voice, it's interesting. And then you have to convince this kid that you are! And you feel like an idiot trying to get a seven-year-old to believe you (laughs). They look at you with this wonder, yet at the same time disbelief. It gets confusing even for me.
AK: My nine-year-old and I will be there on opening night, for sure. He's been waiting for this sequel, no joke, for years! What will kids and families get to experience with Incredibles 2 that they didn't with the first movie?
Craig T. Nelson: The special FX are extraordinary. Since 2004 when the original movie was out, they've developed a whole new range of different processes that have gone into this movie, including its color enrichment. For me, the exciting thing about the second movie is that the character Jack Jack, the baby, really comes alive and that's going to be so much fun for people to see. What's so great about this movie is that it's a family deal. You can take your family to this movie and have a great time. And same with Book Club. It's two movies I'm proud to let my family watch.
---
Book Club is in theatres May 18th and Incredibles 2 is in theatres June 15th.