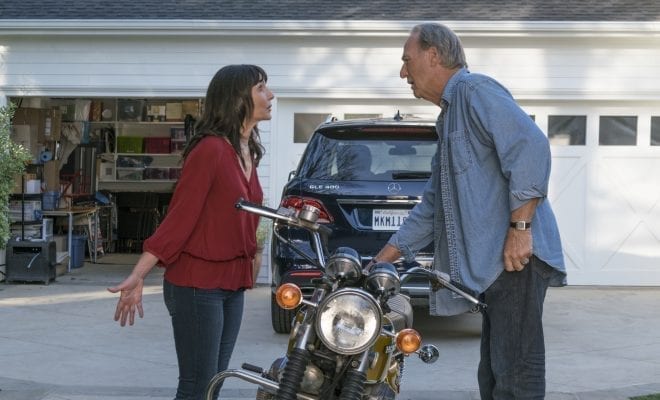 Courtesy of Peter Iovino, Melinda Sue Gordon, Paramount Picture
Movies
Movie Review: Book Club
By
|
Bill Holderman's directorial debut turns out to be quite the page turner, flipping from scene to scene with effervescent grace. This may come as a surprise to most–and admittedly myself–since the lions share of "scandalous" cheesy rom-coms where the character's well being hang in the balance of getting laid are ironically un-sexy, "Book Club" has seemingly escaped the confines of the genre's lions den. By flipping 20-somethings for beaming 70-somethings, we're left with an endless amount of stimulating one liners that could stuff a book.
The plot brings together four lovable life-long best friends Diane (Diane Keaton), Vivian (Jane Fonda), Shanon (Candice Bergen), and Carol (Mary Steenburgen), who have all found time amidst their busy lives to occasionally meet and enjoy a couple delicate appetizers and a couple glasses of wine (or a couple bottles) as they occasionally discuss the designated book for that week.
It's "First Wives Club" (which Keaton also starred in) but with manners. Instead of the unsung exultation of middle age, here, it's the chorus of appreciation for the elderly. Though this film and its "book" club certainly carries more wisdom and sensibility than the "wives" club, but that just comes with age.
The drama, and there is plenty of it–if you couldn't guess by the premise–comes in the shape of men. If you couldn't guess that by seeing the trailer…I guess by now you're a lost cause. And it is as a lost cause, in the arena of love making, where these four woman stand. That is until Vivian whips up the recommendation "Fifty Shades of Grey" for next week's book. An idea that comes with flashing smiles, uneasy hesitance, and awakened arousal, but altogether seems like a match made in heaven. Albeit they originally confused the term "for mature audiences" for something wholly different.
As they meet each week, they discuss how deliciously cathartic their experiences reading E.L James have been, and how the presumably inspiring prose within the text was going to get these ladies out of a rut. Though the "rut" these four impractically wealthy and beautiful woman are trying to get out of, essentially equates to getting their aging husbands and boyfriends out of their pants.
Vivian doesn't seem to be having many problems in this department. Her exotic red hair worn as high as her eloquent dresses, and with an inviting smile that lures men into her successful hotel, it's no strings attached after 5 o'clock. But so much for sex without consequences. Once her old friend Arthur (Don Johnson) enters the scene, she cannot seem to shake his handsome bedroom eyed affluent aura, and her wishes of never finding love seem to be lost in a reversed fountain of youth.
Antithetical in her conquest is the timid Carol, who yearns for her husband– a stereotypical father figure played humorously by Craig T. Nelson— to get his engines revving for her just as he does for his antique Harley motorcycle. At one point in the film she asks, in one of the many one liners that ties this film to its product placement of "Fifty Shades", "are you going to tie me up?", to which he later responds, "what's for dinner?".
What seems overworked here, as is seen in the "Fifty Shades" trilogy, is the luxury milieu (primarily seen in Dianne's soaring affair), which seems to service as a metaphor for the films tacky blueprint. Lavish vistas that would max out the average American's Visas, poignant dresses, Michelin Star meals, and modern Spanish Victorian estates sell each frame as upscale destinations for the middle class to visit on vacation this summer and the lower classes to view with awe and jealousy equally, but the result is merely petty and bland. "Book Club's" bright aesthetic is as formulaic as its sitcom tropes have been exhausted in the past half century.
Remarkably however, the performances are anything but "exhausted", breathing fresh air and life into an otherwise cliche and lighthearted endeavor. Jane Fonda prior to release sincerely stated a few weeks back that "Book Club was the most fun I have ever had making a movie", and it shows. The four remarkable leads, who also remain friends on and off set, explode on and off screen with genuine chemistry that animates their refreshingly honest characters into empowered and forward thinking sex-craved role models. I mean, why not? We threw ethics out the window in cinema ages ago. Which also begs to question, how do these ladies go about their business at this age without throwing out a hip? The answer comes in the convincing performances, as we put aside all the films shortcomings and impossibilities for the harmonious quartet of stars that play off each other in an entertaining and engaging way, and if a sequel were to be provided, I could see myself joining these actresses again and putting my day to day problems off for a couple hours for the off-putting pop culture references and the fantastically "fizzy" conversations on life, literature, and lust.
"Book Club" may be trite and unrealistic, but it never poses as grounded realism. Bill Holderman's debut is a fantasy that trades lingerie and S&M for Spanx and M&M's. And young loveless characters who voyage uncharted waters in search of kinky sex, for seasoned protagonists who sail familiar waters in search of not just kinky sex, but companionship and independence. There is a touching message buried here somewhere on elderly equality and womanhood. But Holderman's witty script brushes over its political messages–and thankfully so– for witty sexually suggestive remarks that are relentlessly funny, probably even more so if you were as wasted as the four on screen.
Romantic comedies usually service as wasted opportunities, but the exceptional ones many times can be summarized by the following innuendo, and "Book Club" is no exception. "Hard laughs but flaccid directing". You would think such a provocative line would find itself in this week's "Deadpool 2" review, but Holderman's script is ballsier than you would think.
3.5/5