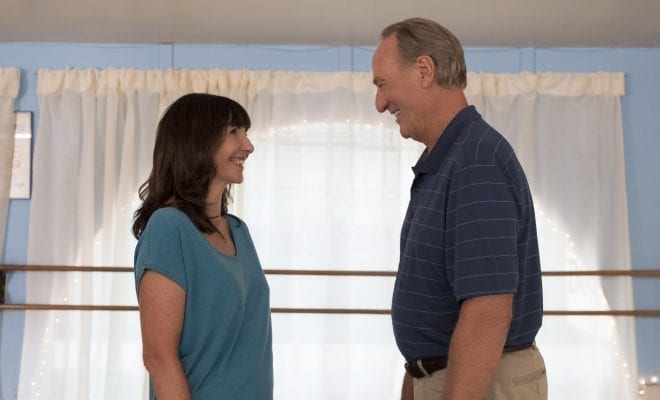 Mary Steenburgen, Craig T. Nelson in the film, BOOK CLUB, by Paramount Pictures
Movies
Entertainer Exclusive Part 1: Craig T. Nelson Shares Set Secrets from Book Club and Incredibles 2
By
|
From his early days on the comedy stage to playing lovable football fanatic, Hayden Fox, on the long running television sitcom Coach and Zeek Braverman on the dramatic television series, Parenthood to countless legendary big screen roles, actor Craig T. Nelson's career has been as versatile as it is prolific.
Movie audiences have been loving his work for decades in popular films spanning just about every genre: Poltergeist, Stir Crazy, All The Right Moves, Silkwood, The Devil's Advocate, The Family Stone and The Proposal. It was his voice work in the 2004 mega hit animated Disney Pixar movie, The Incredibles, that introduced Nelson to a younger audience. His voice is readily recognizable as the voice of Mr. Incredible, and as he tells it, the world stops spinning for a beat whenever a starstruck child hears him speak.
Nelson currently plays Mary Steenburgen's husband in the upcoming romantic comedy, Book Club, out May 18th. He's also resuming his role as Mr. Incredible in Incredibles 2, the long-awaited sequel to the 2004 blockbuster animated movie, The Incredibles, out June 15th.
In this exclusive interview to our San Diego readers, the conversation runs the gamut from overcoming the perils of aging in Hollywood, mid-life adventures, the secret to his long and happy marriage to wife, Doria Cook-Nelson, and the unique challenges of playing an animated icon for Disney Pixar.
AK: With Book Club there are so many celebrated actors in one movie. What does an ensemble piece allow you to do as an actor that carrying a film or television show on your own doesn't allow for? 
Craig T. Nelson: The opportunity to work with the different characters that are being played broadens what you can do as an actor. Oftentimes, the way people react differently to different people they meet, it's that same dynamic and it can be something of an adventure. Although in Book Club, most of my scenes are with Mary [Steenburgen]. There are only one or two scenes where I'm with everyone, although I knew everybody. In this movie, although it's an ensemble cast, the focus was my interaction with Mary's character.
AK: What was your initial impression of the Book Club script when you first read it?
Craig T. Nelson: Oh, I loved it! It spoke to something I was familiar with; that whole process of aging. You think you're never going to get there, but eventually it just shows up and there it is. I thought the script was well thought out, cogent, specific, and each character was delineated. I wanted to do the movie right away, after reading the script.
AK: This movie addresses that mid-to-later-life slump that people can slide into without even realizing it's happening. As you said, you wake up and it's just there. How do you think men experience this phase of life differently from the way women experience it?
Craig T. Nelson: I think we experience it in much the same way. Although, it depends upon societal pressures. Part of the confusion is the result of what society is demanding now, which is pretty much all youth oriented. Cosmetically and pharmaceutically you're supposed to be able to prolong your life, or at least the appearance of it. The reality is that you do age. Yes, we are living longer, but there's more pressure associated with it. I suppose it's how all of that manifests in each of us, which has to do with our own peculiar personality. That's the interesting part about it; how each one of us deals with it. Generally speaking, your libido drops, physically you're not as active and not able to do as much. All of that is pretty much the same in people, but very few people address it psychologically. There's a lot of pressure to be young. But there is also a lot of pressure being old, not to get any older. I think that is so screwed up.
AK: In Book Club, your wife, played by Mary Steenburgen, is upset because she feels your marriage has fallen into a slump. Do you think marriage should be able to go through its natural ebbs and flows romantically, sexually and emotionally?
Craig T. Nelson: If you're married to your best friend, as I am, and I'm married thirty-four years now, then you have to realize you're going to have ups and downs. You're physically going to change, emotionally you're going to change. You have to adapt and change, and be prepared for that stuff. That's also part of the adventure. It seems like just yesterday I was talking to older actors about aging. I was a young working actor, and they were all telling me how difficult it was for them and how they were approaching a period in their life where they felt they weren't working as much. I think they felt neglected and not as respected. I can remember a lot of guys talking about that. When it started happening to me, it was like, "Whoa! Wait a minute here." But at least I have the tools. I think I was prepared for it to a certain degree.
AK: With the hit series Grace and Frankie, and with this movie, Book Club, it seems that Hollywood is now gaining a little more respect for stories about mature people.
Craig T. Nelson: I think this movie will help. It brings some awareness, which I think is good, but ageism has been prevalent in this business for a long time.
AK: The Baby Boomer generation are such a huge segment of the population, they have tremendous spending power, and they want to see stories about themselves.
Craig T. Nelson: Right, but as you see in television, for example, you've got a specific demographic that's usually being targeted. I have always argued, even back when I was doing Coach (the ABC sitcom Nelson starred in from 1989 to 1997), that it's not necessarily accurate. I agree that a lot of buying power rests in the hands of people who are approaching retirement, and in their forties and fifties. It's like with the glut of action movies we're getting and have had for a while. What is that? It's enough already. I would much rather see stories like Book Club, which I feel are specific, well written and truthful. I'm fine with animated movies about superheroes. Obviously, I don't have a problem with that. I don't have a problem with action films either, except that there is just so much of it, and what am I left with?
AK: You began your career as a stand-up comedian, correct?
Craig T. Nelson: Barry Levinson and I did stand up [comedy] together for four years, and then another guy, Rudy DeLuca joined us. We wrote and performed comedy, and then we worked with Tim Conway, John Byner and Alan King. That's how I started.
AK: How did you segue into film and television, and how does that early stand-up experience help you in the roles you play now?
Craig T. Nelson: I was never really interested in doing standup comedy. Barry Levinson and I were in the Oxford Theatre together, which was a theatre group in LA. We got to talking and Barry said, "Why don't we do a standup act?" I had never done that and never even thought of it, but we put an act together. We went out and auditioned and started doing clubs. It was an intro into the business, and I met so many incredible people during that time. It does give me a different perspective. Comedy helped me to enlarge and be better at what I did. Another important thing is that you just get better as you get older. You realize what you're doing more, and you don't make as many mistakes. I'm so much more comfortable in a scene now than I ever was, because I know how to play it. Certainly, there are challenges, but your tool bag is filled up. There are so many experiences and so many people to draw on, and it's a wonderful place to be.
---