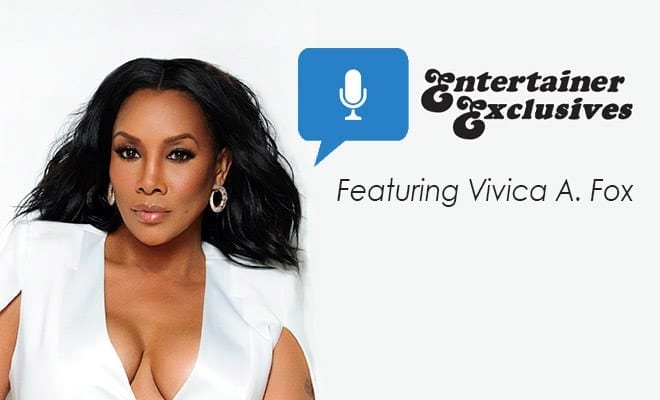 Lifestyle
Introducing Entertainer Exclusives Interview Series: Featuring Vivica A. Fox: Part 1
By
|
The San Diego Entertainer is proud to be your source for the latest in entertainment and lifestyle news, and the best events and things to do around town. Starting today, we are expanding our entertainment coverage to include exclusive interviews with celebrities from every genre of entertainment. In the first of our Entertainer Exclusives series, Allison Kugel, a syndicated entertainment and pop culture journalist, and newest contributor to the Entertainer, sat down with Vivica A. Fox to discuss her career journey, family, aging, and so much more.
Kind, conscientious, courageous and refreshingly candid, Ms. Vivica A. Fox has proven that as Hollywood careers go, second acts are often the sweetest. The multi-hyphenate actress-director- beauty entrepreneur-author is embracing life and not looking back, except to pull from her well of wisdom for her new memoir, Every Day I'm Hustling. And if you know Vivica like we got to know her during our conversation, you'd think the book's title quite fitting. She enjoys hard work and has no plans to slow down.
Born Vivica Anjanetta Fox on the outskirts of Indianapolis, she went by Angie Fox, one of four siblings being raised by divorced mother who worked overtime to provide for her children. Her childhood home was hectic but loving and provided fertile ground for Vivica to aspire for things grander than her midwestern upbringing.
After high school, she made her way to Southern California to attend college, all the while seeking out opportunities in Los Angeles to model and act wherever she could. It was in LA that Angie became Vivica A. Fox. She worked her way through the ranks on sitcoms and daytime soaps, and in 1996 got her breakthrough role opposite Will Smith in the classic blockbuster, Independence Day. Next came a string of fan favorites including Set It Off, Soul Food, Two Can Play That Game, Kill Bill Volume I and II, and a string of subsequent roles in film and television, including Larry David's sharp-witted houseguest, Loretta Black, on Curb Your Enthusiasm and Skye in the campy Sharknado franchise. Her eclectic career has kept her on the move for nearly three decades.
In 2016, Vivica joined the cast of the smash hit television series, Empire, playing conservative suburbanite Candace, Cookie Lyon's (Taraji P. Henson) older sister and character foil.
During our interview we covered everything from movie stardom and maternal instincts to social media drama, setting boundaries and finding love.
AK: When are you Angie and when are you Vivica? When do you take off the Vivica and become Angie from Indianapolis?
Vivica A. Fox: Well first off, that's Angie Fox from 38th and Emerson in Indianapolis (laughs)! I'm Vivica Fox when I hit that red carpet and I'm ready to slay the game. That's what I do. But I love that I have in my life, and in my journey, learned when to be Angie Fox. And that's mainly when I'm with my family, time off, hanging out with my godchildren, having my Me Time and learning to take Me Time. That's when I'm no makeup, baseball cap, chilling and blending in.
AK: Do you prefer yourself that way?
Vivica A. Fox: Oh my gosh! To be honest with you, the older I've gotten, the more I prefer it. I work so much; I've been so blessed and so busy lately that I enjoy when I can have that Me Time. In fact, today I don't have to be on. That's what I really love about being with my godchildren. When they see me, I'm just G.G. or G-ma. G.G. stands for Gorgeous Godmother. G-ma, I don't know where they got that one from, but I have five godchildren. Two of them call me G-ma and the other ones call me G.G. They like hanging with me. Not the drama or the glamour, they just want me.
AK: I love the part in your book where your godson, Christian, sees you all done up as Vivica A. Fox, and he gives you that side eye like he doesn't recognize you, and you say, "It's okay, I'm just wearing my Vivica costume." Then he asks, "You're still my G.G., right?" And you reassure him that it's still you.
Vivica A. Fox: It's funny because he was just a baby the first time he saw me like that, and he was like, "Who are you!?" He was so used to seeing me in my tracksuit and baseball cap. But now at seven, he kind of likes it when he sees the reaction I get from people. He's done a couple of red carpet events with me and he knows the difference between the two.
AK: Coming from the Midwest, your father was a school administrator, your mother worked for a pharmaceutical company, so you really had no ties to entertainment, or Los Angeles for that matter. What gave you that spark of courage, that spark that made you believe that you could become a successful actress?
Vivica A. Fox: I was introduced to the world of fashion and modeling by Madame King, my late auntie. She had her own beauty salon back in the day. She was the first one to cut my hair and put me on a runway. I was kind of bitten by the bug at thirteen. From that point forward, I just fell in love with magazines and fashion. Then I went to go see Michael Jackson in concert, and Diana Ross in concert. I had never seen African Americans being so fabulous, and I was like, "Where do they live? That's where I'm going! That's what I want to do." I decided that during my senior year in high school. But I had to trick my mama (laughs) and tell her I was going to college in California, and I did go to college. But I would be sneaking up to Hollywood and going to modeling agencies. I had a girlfriend who was an actress, and I used to read lines with her. She would say, "You're pretty good at this, you should try it."
AK: Your book is part memoir and part motivational guidebook for success. Tell me about your mentor, or mentors…
Vivica A. Fox: My mentor would have to be a good friend of mine, and my first acting coach, Sheila Wills. I'm her two daughters' godmother. Sheila, I met when I was doing [the daytime soap opera] Generations. She took me under her wing, and she would work with me with auditions. I would go into those auditions and just nail them. I attribute my success to her. She would say, "Vivica, you've got to stay ready. You got to be ready. You've got to take care of yourself." And people who inspired me to be who I am would be Diana Ross and Pam Grier.
AK: Do you know that you're incredibly sexy? Is that something you're aware of?
Vivica A. Fox: Well, okay now!
AK: I'm not pulling your leg. You really do ooze sensuality. Do you know that?
Vivica A. Fox: Thank you! I appreciate that. Got to keep it tight and right, girl (laughs).
AK: More so now, than twenty years ago, in my opinion…
Vivica A. Fox: Maybe because… No, not maybe! Because I am comfortable in my own skin. I'm very comfortable with me. I have embraced my womanhood through my pluses and my minuses. I'm good with me right now, so that's what you're seeing. My spirit is happy, more than anything else. It's taken awhile, and that's something I want to share with people. My book is a motivational memoir. I, too, have fallen down and had to figure out how to get back up and create new chapters for myself. I want to encourage, enlighten and inspire other people.
AK: Why did you choose to share your journey with menopause in the book?
Vivica A. Fox: It's part of life. It's going to happen. And it's like you just asked, "Do you know that you're sexy right now?" But do people also know that for the last few years, that's what's been going on in my life? I embraced it and I got in front of it. I didn't let it define me or make me want to whittle away. I don't know why with women, we can't talk about our bodies and what we go through, share it with others, and not feel like we have to hide that from people. I'm sharing it, and I got in front of it and took care of myself. I really feel like it made me take good care of myself.
AK: And being that your image is sexy, you weren't afraid of putting that out there…
Vivica A. Fox: No, not at all. You're going to have naysayers and people that are going to try to come and say something, and they can. But I'm still me. It doesn't change who I am. I'm still all woman.
AK: When it comes to social media feuds and this clap back culture we're living in, when do you take the high road and not respond, and when do you feel the need to clap back?
Vivica A. Fox: I will clap back occasionally, but to be very honest with you, if it's not necessary, I don't like that. I'm not one of those people who became famous by being a controversial celebrity. Normally, I'll click on who that person is and see if they're even worth it. If it's somebody that you can tell is wanting to make TheShadeRoom or seeking attention, I just block them. They're not worth it. When I clap back, it's when somebody comes at me or I have to set the record straight.
AK: Technology has made it very easy for people to say something mean spirited or join in the angry mob. For me, I try my best to practice the art of what I call Non-Reaction, where I feel like every time I don't react I'm passing that next spiritual test. But occasionally, something will get me and I'll react. And then I'll wonder, was that a failure on my part, or was it warranted in that situation? Do you share that same internal struggle?
Vivica A. Fox: It's an internal struggle with me too. Some days I'm like, "Why did I give that person my energy?" There are some people, they just come on your page to be mean, and you kind of want to go, "You looked me up, and took the time to write a response to be mean to me. Hmm, what does that say about your character?" There's an old saying your mama told you. "If you ain't got nothing nice to say, don't say nothing at all." I try to live by that old school motto. I don't try to pass on bad energy to others, I don't. If I don't have anything nice to say I just keep my opinion right on over here. But you know, this generation with the social media, a lot of people like that negative feedback. They feed off it. I don't.
AK: Let's talk about motherhood…
---
Vivica's memoir, "Every Day I'm Hustling," is available everywhere books are sold April 3rd and available for pre-order on Amazon.