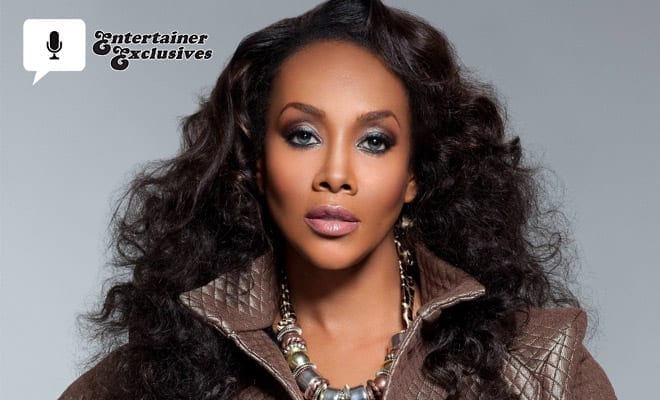 Photo by D'Andre Michael
Lifestyle
Entertainer Exclusives Interview: Vivica A. Fox: Part 2
By
|
The San Diego Entertainer is proud to be your source for the latest in entertainment and lifestyle news, and the best events and things to do around town. Starting this week, we are expanding our entertainment coverage to include exclusive interviews with celebrities from every genre of entertainment. In the first of our Entertainer Exclusives series, Allison Kugel, a syndicated entertainment and pop culture journalist, and newest contributor to the Entertainer, sat down with Vivica A. Fox to discuss her career journey, family, aging, and so much more.
Kind, conscientious, courageous and refreshingly candid, Ms. Vivica A. Fox has proven that as Hollywood careers go, second acts are often the sweetest. The multi-hyphenate actress-director- beauty entrepreneur-author is embracing life and not looking back, except to pull from her well of wisdom for her new memoir, Every Day I'm Hustling. And if you know Vivica like we got to know her during our conversation, you'd think the book's title quite fitting. She enjoys hard work and has no plans to slow down.
Read Part 1 of our Entertainer Exclusive Interview with Vivica A. Fox HERE.
Born Vivica Anjanetta Fox on the outskirts of Indianapolis, she went by Angie Fox, one of four siblings being raised by divorced mother who worked overtime to provide for her children. Her childhood home was hectic but loving and provided fertile ground for Vivica to aspire for things grander than her midwestern upbringing.
After high school, she made her way to Southern California to attend college, all the while seeking out opportunities in Los Angeles to model and act wherever she could. It was in LA that Angie became Vivica A. Fox. She worked her way through the ranks on sitcoms and daytime soaps, and in 1996 got her breakthrough role opposite Will Smith in the classic blockbuster, Independence Day.  Next came a string of fan favorites including Set It Off, Soul Food, Two Can Play That Game, Kill Bill Volume I and II, and a string of subsequent roles in film and television, including Larry David's sharp-witted houseguest, Loretta Black, on Curb Your Enthusiasm and Skye in the campy Sharknado franchise. Her eclectic career has kept her on the move for nearly three decades.
In 2016, Vivica joined the cast of the smash hit television series, Empire, playing conservative suburbanite Candace, Cookie Lyon's (Taraji P. Henson) older sister and character foil.
During our interview we covered everything from movie stardom and maternal instincts to social media drama, setting boundaries and finding love. Here is Part 2 of our Entertainer Exclusive Interview with Vivica A. Fox.
AK: Let's talk about motherhood. I know you have all these nieces and nephews, and godchildren. I feel like motherhood, meaning the energy of motherhood, is something that is innate in all women. We have a need to nurture. How does that energy express itself through you? 
Vivica A. Fox: I'm Mama Bear all the time! I have a nurturing instinct and I think I get that from my mother. My mother always loved to take care of others. Still to this day, she doesn't take as good care of herself, because she is always looking out for others. I got that quality from her. When I'm on the set, I'm always looking out for others. When I walk on a set, I'm always making sure that I speak to everyone, that I try to make people as comfortable as possible.  In that way, I am very motherly. It's just something in me, I like to look out for others. But the older I've gotten, I've learned to look out more for myself, as well. And I've learned a very important word: No. Because people will take, take, take from you child, till you drop! Then they're satisfied, and you're left over there feeling completely empty.
AK: At what age did you learn how to say No?
Vivica A. Fox: It was in my late forties, or maybe just when I got to be about fifty, that I started really looking at my relationships and asking myself if they are all reciprocal relationships. I had that tendency to give, give, give, and I finally took off my Captain Save-A-Ho cape.
AK: (Laughs).
Vivica A. Fox: I mean that. Sometimes you'll talk to friends on the phone, and we all vent, it's human. But if you talk to somebody that is constantly draining and negative, at some point… I've cut ties with a couple of friends and not felt bad about it. I call it the season of shedding, where not everyone's going to the next chapter or the next level with you. And it's okay. You don't have to hate them, but there's nothing wrong with making good choices for yourself.
AK: How do you define glamour and beauty?
Vivica A. Fox: Someone who is a goddess, who just radiates confidence; someone who owns her moment, who seizes her moment. The older I've gotten, I believe that beauty radiates from the inside. Especially nowadays with these build-a-bodies, and everything is just makeup and fakeness in my opinion right now. It's when you meet a person and they are a beautiful person, they radiate confidence and kindness. I find beauty in a woman that has no makeup on, but she's confident in her own skin and radiates kindness and does for others, to me that's beautiful.
AK: In your book you give advice on achieving different areas of success in one's life. I personally think that so many people have a misconception about success. People want that insta-recognition, that insta-success. I said to someone the other day that for all the people who think they would love to trade places with Mark Zuckerberg or Oprah, for example, most of those people wouldn't make it through the first week if they saw the tremendous amount of work, pressure and sacrifice that it takes to be in that type of position.
Vivica A. Fox: To piggyback on that point, for myself, people don't realize that for the last two to three years I slept on planes. I was always traveling, always busy, taking meetings, not sleeping, going here, going there, and going through changes of life and never letting it slow me down. There's a lot of work required. All those seeds that I've planted, I'm now seeing them all blossom. But I had to do the work. That's what I tell people. In my book, in the chapter about Being the Head Chick in Charge, I say, "Don't let anyone outwork you."
AK: What do you think is the biggest misconception about success?
Vivica A. Fox: That it's easy. When you're successful, usually it's taken a long time to build a career. It isn't something that happens overnight. It takes time to build a career, and a career means being able to go through different stages and chapters of a career, not just being the hot chick of the moment. For me, I went from being the hot ingenue chick, to now building my brand and producing and directing.
AK: Let's talk about Empire. I started watching it last week, all four seasons in a row!
Vivica A. Fox: Oh, you binge-watched…
AK: Yes, I binge-watched! I'm talking carrying the iPad with me all over the house; the show is that addictive and entertaining. Entertainment value, on a scale of 1 to 10, it's a 12 plus. The one thing I had mixed feelings about is the way African Americans are depicted in the show. On one hand I'm loving it, on the other hand I'm thinking, "Does this play on negative stereotypes, the way this family is being portrayed?"
Vivica A. Fox: Well, I think that's why Empire has been so successful. It's raw and right there in your face. It makes you uncomfortable. What I commend Lee Daniels and the cast of Empire for this they are like, "It may make you uncomfortable, but we are who we are. We're not going to sugar coat this. We're going to give it to you straight, no chaser." That's what made it a phenom. Some people felt like they couldn't handle the gay [subject], or they feel it's a little bit too raw, but that's Empire. They have stayed true to what the show is about, and I have to commend them for that. That take courage, not to bow down to social or peer pressure.
AK: Did Lee Daniels ever share with you the moral of the story of Empire, or his vision for the show?
Vivica A. Fox: Not really. The thing I love about Lee is that he is who he is. It's taken awhile for him to become comfortable in his own skin, and that he's a gay man and that he has talent, and he doesn't have to hide who he really is anymore. We've all been in this business for twenty years, and I'm going to tell you that it's been a long journey for him to put out a show like this. Some of the storylines in the show, absolutely, with the mother saying to her kids, "You're this, you're that (referring to the character, Cookie, having a penchant for hurling insults)." The father throwing the kid in the dumpster, it tugs at the heartstrings. It makes you uncomfortable, but it happens. I feel that with knowledge there's power.
AK: What will Candace be up to in the new season?
Vivica A. Fox: I can't give away a whole bunch, but I will tell you that Candace is back and that you will get the chance to finally meet our mother, Renee, played by the very beautiful and talented Alfre Woodard.
AK: Do you judge your character, Candace, the same way that Cookie judges her?
Vivica A. Fox: No. I believe we all have those relationships in our families where we're all different, but we're still family. In my career right now, I've embraced my womanhood and people are like, "Ooh, Vivica, you're going to become today's Diahann Carroll." And I'm like, "Wow! Thank you for that." But firstly, Vivica is a little bit more like Cookie. I like to have my rock star moments, and I love wearing the crazy clothes and all that stuff. But Candace is who I'm evolving into.
AK: In your book you provide some back story about your mom and dad's relationship, and how it's affected your own love life. What I got from what you wrote is that in watching your mom nurse a broken heart over the divorce from your father, you saw her as a victim, and that framed your own love life.
Vivica A. Fox: Absolutely.
AK: Do you still see her as a victim, or do you see things in a different light now? And what would it take for you to let your guard down in love?
Vivica A. Fox: I see my mother now as a survivor. My mother grew up in a time where you stuck by your guy. He was her one true love, and I definitely have those qualities. What I learned from her, in wanting her to live and to love and to laugh more, I wouldn't take those same steps that she did. I can open my heart again. For my part, I'm making sure that I'm not lustful anymore. I don't look at somebody and right away say, "Oh yes, he's the one!" I make sure that I take the time to get to know someone. That's something I pass along in my book, as well. Don't jump into the shallow end of the pool head first. You've got to take the time to get to know people. So yes, I am open to love. I want to love again and have someone that's really special. But he has to prove himself, and I would have to prove myself to him, that I'm worthy to be his mate. Sometimes women are so afraid to be alone that they just take that first thing coming, and they get the short end of the stick. They keep dating the same guy over and over again. That's why, in the book, I say to make your chart out. Do you keep dating the same guy over and over again? Because you're going to get the same result.
AK: Do you want Hollywood to be colorblind in writing and casting roles, or do you want to be identified, and cast, as an African American actress?
Vivica A. Fox: Of course, I always want to be seen as a talented African American actress, because that's who I am. I feel that right now, what's going on in Hollywood is that, man, that glass ceiling has been busted wide open. It's been a long time coming, with the success of Black Panther, with the success of television shows like Scandal and Empire and How to Get Away with Murder; with Oprah having her own network. It's about damn time.
AK: Is it an I Told You So moment?
Vivica A. Fox: I don't know if it's I Told You So as much as it is, Finally.
AK: Finish these sentences for me. I know I can trust someone when…
Vivica A. Fox: When I've truly gotten to know them.
AK: I know that God is speaking to me when…
Vivica A. Fox: Woo! Hmm. All the time. Every day when I wake up and I can thank Him for letting me see another day. I would say, I know God is speaking to me all the time, and He helps me make better choices.
AK: My spiritual mission in this life is…
Vivica A. Fox: To be kind, to do unto others and to leave a good mark.
---
Vivica's memoir, "Every Day I'm Hustling," is available everywhere books are sold April 3rd and available for pre-order on Amazon.