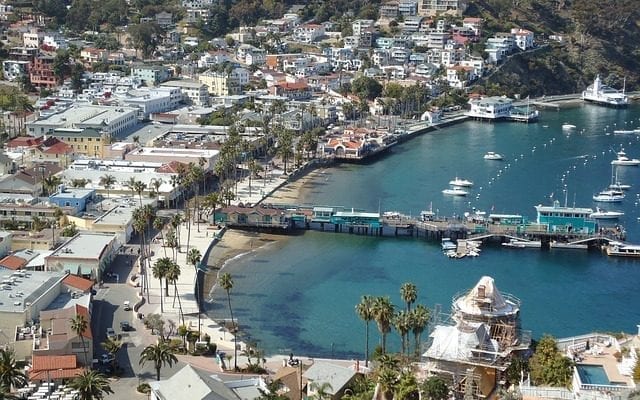 Lifestyle
Visiting Catalina Island: How to Make the Most Out of Your Trip to Avalon
By
|
Catalina is a beautiful island located about 22 miles off the coast of Orange County, and can be reached by a 1-hour ferry trip from Dana Point. There are several ferry ports to choose from (Dana Point, Newport Beach, Long Beach and San Pedro) that offer convenient options for those wanting to visit. Thinking of celebrating your birthday at Catalina island? You're in luck because these ferry ports also offer a free round-trip! Otherwise, round-trip tickets on the Catalina Express will run you $58-$73.50 depending on your age.
Avalon is tourist-central for the island, with a wide range of things to do there. Two Harbors is the other main port, but Avalon is the biggest port with the most to do. There are several restaurants on the shore of Avalon, including Luau Larry's who are famous for their signature island cocktails and delicious burgers. One of the best parts about visiting Avalon is the lack of cars, with the most common mode of transportation being on foot. However, if you're looking to explore the majority of Avalon, renting an electric bike or golf cart is recommended. These will allow you to make your way up the back roads that wind around the hills of Avalon. Arriving at the top of these hills will reward you with a breathtaking view of Avalon harbor.
Catalina Casino, a striking circular building will be one of the first things you notice when you sail into the harbor of Avalon. Operated since before the Great Depression, Catalina Casino was built by chewing gum magnate William Wrigley Jr. to serve as the central hub for Catalina's social life. The casino does not have gambling, but there are several tours available to explore the magnificent location and gain a deeper understanding of its connection with old Hollywood. In addition, there is a theater that shows first-run movies nightly starting at 7:30 p.m.
With Avalon being the main attraction for tourists, there are also some outstanding hiking spots through the back country of Catalina. Founded in 1972, the Catalina Island Conservancy is one of the oldest private land trusts in California, and is home to more than 60 native species of plants, animals, and insects found nowhere else on Earth. There are extensive hiking trails, mountain biking trails, and camping spots. You can even get a guided Eco Jeep Tour where you will learn about the native species of the area.
Don't miss out on the different water adventures available. Catalina's water is know for being brilliantly blue, with outstanding water clarity. You can rent a variety of water equipment at Descanso Beach, about a mile north of Avalon Harbor. You can grab some kayaks and enjoy a day out, or try out the stand-up paddle-boards, and if you're lucky, you'll see dolphins, seals, and sea lions. There is also scuba diving and snorkeling for those who want to explore beneath the surface of the ocean.
If you're planning on an extended stay on Catalina, there is an island golf course at the base of Avalon's rugged hills. The golf course is part of the Catalina Country Club, and features nine challenging holes, along with a nice shady putting green that is great for the kids.