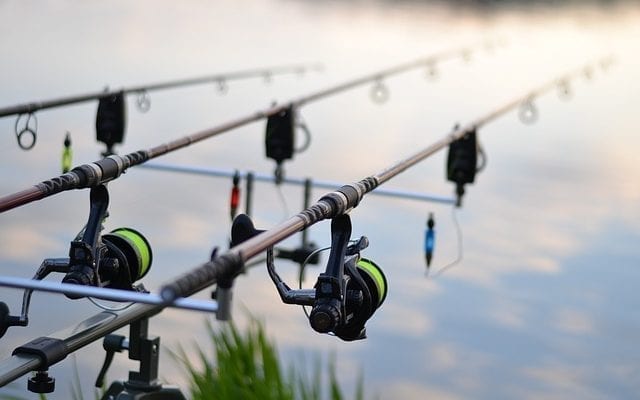 Lifestyle
The Best Spots for Fishing in San Diego
By
|
San Diego is home to some phenomenal fishing spots if you've been wanting to get out in the sun and cast your line. With the weather warming up, now is the perfect time to go on that fishing excursion you've been thinking about. Here are some of the best spots to get your fishing fix in San Diego.
Lake Cuyamaca is a gorgeous mountain lake spot surrounded by state park, so you can find comfort in the fact the area will be protected from any sort of overdevelopment. The lake is stocked annually with 38,000 pounds of trout, but there are other fish you can expect to catch here, including: bass, bluegill, catfish, and sturgeon. This is the only lake in San Diego that is able to stock trout all year long. The 110-acre lake is one of the most scenic in all of San Diego, and even offers camping if you want to make your fishing trip a multi-day excursion. Lake fees are $8.00 for adults 16 and older, while children ages 8-15 will cost $4.
Santee Lakes Recreation Preserve is a perfect spot for those looking to find a quick spot to getaway for a day fishing. The preserve offers seven lakes in the 190-acre park, and while they are more pond-sized, they are stocked with fish. Trout is stocked in the fall, but according to fish reports, there are still a good quantity left to be caught! Catfish season just started in April, so be ready to catch them as well. There is also a smaller amount of bass fishing, with catches typically happening in the early and late parts of the day. Santee Lakes is a perfect place to bring the kids too, with a giant playground on-site, as well as a water spray area to cool you off on those hot days. No state fishing license is required, but a fishing permit is required and can be bought at the general store. Prices range from $3-$9 depending on ages.
If you're wanting to stay more coastal, then check out Mission Bay for your fishing adventures. It is known as one of San Diego's most productive fishing spots, with people flocking to try their luck with the ocean. Mission Bay is home to the surf perch and spotted bay bass, and hosts some of the largest catches of these species in the country. There is almost 27 miles of shoreline accessible for fishing. There are abundant fishing spots, but I would recommend trying to avoid the crowds, so try to arrive to fish early or late during the week. The stretch of the bay also has a long list of amenities and recreational activities, including fire pits, playgrounds, and protected swimming areas with lifeguards.
Torrey Pines State Beach is one of the most popular fishing spots in all of Southern California. The long stretch of coastline is home to a wide variety of fish species, with the number of fish caught here being irregularly plentiful. The spot is a lot more low-key when compared to more crowded spots like Mission Beach. The barred surf perch is one of the most commonly caught fish here, being the most plentiful of species. If you walk further down the beach, it will be fairly easy to find a spot all to yourself if you want peace and quiet while fishing.