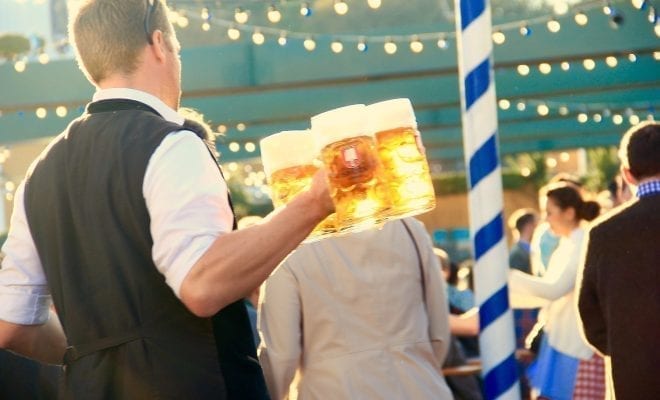 Lifestyle
This Weekend in San Diego 10/12-10/14
By
|
This weekend in San Diego there are continuing Oktoberfests and Halloween haunts. Find out what festive events are happening this weekend, and create new experiences for the fall season.
All Weekend
The 46th annual Harvest Festival Original Art and Craft Show allows you to see over 300 different artisans and other shops that create handmade items available for purchase. From artwork to jewelry, to delicious food, this show has something for everyone. There will be live performances from artists, bands, and other forms of live entertainment. Don't miss out this weekend, starting at 11 am at the Del Mar Fairgrounds.
The 14th annual Ocean Beach Oktoberfest will be held Friday and Saturday starting at 3 PM. This two-day beach-side event is filled with activities, live entertainment, and all of the proceeds will go towards local non-profits. There will be German brews available along with cornhole championships, bratwurst contests, and other tasty foods. Make a difference while you drink your favorite beer, and celebrate the best time of the year. Live music, beer gardens, and beer tastings will also be available at this two-day festival, allowing you to truly get into the spirit for October. The fun starts at 11 am and ends at 2 pm, leaving you the entire day to explore new brews with your best friends.
This 18+ event will be held at the Ocean Beach Playhouse where you can watch the twisted and truly brilliant story of Janet and Brad, as they enter a house to get out of the rain. They will encounter people from Transsexual Transylvania and will be in need of some audience participation. This interactive show is something you'll never forget and is filled with talented and astonishing performances.
Friday, October 12
Don't miss these big country names this Friday at the Mattress Firm Amphitheater in Chula Vista at 7:00 pm. LANCO, recently nominated for best country group/duo at the American Music Awards, will join Dirks Bentley, Brothers Osborne, and AyDamn on stage for night of country music hits. Tickets are in high demand; get yours here starting at $48.
Take your little ones to Make Music Monster Mash happens every Friday morning at the New Children's Museum at 10:00 am. The toddler program allows children to be social with each other while learning to embrace their soul and mind with music and interaction with other children. Don't let your favorite kiddo miss out and check out the fun this Friday.
Another Oktoberfest to celebrate your favorite beer drinking activities. The Bella Vista Social Club and Caffee, NanoString Technologies, and Duck Foot Brewing Company are hosting this fun event to kick-start your weekend. Choose to participate in the men and women's holding contest, and dance along to traditional German music while sipping on a craft cold brew.
The Hotel Del Coronado is hosting spooky happenings with medium James Van Praagh. James is eerily talented and will be sharing personal messages from "beyond" with those in the room, and try to connect with those who have passed. Whether you're a skeptic or a believer, this event is truly unique with the perfect setting; a haunted hotel. Tickets start at $65.
Every Friday night, you can enjoy a dinner cruise around the San Diego Bay Harbor while sipping on craft brews. Second Chance Brewing is being hosted by this event for October, allowing you to sample their delicious IPA's with a citrus aftertaste, and other of their craft brews. The cruise is complete with food stations and meet and greet opportunities with all of the brewery owners. Start your weekend off in style and enjoy a hoppy Friday night out with your friends.
Saturday, October 13
Arts District Liberty Station is back with its final FREE outdoor movie night of the year thanks to Season Sponsor Rock Academy Liberty Station and Movie Sponsor Point Loma Nazarene University. Presented by San Diego Comic Art Gallery, this Saturday, one of the most epic sagas will unfold on the outdoor movie screen just after sunset, so grab a picnic blanket, or low back chair and get ready to spend an evening underneath the stars with friends, family, and neighbors.
This pop-up yoga festival is calling all yogis and new yoga lovers for a day of community and the arts. This yoga session will incorporate unique musicians and artists while local instructors guide you on a peaceful yoga session. Soulsync's passion is to provide a sweet escape and a voice for local teachers, artists, and other healers. Inspire others and truly embrace a community is that builds each other up and supports one another. The event starts at 7:00 am.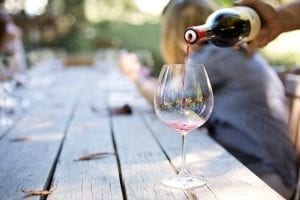 This overnight adventure is calling all wine lovers, and cheese connoisseurs. Over the two day trip, you will travel to multiple wineries with provided transportation. If your taste buds prefer beer, you're in luck because this road trip will stop by one of the best craft breweries in Ensenada. Plus, don't miss out on never-ending wine and cheeses and lavish restaurants to satisfy your pallet. Fill your weekend with an adventurous getaway drinking your favorite beverages and indulging in your favorite appetizers.
This rescue mission is celebrating 11 years of helping bring awareness to San Diego's homeless population. On this night, families will gather to for a "sleep out" from 4:00 pm on Saturday to 6:00 am on Sunday. There will be a stage show with live performances and entertainment (Christian messaging), as well ass opportunities to learn about homelessness in San Diego. Register here for $25.00 for select services. unds raised through this campaign will go directly to help the 400 men, women and children currently experiencing homelessness and working to better their lives at the San Diego Rescue Mission's Recovery Facility in Downtown, San Diego.
Calling all Kombucha lovers! Learn how to make your favorite probiotic drink and make it from home. This Saturday, enjoy a Kombucha making workshop at Home Brewing Company. Learn how to create this non-alcoholic fermented beverage as well as sampling ice cold kombucha. You will be given an at home kit where you can take your Kombucha making to the next level so that you can always have it at your fingertips.
Strap on a pair of heels and challenge your team to go the extra mile this Saturday from 10:00 am – 3:00 pm. Bring all the men in your life, family, and friends to raise awareness of domestic violence and speak out against this serious issue in a unique, lighthearted way. Everyone and every shoe is welcome — heels optional, not required. Following the walk, celebrate with live music by Mojo Jackson, fresh Mediterranean fare provided by Luna Grill, a silent auction, and interactive games for all ages.
The Junior League of San Diego will be holding a 1920's Gala this Saturday, to celebrate the youth who have been a part of human trafficking, and their transition out of foster care, to the real world. The Junior League of San Diego is hosting its 3rd Annual Gala at Morgan Run Country Club in Rancho Santa Fe on Saturday, October 13 from 6:00 – 11:00 p.m. Funds raised at the Annual Gala will support the League's Mission Based Programs for San Diego's Transition Age Foster Youth Community (Brand of Brothers, Solutions Summit, Popup Wellness Fairs, Collaboration with our Community Partners and the TAY Mentor Program), assist San Diego County partners to reduce human trafficking, train women to become effective community leaders and advocates for social change within our San Diego communities. Get your tickets here.
Sunday, October 14
The fair features displays from more than 200 local and nationwide vendors. A Kid's Festival is featured inside the fair and includes carnival rides; local talent including children's acts performing on the San Marcos community stage. Highlights of the fair include a wide variety of awesome food choices, a beer garden and local live bands. Check it out this Sunday from 9:00 am – 5:00 pm.
Oktoberfest – Julian
Oktoberfest fun for the whole family! Saint Elizabeth of Hungary Church in Julian will host its annual fundraiser this weekend from 11:00 am to 4:00 pm in the parking lot at 2033 Main Street in Julian. Enjoy a drive up the mountain to breath he crisp country air, listen and dance to live music, have some great food, get your face painted and of course beer on tap. Admission is free.
The first SNBRN single 'Raindrops feat. Kerli' was released January 20th on Ultra Records, which garnered over 14 million plays on Spotify and well over 2 million on SoundCloud.  SNBRN's official remix of Marvin Gaye's "Sexual Healing" hit #1 on HypeM and quickly climbed into the Top 10 House chart on Beatport. Simultaneously, Chris Lake and Matroda's official remix of SNBRN's single "California" went #2 overall on Beatport. Head to the Quartyard this Sunday from 4:00 – 9:00 pm for SNBRN presented by LED. Get your tickets for just $20 here.