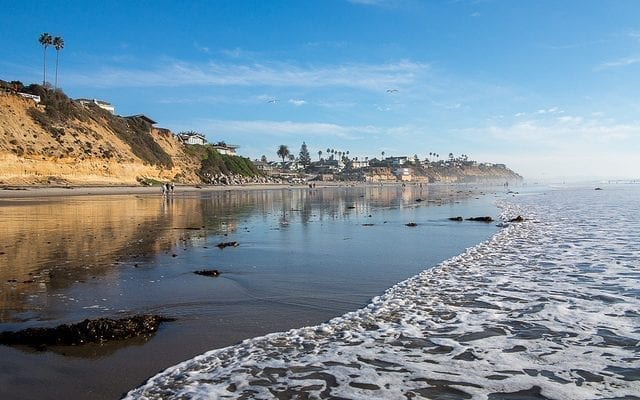 Lifestyle
San Diego's Best Beaches for 2018
By
|
There is no better feeling than having sand between your toes and feeling the warm San Diego sun on your skin. For many visitors to the area, the beach is the ultimate place to spend summer. But for locals, the beach is somewhere we go year-round. With weather as beautiful as San Diego, there's no doubt that the beach makes a picturesque destination any day of the year. With over 70 miles of beaches, year-round sunshine, and 365 days of surf and sand, San Diego reigns top of the list as one of the best places to live, with some of the best beaches in the world.
Beaches differ as much as the communities that surround them. From small surf communities like Ocean Beach and Mission Beach to hip and trendy Pacific Beach, central San Diego has a great laid back vibe with great food, bars and shops. Head north to La Jolla, Del Mar and Solana Beach for more upscale living and sunsets and surf that are world-class. Head south to Coronado for large expanses of sand, a bit of history, and great a community that makes you feel like you've taken a step back in time.
Beach amenities range from tide pools to rocky cliffs, to clear blue water. Each beach in San Diego has something that makes it slightly different from the next. Each are worth exploring, so lather up on sunscreen, grab your towels, and soak in that San Diego sun. Here are our picks for San Diego's best beaches for 2018.
Coronado Beach
Coronado Beach was named in the top beaches for families in 2014 by Family Vacation Critic. It's been featured time and again in travel shows, magazines and on TV. Coronado Beach is located along Ocean Boulevard near the Hotel del Coronado. "The Crown City" has many activities that will keep you and your family busy all summer long. The most popular activities include swimming, body surfing, paddle boarding, and of course lounging in the sun. Coronado Beach also has tide pools while the water is at low tide. This popular area is also a destination on the Old Town Trolley Tour, which can be partaken in from Downtown using the local ferry or water taxi.
La Jolla Shores Park
The coastal area of La Jolla offers something for everyone. Head to La Jolla Shores beach and adjacent park area for a picnic, barbecue, bonfire, sunbathing, scuba diving, kayaking, paddle boarding and more. Head down the road and you'll find La Jolla Cove, the Children's Pool, and great vistas along the beach cliffs. Seals and sea life are in abundance, as are the beautiful sunsets. While parking can be problematic (like any beach) on a sunny day, it's absolutely worth the effort. Featured in TripAdvisor's Travelers' Choice Awards, La Jolla Shores made it to the #22 spot in their list of the "Top 25 Beaches in the United States."
Mission Beach
This breathtaking beach is nestled in the sand bar between the Pacific Ocean and Mission Bay. The boardwalk stretches south to the jetty and north into Pacific Beach. It's great for riding bikes, rollerblading, skateboarding, or just an evening stroll. The beach itself is wide and sandy, with tons of places to park your towel or chair for the day. With easy access to the iconic Belmont Park, including the historic wooden roller coaster and boardwalk activities, Mission Beach is great for the whole family. Head out for the evening with adults because the area also has astounding night life filled with local bars that have a relaxed and care-free vibe. It's the perfect place to sit back, relax, and enjoy summer.
Moonlight Beach
Moonlight beach is located on Encinitas Boulevard and is adjacent to Highway 101. Popular to both locals and tourists, this beach will provide you with non-stop happiness and activities. Being one of the most visited beaches in Encinitas, there is always something to do whether it be sun tanning, surfing, or having a bonfire with your best friends. There are several annual events that will also keep active beach goers busy. Whether it be the free surf camp for special needs children or a 10k beach run, you can always find a cause to fight for while having fun at the same time.
Pacific Beach
Featured in TripAdvisor's Travelers' Choice Awards in their #20 spot in their list of the "Top 25 Beaches in the United States," Pacific Beach encompasses the epitome of So Cal surf culture. The beach community is made up of college students, young professionals, and select group of San Diego natives that love the sun and sand. Known for a wide array of restaurants and bars, the area is perfect for a day of fun or a night on the town. The laid back vibe means you'll see surfers filling up at the gas station in their swim trunks and flip flops, bikini clad beach bums grabbing brunch before heading to the beach, and lots of folks enjoying the sand and surf. Surfers flock to the area for great waves and families are always welcome. The boardwalk features restaurants and shops to check out as well.
There are so many great beaches that we didn't make the list, including Torrey Pines, Silver Strand, Imperial Beach, just to name a few. We know that not all beaches are the same, and all have different attributes that make them special. Whether you want to snorkel, surf, or relax with a good book, the beach is always a perfect escape and the best way to spend your summer. The one thing we know is that San Diego is the perfect destination to hit the sand and enjoy a beautiful day on the Pacific Ocean.