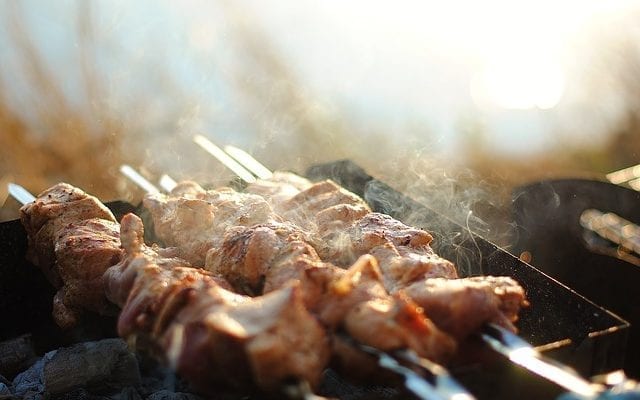 Lifestyle
Places to have a BBQ or Bonfire in San Diego
By
|
With the San Diego sun warming the air, we're all dusting off the ol' grill, and families are enjoying the beaches once again.  Summer is here in San Diego and what better way to celebrate than with a nice BBQ filled with juicy hamburgers, hot dogs, and all the fixins? Can you hear the sizzling of the meat or smell the marinated patties on the grill? Change up your routine and get out of the house with a barbecue at a park, beach, or lake. But before you grab the keys, where exactly are you going to grill? Fear not, we have compiled a list of places to BBQ right her in sunny San Diego.
Best Places to Barbecue or Bonfire in San Diego
Balboa Park
Ah, Balboa Park. Is there anything you can't do there? From museums to gardens, and everything in between, Balboa Park is also a fantastic place to have a day long picnic and get some quality grilling done. Just be sure to keep all fires contained within barbecues, and dispose of coals into the appointed hot coal containers. Balboa Park is perfect for a nice picnic. The park grounds are open 24 hours every day. If you have any questions or are lost there's a Visitor's Center located on El Prado and it is open from 9:30 am to 4:30 pm.
The Center has brochures and maps and it also provides audio tours and a free-guided tour of the park. No smoking is allowed at all in the Park, but several areas in the park do allow alcohol. So bring along some cold brews and or some wine to enjoy with your meal. The lawns that permit alcohol consumption are: Botanical Building East Lawn and West Lawn; House of Pacific Relations Lawn; International Lawn; Mall Lawn; Moreton Bay Fig Lawn; Pan American Plaza Lawn; Recital Hall Lawn.
Dogs are allowed as well, just be sure to keep them on the leash unless in one of the permitted leash-less areas of the lawns, including Nate's Point and Grape St. Park. If you want to bring your bicycle for a stroll around the park you can except at the Rose & Desert Gardens, Spanish Village, and the House of Pacific Relations International Cottage. Sadly roller skates, skateboards, and other such devices are not allowed in the Park. Other than that you are free to have fun. BBQ and enjoy the museums, playgrounds, or even visit the zoo.
Mission Beach
Mission Beach is located between South Mission Beach and Pacific Beach, only a mile away from Sea World. Many know Mission Beach for its very popular Belmont Park attraction. The beach is always a great place for a fantastic BBQ, providing plenty of grassy lawns and picnic tables for all to use. Fire pits can be found all along the beach, along with picnic tables and bathrooms. Be sure to leave the alcohol, glass containers, and dogs at home though, as they're not permitted. After your barbecue, enjoy a nice stroll on the boardwalk, about a mile in length. Or you can walk over to Belmont Park, shop at the beach stores, and check out the fun rides and games. Belmont Park also has an arcade for hours of game time.
Visitors can surf and swim in the gorgeous ocean waves and be under the watchful eye of a lifeguard. The beach is also wheelchair accessible and provides beach wheelchairs so that all can enjoy the sandy beachfront. Fire pits, tables, and bathrooms with showers are provided. There are some regulations and the following are not allowed: alcohol, glass containers, smoking, dogs, littering, camping, or loud disturbing noise.
Mission Bay
Mission Bay has several locations to BBQ, namely Crown Point, Bonita Cove, Mission Point, Ski Beach, and more. Hours and regulations vary from place to place.
Bonita Cove is open to visitors from 4:00 a.m. to 10:00 p.m.. In Bonita Cove-West, the park has a great playground for kids to run around along with fire rings, BBQ grills and picnic tables. In Bonita Cove-East, there are different amenities provided. At Crown Point Shores there are a lot of fun facilities with hours of operation being 4:00 a.m. to 2:00 a.m. There are grills and fire rings for the BBQ fans as well as picnic tables and one picnic shelter. During the summer time you can swim and have fun while a  lifeguard is on duty. This beach also has a rinse-off shower with a comfort station. Mission Point is another location with the same amenities provided that Crown Point offers. In addition dogs on leashes are allowed but only during the hours of 9:00 a.m. to 6:00 p.m. Swimming is allowed, however no lifeguard will be on duty. There is a playground for kids as well as a path for bike riders and runners alike. Hours of operation are 4:00 a.m. to 10:00 p.m.
Pacific Beach – Kate Sessions Park
Located in Pacific Beach, this 79-acre park offers residents and tourists some of the best views in all of San Diego. You'll find this area to be a perfect place for picnics, outdoor activities, and barbecuing. The area has plenty of picnic tables and barbecues, and is ideal for watching the sun set over the Pacific. Many of the trees and benches in the area are adorned with various plaques and commemorating honors which can be fun to read and learn about. On the west side of the parking lot, there is a swing set and two playground structures for the kids as well. No glass bottles are permitted, and dogs are allowed, but must be kept on a leash.
Coronado Beach
With picnic tables, BBQ's and fire pits, this area is a crown jewel when it comes to enjoying the sun and sand. The fire pits among the sand are generously spread out, giving you a good amount of privacy for your party.
Ocean Beach City Beach
While this area is usually pretty crowded, the sheer amount of fire pits available give you a fairly good chance of scoring one for you to use. Other amenities include volleyball courts, picnic tables, showers, and even a fishing pier.
Moonlight State Beach, Encinitas
Arguably one of the best beaches in San Diego, this is also a fantastic place to have a bonfire and enjoy some good food while spending a day at the beach. Parking can be a little tight during peak hours, but if you get their early, you should be good to go. There are fire pits scattered around near the lifeguard towers perfect for enjoying a late night bonfire and roasting up some hot dogs.
Chollas Lake Park
This 16-acre lake located in Oak Park is the complete package when it comes to a day spent outdoors. There is dirt path around the lake perfect for a light hike, along with children's play equipment that will keep the kids happy. Picnic tables are scattered throughout the area, along with barbecues for you to grill up some grub after working up an appetite. You can even go fishing there, with ages 15 and under being able to fish for free. The on-site recreation center is open until sunset too, so there will be plenty to do for you all day.
Santee Lakes
Let's not forget the beautiful Santee Lakes. It offers fishing, camping, barbecuing, picnics and more. Families and friends can enjoy the paddle boats, feeding the local bird residents, and having a nice walk or bike ride around the lakes. There are also a variety of playgrounds for the kids to enjoy, including a waterpark. Hours of operation are Monday through Thursday at 8 a.m. to one half hour before dusk and on Friday to Sunday at 6 a.m. to one half hour before dusk. There is a charge for those who park their vehicles inside the park. On the weekdays its $3 per vehicle and on the weekend/holiday it is $5 per vehicle.