Dining
International Smoke to Light Up Del Mar with July Debut
By
|
Michael Mina and Ayesha Curry Announce San Diego Launch
With the NBA finals in a heated match between the Golden State Warriors and the Toronto Raptors, Warriors star, Stephen Curry is the talk of the town among sports fans and bay area natives alike. The Raptors were in a 3-1 game lead when the Warriors pinched a last-minute victory on Monday night's nail-biting game, bringing the Warriors 1 game closer to taking the championship. It seems there's is much to celebrate in the Curry household, as next month, Stephen's wife Ayesha Curry will be opening International Smoke in Del Mar's One Paseo.
International Smoke, the nationally-recognized dining collaboration between award-winning chef Michael Mina and renowned restauranteur, chef, founder of Homemade, NY Times best-selling cookbook author, television host and Executive Producer of "Family Food Fight" Ayesha Curry, is set to open in July in Del Mar's One Paseo.
International Smoke is a chef-driven woodfire cooking experience delivering flavorful smoke infused dishes. Originally started as a pop-up in San Francisco, International Smoke's opening in Del Mar will be Mina and Curry's fourth location for the fast-growing and wildly popular concept.
Located in the brand new, sumptuous One Paseo development, International Smoke delivers a communal dining environment for locals and visitors alike – perfect for everyone with all the signature MINA flair and a healthy dose of Curry's sense of whimsy and fun. The restaurant features shareable dishes and tableside culinary experiences alongside a hand-picked selection of beers on tap and a truly craveable cocktail menu.
"San Diego has always been a place where sizzle meets the sand. This community of seaside cities gives us access to the best local ingredients and it has been so much fun to infuse our food and drink menus with elements that can only be found in this city. The local food scene is bursting with new flavors and creativity and there is no place more playful and more perfect than SMOKE."

– Chef Michael Mina
Dining
The menu will be driven by quality spices, premium, local ingredients and a variety of woodfire cooking techniques from around the globe. San Diego's unique flavors will play into the menu's equation by virtue of Executive Chef Chris Carriker, who most recently served as Chef de Cuisine at Avant Restaurant at the Rancho Bernardo Inn.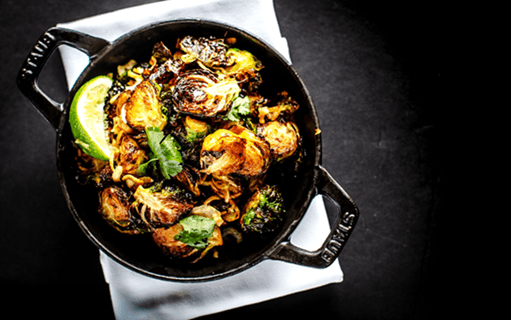 Led by a variety of woodfired steaks, seafood, and ribs alongside unique vegetable-forward plates, the menu will include a blend of dishes such as a 14-ounce American Wagyu NY Strip served with crispy Za'atar potatoes, tehina and grilled lemon, Whole Roasted Cauliflower served with golden raisins, Za'atar and pistachios, and the famous Smoked St. Louis Style Ribs with a choice of three flavors, American BBQ, Golden Garlic Sweet & Sour and Korean. The menu will also offer a variety of vegan options that showcase fresh, local produce.
"We are excited to introduce Del Mar to International Smoke's signature spice, cultural cooking style, and incredible team. The restaurant's menu embraces both traditional wood-fired cooking techniques and bold flavors with an upscale twist – all of which will enhance the local dining scene."

– Chef Ayesha Curry
Cocktails
Not to be overshadowed, the beverage program will feature a fun mix of creative boozie cocktails including a variety of shareable punch bowls such as The Kampong, a refreshing mix of cava, rum, pomegranate, Thai basil and lemon. Other specialty crafted cocktails include Shape Shifter made with Espolon tequila, passion fruit, pineapple, honey, and ancho chile. The bar menu, known to push limits, also includes a CBD-infused cocktail called Free the CBD! made with pisco, yellow chartreuse, lime, egg whites and CBD.
The craft cocktails will be designed under the mantra "produce first, spirit second," meaning that drinks are crafted in partnership with regional farmers and combined with a spirit specifically selected to enhance key ingredients. International Smoke will also offer a variety of local craft brews.
Environment
Situated in One Paseo, off Del Mar Heights road and in front of the valet, International Smoke spans a 6,200-square-foot interior with a 2,000-square-foot patio. The restaurant will offer 288 seats for guests to enjoy distinct dining experiences during lunch, dinner, happy hour, and weekend brunch. 
On top of International Smoke's highly anticipated arrival, the restaurant will also host live music with an array of multi-genre acts, making it one of the top music destinations in the city.
The dining concept's new location will be led by General Manager Alex Farris, who has a hospitality and restaurant management background. Farris' past experiences include working at Del Frisco's Double Eagle Steakhouse in Boston, MA and locally at JRDN restaurant inside Tower 23 Hotel. Farris also served in the Army National Guard and was deployed to Kuwait in 2015-2016.
"We want International Smoke to deliver dynamic dishes paired with memorable experiences," said Farris. "Along with the innovative menu, we are looking forward to partnering with neighboring businesses, creating unique programming and giving people an unforgettable time." 
---
International Smoke is set to open July 2019. The restaurant is located at 2287 Del Mar Heights Road, Suite 0100, San Diego, CA 92130. For more information on International Smoke, visit www.internationalsmoke.com.