Drinking
Thirsty Thursday: The Merlion
By
|
For this week's Thirsty Thursday segment, we teamed up with Daniel at Waterbar in Pacific Beach to show you how they make their signature Merlion cocktail. This drink will have you feeling half mermaid, half lion with its tropical fruity flavors and a subtle hint of Scotch. Not overly sweet, this balanced cocktail is perfect to sip on while enjoying the sunset, overlooking the action in Pacific Beach.
Waterbar's thriving, energetic environment captures the passion of San Diego's iconic coastline for an unforgettably satisfying experience. If you are looking for a spot that serves great seafood right by the beach, Waterbar is your kinda place. They are all about the San Diego vibes; their website even has a surf cam for locals to check out the waves from their desktop.
Check out the video below to see how the cocktail magicians at Waterbar create the popular Merlion cocktail. Pacific Beachgoers love this one, and we are sure you'll love it, too.  There's a lot of different flavors here, so be sure to follow the recipe when recreating this delicious drink.
The Merlion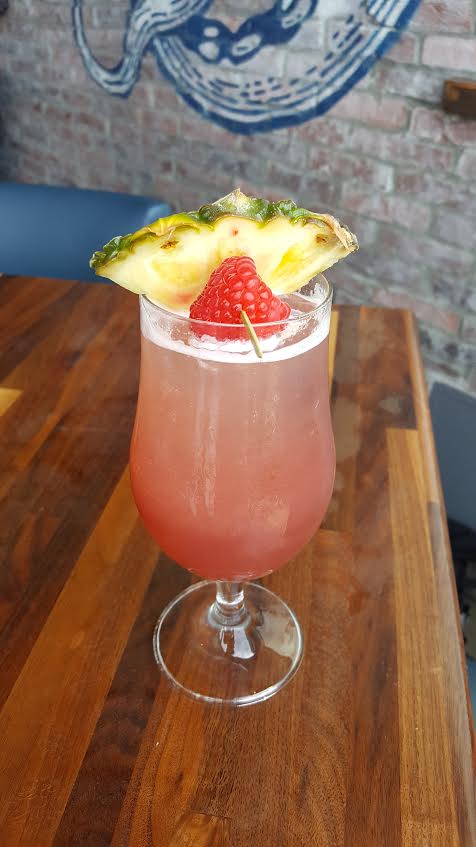 Recipe Courtesy of Waterbar
1 oz Tito's Vodka
½ oz Drambuie
¼ oz Chambord
¼ oz St. George Raspberry
1 oz Pineapple Juice
½ oz Lemon Juice
½ oz Lime Juice
2 dashes of orange bitters
Garnish
1 pineapple slice and one raspberry
Instructions
Add all ingredients to shaker
Add ice to shaker
Mix
Add ice to tulip-shaped glass
Strain mixture into glass
Top with fruit garnish and enjoy!
Fun fact: Did you know the Merlion is the official mascot of Singapore? It is used widely throughout the city-state in advertising, tourism and sports teams. Statues of the mythical creature with a lion's head and a fish's body are sprinkled around Singapore.