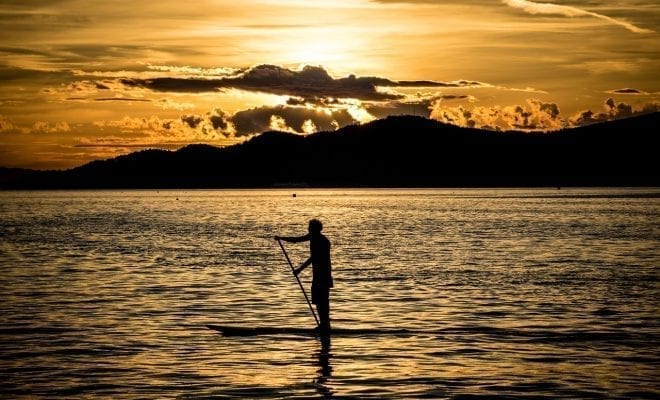 Lifestyle
Getting Started with Stand Up Paddle Boarding
By
|
Stand up paddle boarding is the latest water activity trend to sweep the shores. Not only do you get a nice dose of Vitamin D, but it's also a great way to tone up your core. Coronado Island, La Jolla Cove, and Mission Bay are just some of the great spots in San Diego to go paddle boarding. If you are new to stand up paddle boarding, here are some tips you want to read before giving it a shot.
Board
Paddle Boards are much thicker and wider than surfboards. If you are new to paddle boarding, choose a board that is thicker and wider. This will give you the most stability as you learn how to balance on the board. Many people start out on a board much too small, and can never seem to gain balance and become disheartened. Don't let this be you. The board should feel comfortable and not unstable when standing up. If it still feels too unstable after several attempts to gain your balance, try a larger, wider paddle board. Choose the right size board to start out and when in doubt, always go wider and thicker.
Paddle
The Paddle should be 6-10 inches taller than the paddler. Always grip the paddle with one hand on the top of the paddle and the other on the center of the shaft. Hold the paddle in front of you, with your elbows bent at 90 degrees. This should give you a comfortable amount of space for paddling. You want to scoop the water as you go, so the blade should be angled away from you. Remeber, the paddle floats, so if you drop it in the water, it will not sink.
Leash
Your leash keeps your paddle board attached to you with a Velcro strap around your ankle (or calf). Use a leash around the same size or slightly smaller than your board. In the event of a fall, currents and winds can quickly sweep your paddleboard away from you – and in the ocean, your board becomes a lethal weapon when carried with the force of an ocean wave. Always remember to use your leash!
Safety first
Remember to always wear a life vest if you are planning on paddling in deep waters.
SUP Tips
Start in calm waters. It may seem like a no-brainer bit of advice, but it needs to be said. Take it slow and only start paddling once you've managed to find a good balance.
Keep your feet parallel and spread shoulder-width apart. Face forward and avoid surfer stance.
Grip the top of the paddle with one hand and place your other hand at a comfortable distance about halfway down the paddle.
Paddle with your core instead of your arms. Your core is comprised of a bigger muscle groups, allowing you to make bigger movements for a longer period of time.