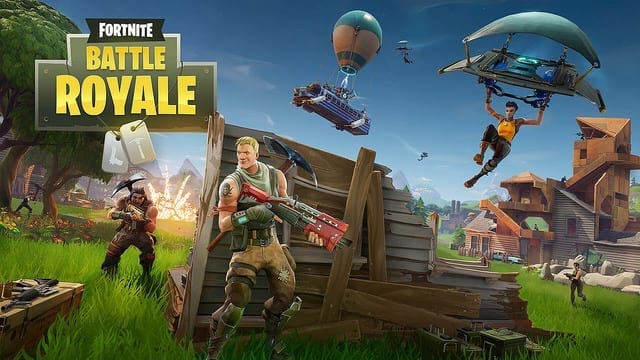 Lifestyle
Fortnite: Gaming's Newest Obsession
By
|
The free-to-play online multiplayer game Fortnite has exploded in popularity over the past few months, with millions signing on to get their fix of the wildly addictive game. It has easily become the breakout cultural phenomenon of 2018, counting everyone from middle-schoolers to celebrities taking part in the game.
Fortnite is based on the battle royale genre, consisting of matches featuring up to 100 players battling until only one is left. Matches start out with players parachuting down onto a massive map and having to scavenge for weapons and armor. Players have the ability to break down in-game buildings for materials, which can be used to build defenses and fortifications to help you survive the match. To keep players near each other in these massive maps, there is a constantly shrinking zone you must be stay within, or you will be eliminated and lose the match.
One of the best aspects of Fortnite is that it is completely free to play, which is a big plus when compared to PUBG, a similar battle royale game that costs $29.99 on the Xbox One. Fortnite is also multi-platform, allowing users to play the game on the PC, PS4, Xbox One, and iOS.
In order to allow for a free-to-play experience, Fortnite makes its money with in-game purchases. Players can purchase V-Bucks, Fortnite's in-game currency, which can be used to buy new players skins and costumes, and gives players the ability to customize their avatar. Just last month, Epic Games, the creator of Fortnite, pulled in an astounding $126 million in just one month from in-game purchases.
The sheer social experience that is afforded to Fortnite players is something that hasn't been accomplished since hit online games like Call of Duty and Halo. Players utilize gaming mics to talk to their friends in-game, and a cacophony of cheers is heard whenever a player eliminates another player, and is awarded with their loot, which can include a wide range of fun and cleverly designed weapons and gadgets. However, the game isn't just centered around the battle aspects, there is also the dynamic of having to utilize cover and geography, and building fortifications to help defend yourself from other players.
The world of Fortnite is cartoonish in nature, but it has a charming quality that differentiates it from other more serious looking multiplayer shooters. The cartoonish appeal of the game is absent of the usual gore and heavy violence of other shooters, which bodes well with the younger players, while the sheer entertainment of it still pleases more mature players.
Picking up the controller to play Fortnite for the first time is seamless and surprisingly easy to get the hang of. The building mechanic is easy to understand, but with practice, you can become a master builder, allowing for a new breadth of creativity to make its way into games that previously were lacking in this quality.
If there's any question regarding the effect Fornite has had on popular culture, consider this: last month, a record-breaking Twitch stream took place, with over 600,000 people tuning in at once to witness professional gamer Ninja play a Fortnite match with rappers Drake and Travis Scott. Fortnite isn't just a game that appeals to the gaming community, it is something that people see a perfect avenue to express the timeless ideals of friendly competition and connecting with others. Fortnite is continuing to expand its offerings, with new updates coming soon.