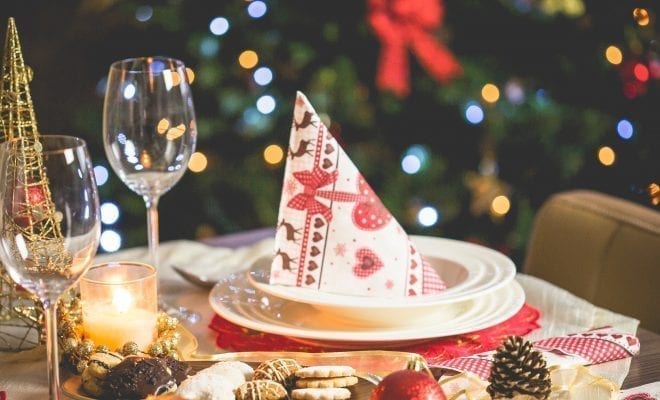 Lifestyle
Eat More Sustainably This Holiday Season
By
|
The holiday season is full of cheer, filled with food and fun times spent with the ones we love. The problem is, the season also fills up our landfills, creates mountains of waste, and can wreak havoc on the environment. Nothing spreads holiday cheer like a little climate change – am I right? In a recent interview from WRI.org, food expert Brian Lipinski shared some great tips and tricks to live more sustainably this season, starting with an area we all have in common: the dinner table.
Did you know that a third of the world's land is used for agriculture, and about 70% of the freshwater withdrawn from rivers and lakes is for agricultural use?
Lipinski explains that "food is a massive environmental issue. Every time you eat a meal, there's a huge amount of natural resources that were consumed to get that food to your plate".
In fact, we in the United States, on average, consume foods that are twice as damaging to the environment as the average diet across the globe (our foods use more land and more greenhouse gasses to produce and distribute). That leaves plenty of room for improvement. And because the holidays can be so meal-intensive, they are a great place to start making a bigger impact.
"When it comes to waste, about 40% of the food in the United States never gets eaten. And we don't let up on the holidays. When you add it all up, Americans wasted about 6 million turkeys during Thanksgiving last year, and that doesn't even include all the other leftovers that didn't get used."

– Brian Lipinski
How can you make more sustainable choices this holiday season?
Animal products are responsible for 83% of the greenhouse gas emissions in the U.S. A majority of that is from beef and lamb. Lipinski recommends making small changes to your meal plans, including adding more vegetables and legumes, as opposed to red meat. "The first is to cut way down on the amount of red meat I eat. My personal rule of thumb is to only have beef or lamb once a month, and I've noticed since doing this that the times when I do eat red meat, I enjoy it a lot more!"
You can also make simple changes to eliminate food waste. Make more frequent, shorter trips to the grocery store. You won't waste too much time if you're only running in for an item or two and you avoid needless stockpiling of food that ends up being thrown out anyway. You can also use leftover food scraps (both veggie and meat) to make your own stock. "I also try to more actively match my meals with my hunger level, especially when eating out. Huge portion sizes are a large contributor to food waste," explains Lipinski.
The holiday season can be a tough time to introduce new eating habits. Lipinski suggests bringing number of tasty vegetarian options to the table without necessarily highlighting the lack of meat. He also explains, "when it comes to food waste, the main problem at the holidays is that we prepare too much. So try to plan for the amount of guests you'll have, and send them home with leftovers so that you're not trying to eat your way through everything alone."
If you still end up with too many leftovers, stick to the age-old adage, "reduce, reuse, recycle."
"First, you want to avoid having extra food by reducing the amount you prepare. But of course, at the holidays we always have leftover food. So at that point, it's time to get creative. Add fresh ingredients or spices to your leftovers to avoid falling into a rut. For example, toss your leftover veggies and mashed potatoes into a breakfast quiche, or make a turkey hash with an egg on top. If you've got leftover canned goods or other non-perishable items, consider donating them to a local food bank."- Brian Lipinski
Living sustainable this holiday season doesn't have to leave you in the cold. A few more veggies, a little bit of sharing, and a bit of preparation will do the trick. So, as you sit down for dinner with your family this season, be sure to not only be appreciative of the people in your lives, but the world we live in as well.
---
A special thank you to Jillian Holzer who interviewed Brian Lipinski for WRI.org.