Field of Light at Sensorio Copyright © 2019 Bruce Munro. Photography by Serena Munro
Lifestyle
Discover Paso Robles
By
|
A five-hour drive from San Diego, Paso Robles is the perfect weekend getaway. A beautiful wine country, Paso has just enough to keep you entertained but will send you home relaxed and refreshed.
First, of course, the wine. The Paso Robles climate on the Central Coast is similar to the Rhône valley in France, giving it sensational wines. With 200+ wineries, you won't be able to visit them all in a weekend (though, I dare you to try!), but there are plenty of options for every palette. Paso is probably best known for Justin Wines, which produces 400,000 cases per year. The other popular brand in Paso is Daou. Located at 2,200 ft. elevation on majestic Daou Mountain, the Daou tasting room offers a 360-degree view of Paso. Try any of the Bordeaux varietals, like their Soul of a Lion.
My personal favorite, both for the wine and the atmosphere, is irreverent Tooth & Nail Winery, which proudly proclaims to seek "to incite a riot in the world of wine." Chef Brenen Bonetti offers food and wine pairings Thursday through Saturday; with an extended brunch pairing menu offered on Sundays 10- 1 pm. Another favorite is Halter Ranch Vineyards, with excellent Syrah and Cabernet varietals. The Victorian-style farmhouse sits on a 2,000-acre property offering Land Rover excursion tours.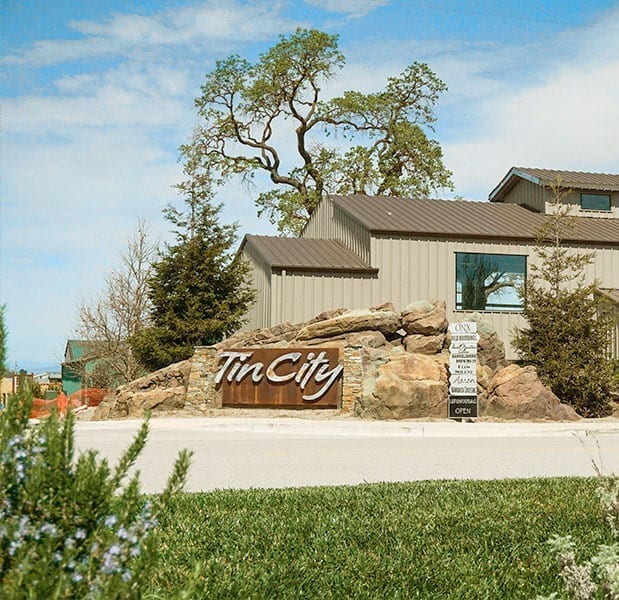 Plan at least one evening at Tin City, an industrial park turned hip spot for artists to experiment with bold flavors and handcrafted concepts. With tiny wineries, Tin City Cider Co. and BarrelHouse Brewing Co., and other independent craftsmen creating new concoctions, you'll get to see a very different side of Paso. Pay attention to the small quirky details, like a white oak with the 8th century mark for 'safe passage'. And now you can eat with your craft spirits and brews, at their Tin Canteen restaurant.
And, until January 5, 2020, you cannot miss Sensorio Field of Light, an immersive light installation by artist Bruce Munro. Walk through the multi-acre field of light, with solar-powered illumination covering the rolling hills. Over 58,800 stemmed spheres bloom in morphing color. The breathtaking exhibit is worth a visit to Paso Robles in itself, and deserves an entire evening from dusk to dark. Adult admission is $27 (Wednesday – Thursday) or $30 (Friday – Sunday), with a VIP option that includes a picnic dinner for $125 per person.