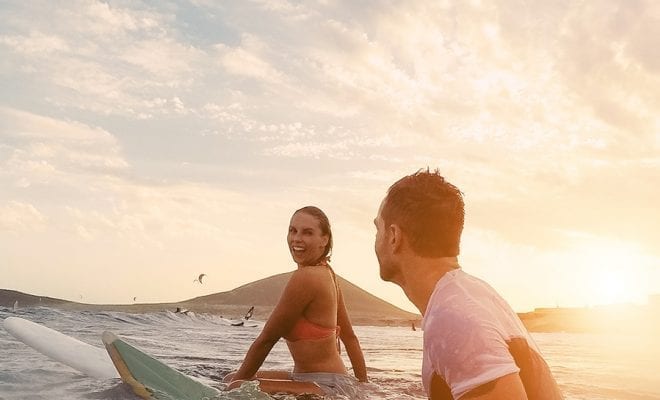 Lifestyle
Designer Protein: The Perfect Protein Powder for You
By
|
Face it, choosing a healthy way of life will never go out of style— and San Diego's very own Designer Protein is here to prove it. A leader in health and fitness nutrition, the company has been transforming the protein powder industry for more than 25 years. Since 1993, Designer Protein has established itself as the trusted source for nutritious protein powder suitable for all lifestyles and diet routines. The iconic company continuously introduces game-changing products, which is why Bethany Hamilton, professional surfer, motivational speaker and momprenuer, is their lead ambassador.
Out of all Designer Protein's innovative protein powders, one of the most notable is their flagship brand, Designer Whey. It was the first commercially available instantized whey protein powder of its time. This year, the company continued its pattern of innovation and added Totally Egg, the first egg protein powder that provides vital nutrients of both egg white and yolk protein without all the fat, cholesterol and calories. Not only that, but Totally Egg is Keto and Paleo-friendly.
Find out which of Designer Protein's powders are perfect for your lifestyle:
Designer Protein's Totally Egg is great for those who love to bake! This Keto and Paleo-friendly protein powder is the first available on the market to contain the benefits of both egg yolk and white protein. This nutrient-packed protein powder is the perfect ingredient to add to Flourless Chocolate Chip Banana Blender Muffins or Chocolate Peanut Butter Cream Pie.
For the plant-based bodybuilders, fitness class addicts, weight training or endurance athletes, Organic Pro 30 is key! It contains certified vegan, plant-based nutrients, replenishes with electrolytes and alleviates aches and pains before, during or after your workout.
When you're a mom on the go, it's difficult to stay healthy when you're focused on everyone else. Designer Protein's Aria Protein was designed specifically for women's wellness. It contains Biotin and Vitamin C for that youthful glowing skin, shiny hair, and healthy nails. Not only that, Aria also contains Calcium, Vitamin D and Phosphorus for bone health and folate to help support cell and tissue growth.
Calling all coffee lovers! Designer Whey in Chocolate Mocha makes it easy to enjoy your morning coffee and head out the door. The protein powder provides the boost of energy you need to make it through the day. Packed with 100% of the daily value of B-Vitamins to convert protein to energy, just add a scoop to your coffee and watch the magic unfold.
If you're unsure whether protein powder is right for you, try the classic whey protein, which was first introduced to the market by none other than Designer Whey. Add the French Vanilla to a refreshing Mega Mango smoothie. It's the simple and classic protein supplement everyone will love.
Designer Protein has proven to be a trailblazer in the protein supplement market. They were one of the original companies to create protein specifically for the female body, one of the primary companies to remove artificial ingredients, one of the breakthrough industry leaders to offer gluten-free and kosher protein products, and now premiering the first of its kind protein, Totally Egg. Designer Protein has also taken it upon themselves to expand their market reach to go beyond solely recommending protein shakes by providing recipes that incorporate the protein powders in a variety of tasty treats. These body fuel foods are packed with BCAAs, EAAs, vitamins & minerals to improve fitness, performance, weight management and overall wellness.
Designer Protein's products are available nationwide across a broad range of retailers including Trader Joe's, Kroger, Target, Safeway, Whole Foods, Rite Aid, The Vitamin Shoppe, Amazon and other online retailers as well as www.designerprotein.com.
For more information on Designer Protein's products and community of inspirational brand ambassadors, visit www.designerprotein.com. Follow on Facebook or Instagram at @DesignerProtein