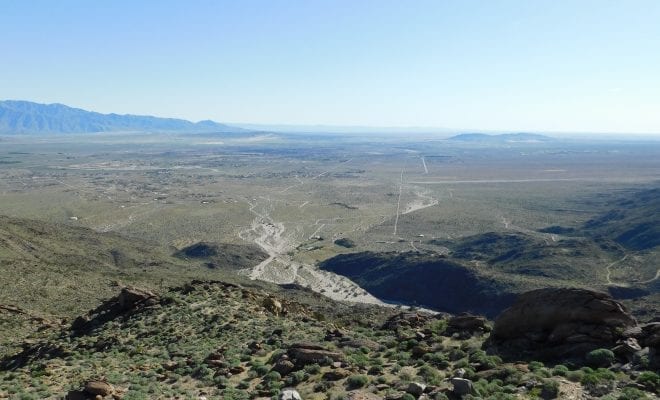 Lifestyle
Off The Beaten Path: Borrego Springs
By
|
The surrounding towns of San Diego are often unexplored by locals, but if you venture out just a few hours, you will stumble upone towns with unique qualities that can make for new adventures and fun – Borrego Springs is one of those places. Located in the middle of the Anza-Borrego Desert State Park in Northeast San Diego County. It is the only California town that is completely surrounded by a state park, and that's just one of the many amazing characteristics of this seemingly unassuming place.
Borrego Springs is an official International Dark Sky Community – the first in California – that is dedicated to protecting the night sky from light pollution. Possibly the best places in San Diego to go to for stargazing as the night sky is incredibly clear, allowing complete visibility into the universe.
Borrego Springs is surrounded on all sides by the Anza-Borrego Desert State Park and is filled with stunning beauty and desert climate. You can hike to the Borrego Palm Canyon, a watery haven fed by underground springs and shaded by California fan palms. The hike is only 3 miles total, and you are rewarded with a picturesque scener of desert flowers, palm trees, and little waterfalls during the cooler seasons. At sunset, the Borrego Badlands cast bold shadows over crested hills, and is a true sight to behold.
The downtown area of Borrego Springs has a variety of quaint restaurants and lodgings, and a delicious ice cream shop to help you beat the heat. One of the highlights of the Borrego Springs community is the local art scene.
Metal Sculptures
People from across the globe have come to visit Borrego Springs to feast their eyes on the over 130 metal sculptures that are inspired by creatures that roamed the same desert millions of years ago. The artworks range from prehistoric mammals, to historical characters, to even a 350-foot long serpent. These works of sculptor Ricardo Breceda are larger than life. 
Native American Rock Art
You can also find Native American rock art from over 2,000 years ago. There are over 50 rock art sites scattered throughout Borrego Springs and the Desert State Park. Most famous is the Pictograph Trail in Little Blair Valley. Passenger cars can manage the dirt road to the trailhead, and the easy hike leads to images embellished with red and yellow zigzag lines and diamond shapes that were painted by nomadic Kumeyaay Indians.
Art Galleries
In town, there are several art galleries that showcase more art from local artists. The Borrego Art Institute also offers watercolor and pottery-making classes. 
If you're looking to soak up the desert sun in a luxurious setting, look no further than the La Casa del Zorro Desert Resort and Spa. Originally opened in 1937, this resort has undergone a complete overhaul to give visitors a posh setting for their desert getaway. After a long day of exploring the desert, come back to the resort Fox Den Bar for craft cocktails.