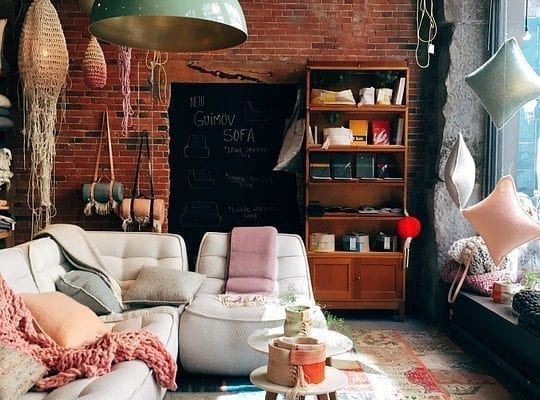 Lifestyle
Decorating Your Apartment on a Budget 
Moving into a new apartment can be stressful and exhilarating all at the same time, and it's time to finally redecorate and splurge on that luxurious couch you've always wanted. After splurging on a new couch and kitchen table, it can be hard to buy everything else you want for a reasonable price. The most important thing to remember is that it's okay to spend money on important things such as couches, or kitchen tables, or a bed. When it comes to the "wants" instead of the "needs", this is where you can cut corners with your spending.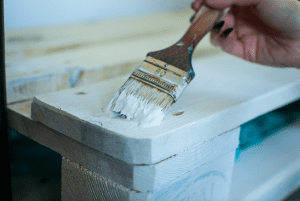 Thrift It
When it comes to smaller furniture such as a TV stand or a coffee table, you can get creative and plan a trip to a local thrift store or Goodwill near you. This is the perfect opportunity for you to get artistic and to fix up your own furniture. Once you find what you want, in order to make it look new again, consider painting or using wood staining to touch it up and you will have one of a kind pieces in your apartment.
Wallpaper
Wallpaper may be outdated, but with updated removable wallpaper, websites such as Tempaper, Eazywallz,  Chasing Paper, will bring you trendy and easy to remove wallpaper. Find a wallpaper that will bring your room to the next level and a pattern that shows off your quirky personality.
Art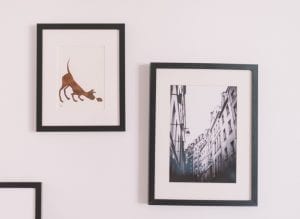 Wall art is another way to get creative and allows you to enhance your room with colorful or personal images. Whether you want to hang pictures on strings with clothespins, or frame beautiful fabrics, there is no way that you can go wrong with a nice frame and a beautiful pattern.
If you are fascinated by bright colors, local San Diego artist Concetta Antico is a painter who has a distinct eye for color, given she has four color receptors in her eye as opposed to the usual three that most of us have. This extra receptor lets her to see many different colors that most people wouldn't notice, allowing her to create magical creations that will bring life to your home. Her oil paintings are smooth strokes of vivid colors, showing off her talent for capturing things naked to the average eye.
Fabrics & Rugs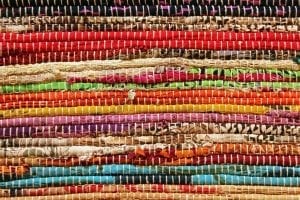 Another way to add texture to your apartment is to hang fabrics as curtains over windows, much like a tapestry. Visit your local fabric store for ideas on what your style truly is and you can discover the vibe you want your apartment to have.
When it comes to your floors, throw rugs are the best way to add more interest and a pop of color to any room. Throw rugs will also protect the floors so that you can keep the apartment in prime condition when it's time to get your deposit back.
Accessories
The most important thing about an apartment is the personal flair you add to it. Accessorize your space with dainty succulents or flowers. When it comes to succulents and other crafty items, Pigment in North Park is where you can create your own succulent or buy a pre-made one that catches your eye. Pigment also has candles, fun furniture, and my favorite delicate coffee cups with tiny cat ears.
Pottery is another way to add some spice to your space. Get your friends together and take a pottery making class to create one of a kind creations that you can put throughout your apartment while making memories with each piece. Accessories are what takes a space from simple to a warm and welcoming home, and it's more rewarding when you make redecorating an activity for you and your friends to enjoy together. Create an environment that you'll want to hang out in and enjoy your newly decorated space.

Rachel Deitch
"When asked, 'How do you write?' I invariably answer, 'one word at a time.'"-Stephen King