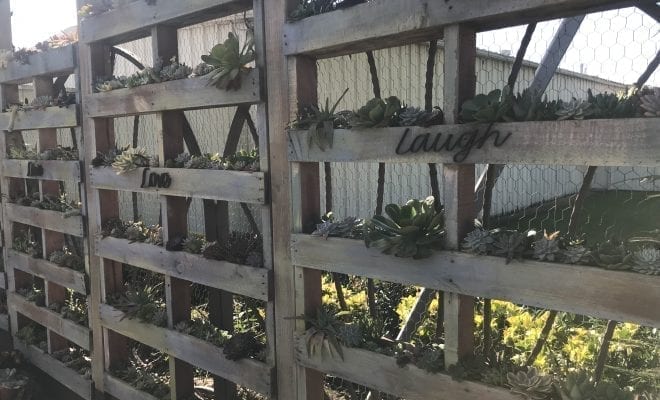 Lifestyle
Coffee at Succulent Cafe
By
|
There is something satisfying about a hot cup of coffee near the beach, while sitting in a soothing environment surrounded by succulents. Come enjoy yourself and the fresh sea breeze at the Succulent Café located in Carlsbad. From delicious croissants, to lavender lattes, this little corner is one of the most relaxing places that you could possible visit. This will become your new favorite after class spot to hangout and relax at.  With the waves crashing in the background, and the jungle of succulents, the vibey coffee establishment is the perfect place for a coffee beverage.
Local Morgan Sterling says, "I love coming here to just sit with my friends after a day of school, or coming on a Saturday morning to enjoy the fresh ocean breeze. I don't really do homework here because it g
ets distracting with all the cute succulents. I do love the chai lattes through, and I could sit and stare at the cute little coffee cart and succulents forever."
This café is the second shop, with the original in Oceanside. The Carlsbad location opened in 2016 and is located at the end of State Street, right near the beach. You can indulge in an endless amount of tasty drinks such as the flavored lattes with numerous flavors, along with hot chocolate and the House Coffee.
Another local, Marissa Maldanado says "My favorite drink is the vanilla flavored latte with non fat milk. I love the flavors and it tastes so fresh and delicious every time I get it. My friends like to come here to drink the amazingly crafted drinks, while enjoying all of the cute succulents. The café also makes for the perfect Instagram opportunity."
The best part about this cute café is, the succulents are for sale! You can explore the different personalities of all of the succulents. While window shopping for the perfect little succulent, you can sip on one of the "special" drinks from the café menu. Choose from the lavender mocha, salted carmel mocha, pumpkin spice chai late, and the coconut green tea. Try a new and different latte every single time to ensure that you can taste all of the different flavors. Come out and discover your new favorite drink, in a high class environment with a laid back vibe. With small bites and unique coffee, the Succulent Cafe will become your new favorite spot.
Stop by the Succulent Café after the Thursday farmers Market in Oceanside, or come to the Carlsbad location after a long day of surging and shopping. This is the perfect pit stop that you won't want to leave. Your love and passion for succulents and coffee, has officially been combined.