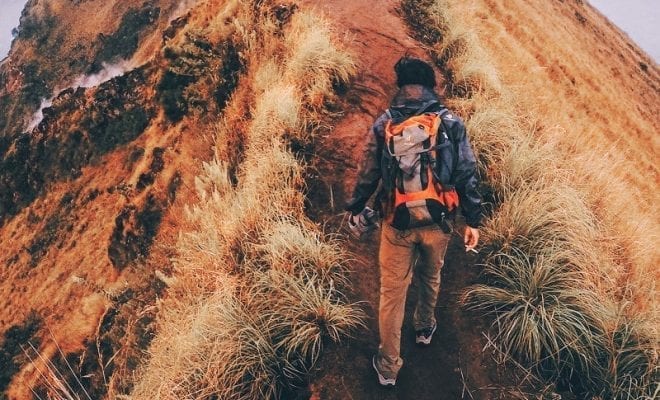 Lifestyle
Local San Diego Trails to Check Out in 2019
By
|
We all know that San Diego is famous for a variety of reasons, including its booming craft beer industry, and some of the best cuisine in California, but many may not know that there are some fantastic hiking spots to check out. If you've been wanting to get more connected with nature, here are some great hiking spots to check out. Make sure you are prepared by knowing your experience level, checking the weather beforehand, and bringing enough water to keep you hydrated. Happy hiking!
This four mile hike is perfect for any beginners. With an elevation gain of only 630 feet and a duration of two hours, you'll have plenty of time to enjoy the fresh air without getting too tired. Be sure to bring some snacks or a light lunch, as there are plenty of great spots to rest and relax.
Hill averse hikers will definitely want to check out La Orilla trail, as this hike is all flat. Depending on how far you go, the entire hike can range from two to four hours. Be sure to bring some binoculars, as this trail is known for having a spectacular population of beautiful birds.
This short hike is less than a mile, but that doesn't mean it is isn't packed with adventure. Along the way, you might catch ancient Kumeyaay artifacts left behind many years ago. If you want it to go a little longer, you can always cross over into the adjacent preserve and keep going.
A moderately more difficult hike, this trail has a 565 feet elevation gain, and takes about one to two hours to complete. The trail can get quite rocky at some points, so plan accordingly and wear proper footwear and consider bringing trekking poles to keep you on track.
This trail has a considerable elevation gain of 910 feet, making it a good choice for experienced hikers. Halfway up the hill, you'll be able to catch a glimpse of Lake Hodges, and on a clear day, you can even see the ocean.
While this is one of the most difficult hikes in all of San Diego, it is also one of the most rewarding. At the end of the five mile hike, you'll come upon the a stunning waterfall and swimming hole. Be sure to get a US Forest Service permit before heading out on this hike.
Another trail with a fantastic swimming hole and waterfall at the end, Three Sisters Falls is also a tough one. The nearly four mile hike isn't too long, but the elevation gain of 1,100 feet is what can prove to be difficult for most.
Many people have heard of Sunset Cliffs in Ocean Beach, but Carlsbad remains one of San Diego secrets of having the best beaches and viewpoints. At Carlsbad Cliffs, you are able to see the gorgeous pacific ocean and explore the coastline of San Diego. Parking is easy to come by, and the picture opportunities are endless.
This 3-mile hike is challenging but can be climbed by hikers of all skill levels. If you are looking for something leisurely, this may not be the best mountain to climb, but there are different entrances to the mountain that make it enjoyable to climb more than once. Cowles is known for providing the highest peak in the county, offering a great view of San Diego.
This trail offers more than 1,800 acres of diverse habitat, which winds through a river valley. The far-reaching trails are bike and horse friendly with over 22.5 miles of trails perfect for you to explore this beautiful area. The area is known for its distinctive variety of native birds, so be sure to bring your camera or binoculars. If you're looking for a quick dose of nature, the 1-mile Dairy Mart Loop Trail is perfect for you, and it even features a bird blind that will let you witness the wildlife.
Located near Highway 79, this trail is famous for a pile of boulders that resemble an eagle spreading its wings to fly. The trail includes a diverse range of terrain, from long and rolling grassy hills to rocky landscapes, so be sure to wear some sturdy hiking boots. During your hike, you'll witness some great spots to get that perfect Instagram shot, but in the end, you'll probably be too captivated by nature to worry too much about that.
For a shorter trail that isn't too steep, consider climbing the Kwaay Paay. At 2.5 miles, this trail offers an incredible view of Mission Trails. The trail can be tricky to follow and the top of the peak is covered in brush, making it difficult to notice, but once you are able to climb through, you can enjoy a place to sit and look at the neighboring mountains of Cowles and Pyles Peak.
This park is located in east San Diego County and offers camping, fishing, and hiking. The unique part about this area is that it contains characteristics of desert, coastal, and mountain habitats. The lake is regularly stocked with a variety of freshwater fish, and picnic areas are easy to find. The Morena Butte Trail is a 2.6-mile trail that is great for hikers of all skill levels and will give you ample opportunity to explore the beauty of this reservoir. This is the most remote reservoir in all of San Diego County, so if you're looking to be totally immersed in nature, this is the place to be.
This park is the full package deal when it comes to experiencing the best in hiking for San Diego. The park contains several miles of multi-use trails, including TRACK trails which are perfect for kids. They have playgrounds and a horseshoe pit, which could be perfect for a family picnic. If you're a fitness-minded individual, they have exercise equipment located along the trail, so you can get your workout in while enjoying the outdoors. If you take the Wooten Loop Trail, you'll be able to enjoy an observation deck that overlooks the skies and the vibrant colors of the meadows.
Biking allowed! At 5.2 miles, North Fortuna is another "moderate" level hike in Mission Trails. It's accessible year round and is great for mountain bikes, road bikes, dogs, and hikers. There are a few different trail entrances that can provide you with a more thorough workout, depending on your hiking preferences.
With different trailheads totaling a distance of 14.8 miles, these trails around Lake Hodges are great for beginners and are accessible by horse, bike, and foot. The best part about this hike? The top of the peak offers incredible views of Lake Hodges, giving your eyes an extra dose of beauty to look at.
Continue the journey from Cowles Mountain (see above) for another 4 miles to reach the top of Pyles Peak. This 7.7-mile trail offers more intense inclines than Cowles Mountain and is also a great hike for dogs. It is less crowded than Cowles, so can offer more privacy for those looking to spend a little more time with the sounds of nature.
If you are looking for a longer hike, consider the 6-mile journey of South Fortuna. This trail is known for its wildflowers and nature trips, and is rated as "moderately strenuous". One suggestion: bring a map with you. The signs can be a little hard to follow, but with a map, this hike is sure to be enjoyable.
You've probably guessed it by its name, but this hike is a photo favorite for many who have had the chance to climb it. At 7.5 miles, the climb to the top of this potato chip looking rock is a local favorite. Due to its popularity, it tends to be heavily populated, but the views of Lake Poway and the photo opportunities make it worth it.