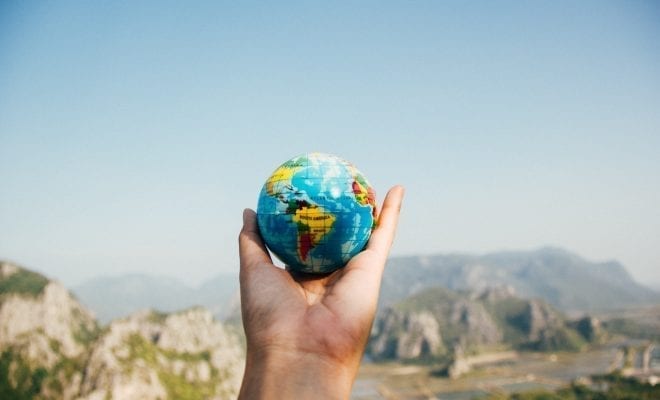 Lifestyle
10 Fun Family Ideas for Earth Day
By
|
Earth Day is tomorrow, April 22, and while the day brings attention to serious matters, why not use it as an opportunity to educate your family and focus on fun activities too?
10 Fun Family Ideas for Earth Day
1. Play "Pin the Tree On the Earth"
One thing the Earth needs is more trees, right? They're being cut down faster than they can be planted. Playing this game is a great way to explain the issue to kids and inspire them (and you, to take action).
This homemade game is made from Ecospun felt (from recycled plastic bottles), but you could make one out of paper if you prefer. The winning player can be the one who pins the tree closest to North or South America or in an ocean without touching land.
2. Go on an Earth Day Treasure hunt
Write a series of clues on pieces of recycled or pre-used paper, leading from your home around the neighborhood to a treasure chest containing some organic treats or small treasures like polished rocks and seashells. The clues should focus on the outdoors and be tailored to the age of the children.
3. Read eco books together. Find a nice nearby tree, sit together beneath it. Read and discuss a meaningful book with an environmental theme like The Giving Tree. Here's a list of great titles for kids of every age.
4. Visit an organic farm, preferably one with animals if you've got kids in tow. Find one near you at www.LocalHarvest.org
5. Volunteer – There are many organizations that will welcome families with children of all ages.
6. Download an Earth Day kit from the EPA. It's filled with loads of ideas for fun activities.
7. As a family, take the 5-minute quiz at Practically Green. Find out how "green" you are and choose three actions that will improve your score.
8. Start a garden. If you've never done it before or don't have room, just fill a container with the best dirt you can find (be sure the container has drainage). Follow the directions on a package of mixed greens. You'll be nibbling lettuce very quickly. (And a secret you might not know. Children who grow veggies, actually tend to eat them even when they claim not to like them.) You can also plant some trees. You can get 10 trees for free when you join the Arbor Day Foundation.
9. Go no waste for the day. That means no purchasing anything in a package or at least, reusing or recycling any packaging, newspaper or anything else possible. It also means not tossing food scraps. If you don't want to eat it, compost it, put into the freezer for later soup making, share it with neighbors… anything but throw it into the trash. Who knows, maybe you'll make a habit out of no waste.
10. Do a recycled craft. Make birdhouses from milk cartons. Craft a solar oven from a pizza box (or any cardboard box). Download a list of endangered species and draw your own decorated calendar. Empty out a drawer each, but instead of throwing the drawer's contents away, challenge yourselves to make something from it.
Whatever you do on Earth Day, spend a bit of time noticing what nature gives us and give a little something back.
Lynn Colwell and Corey Colwell-Lipson are a mother and daughter team and co-authors of Celebrate Green! Creating Eco-Savvy Holidays, Celebrations and Traditions for the Whole Family.  Visit www.CelebrateGreen.net for more info.