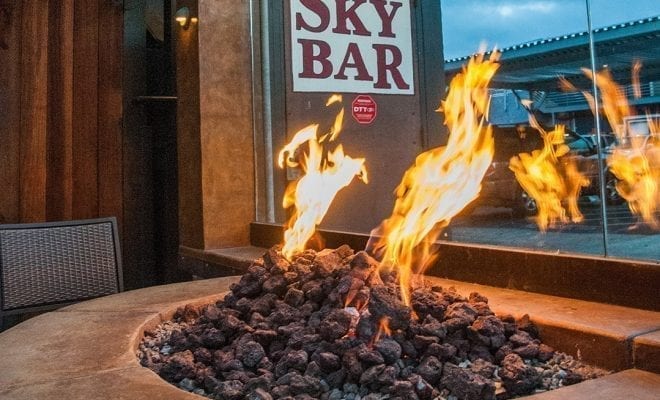 PB Alehouse Fire Pit, Courtesy Photo
Entertainment & Events
Warm Up Next to These Fire Pits During These Chilly San Diego Days
By
|
The so-called "Polar Vortex" is making San Diegans run for cover and bundle up. Use the frosty evenings to your advantage by warming up next to these fire pits that are sure to light up your long winter nights.
Never fear Backyard Kitchen & Tap's indoor/outdoor seating arrangements: with cozy fire pits and dog-friendly patio seating, there's a dining option for everyone. This Pacific Beach staple does it all with their extensive offering of tasty bites and illustrious drinks, plus live music and late-night dance floor. Whatever brings you to Backyard, the fire pits will keep you toasty!
Nothing could be better than watching the sunset from Pacific Beach AleHouse's deck, especially when there's a crackling fire keeping the evening chill at bay.
WESTROOT Tavern, in The Village at Pacific Highland Ranch, lends an inviting and cozy atmosphere no matter what the weather brings. With fire pits and heat lamps on the patio, you won't have to call off your night out due to those brisk evening temps just yet.
You'll never be bored at Mavericks Beach Club in Pacific Beach, and whether you're lounging by their outdoor fire pits, watching a game on the big screens, playing the outdoor games or dancing the night away in their dance club, there's plenty to keep you entertained, even if the San Diego weather isn't cooperating.
Head up north to Carlsbad's Park 101, an 8,000 square-foot plaza, featuring the Tamarack View deck, complete with a rooftop lounge, fire pits and tons of cozy seating options. With 32 local beers on tap, and a variety of outdoor games at your disposal, there's entertainment for everyone at this lively destination.
That morning chill can be brutal, but don't let the need for a jacket keep you from brunching! Head to Toast Gastrobrunchin Carlsbad, where you know you'll stay toasty (ha!). Grab a seat around their patio fire pit and delight in their superb brunch items.
Don't let the record-low temperatures get you down, and absolutely do not let them keep you at home! Warm up next to these fire pits and enjoy everything San Diego has to offer, even when it's not 75 and sunny.