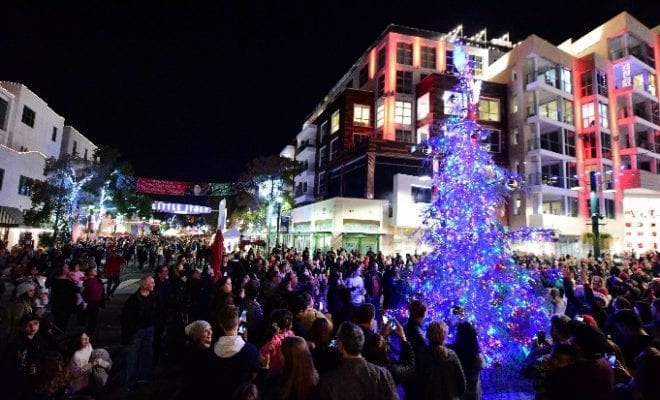 Entertainment & Events
Tree Lighting Ceremonies Happening Around San Diego
By
|
Christmas is right around the corner, and there is no better way to ring in the holiday season than by taking your loved ones to a tree lighting ceremony in San Diego. Enjoy the twinkling lights, the warm holiday cheer, and maybe even a cup of hot cocoa at one of these dazzling tree lighting events.
Free event. Sat., Dec. 14, 3:30-8:30 p.m. (tree lighting at 5:15 p.m.). 14134 Midland Rd., Poway.
Head to Old Poway Park and enjoy horse rides, face painting, model trains, and even a special visit from Santa himself.
Sat. Dec. 7, 1-7 p.m., (tree lighting at 5:35 p.m.). 3 Civic Center Dr., San Marcos
Come out for some family fun in San Marcos at Santa's Village. Get a photo with Santa, make some festive crafts, and grab some snacks while you enjoy the tree lighting ceremony.
Free event. Sat., Dec. 7, 5:30-7:30 p.m. (tree lighting at 5 p.m.). Lumberyard courtyard, 937 S. Highway 101, Encinitas.
Cruise over to the coast for this tree lighting ceremony followed up by a massive festive parade featuring Santa and his little helpers.
Free event. Sat. Nov. 30, 6-9 p.m., 1923 Calle Barcelona, Carlsbad.
The 17th Annual Lighting of the Forum will feature a live stage show, including a Holiday Light Presentation and Magical Snowfall. Santa will arrive in style on a horse-drawn sleigh and flip a switch officially starting the tree ceremony. Complimentary refreshments will be provided by local restaurants.
Free event. Sun., Dec. 8, 3-5 p.m. (tree lighting at 5 p.m.). Northwest corner of Camino Del Mar and 15th St., Del Mar.
Come out to this festival by the sea and get a holiday photo-op with Santa and Mrs. Claus, spread some cheer with carols, and enjoy free refreshments during the tree lighting ceremony.
Free event. Sun., Dec. 8, Begins at 4:30 p.m. Fletcher Cove Park, 111 S. Sierra Ave., Solana Beach.
You can't beat the beautiful views of Solana Beach, but a brilliant tree lighting makes it that much better. This festival will feature live music, cookies, and cheerful Christmas vibes.
Free event. Sat., Dec. 7, 4-8 p.m. (tree lighting at 6:30 p.m.). Piazza Basilone, Fir St. and India St., Little Italy.
Head over to the Piazza in Little Italy for an evening of crafting, holiday treats, and tree lighting.
Sat., Dec. 7, 2-5 p.m. (tree lighting at sunset). End of Crystal Pier, Pacific Beach.
Meet Mr. and Mrs. Claus, enjoy holiday food, and entertainment as you get to witness the lighting of the pier tree at sunset. Professional photographers will be on-site for photos with Santa for $10, but if you bring school supplies to donate, photos are only $5.
Sat. Nov. 30, 1-8 p.m., Balboa Park, Spreckels Organ Pavilion, San Diego.
Entering its fourth celebration, Christmas on the Prado features a dazzling spectacle of a tree lighting, including entertainment, photos, crafts, and Nativity scenes.
Free event. Fri., Dec. 6, 5 p.m. Rotary Park, Orange Avenue at Isabella Avenue, Coronado.
Watch the Mayor flip the switch at this gorgeous tree lighting ceremony in beautiful Coronado. Be sure to stay for the holiday parade that begins after!