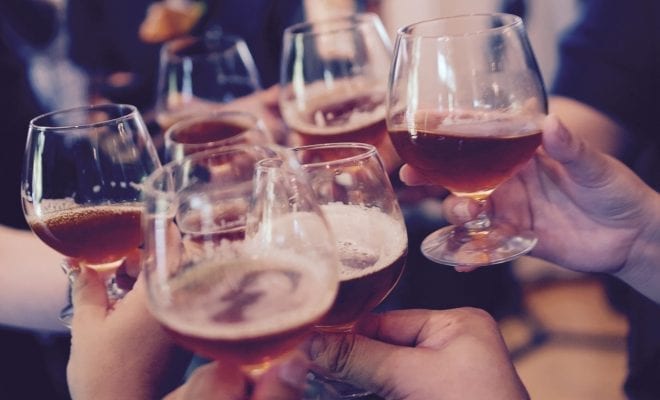 Entertainment & Events
This Weekend in San Diego 5/4-5/6
By
|
This weekend welcomes nerdy festivities, with many spots celebrating the iconic "May the fourth be with you" date. Don't miss out on new beer releases and other geeky activities. Don't be afraid to get you nerd on with other sci-fi lovers. And of course, we can't forget the highly anticipated Cinco de Mayo, a tequila and tacos lovers dream. Join the many restaurants and bars celebrating the festive holiday. Put on your sombreros, drink some margaritas, and enjoy mariachi with friends.
Click on these links for a more comprehensive list of restaurants and bars to hit for Cinco de Mayo and other Cinco de Mayo celebrations, otherwise, read on for a full list of great things going on this weekend in San Diego.
Friday, May 4
Intergalactic Brewery hosts lightsabor tournament 
Local Star Wars fans will transform a local craft brewery into a lightsaber dueling arena. The annual "May The Fourth Be With You" event is hosted by both InterGalactiCon and premier lightsaber combat group San Diego Sabers. For months, the San Diego Sabers have been training in local parking lots and parks for their opportunity to advance in rank and take home the trophy. Now, the group will show off their martial arts chops and allegiance to the Rebel Alliance.  7 – 9 p.m. For more information on InterGAlactiCon (and to win tickets), click here.
"May the Fish Be With You" 2nd Annual Star Wars Party @ Beerfish
Beerfish will be showing the Star Wars series, pouring ACE Space, as well as space-themed beers from Pizza Port and others, beginning at 11:30 a.m. on Friday, May 4th. Tickets are recommended but not necessary to attend, and a limited amount of collector's-edition glassware and t-shirts will be available for purchase at the event. A pre-event package is for sale, which features a custom commemorative beer glass, t-shirt, hoodie and a chance to win a bottle of ACE Space signed by Angela House.
Old Town Cinco de Mayo Celebrates its 35th Year
Grab your amigos and head over to historic Old Town to spice up your weekend at the FREE annual Fiesta Old Town Cinco de Mayo happening all weekend! Fiesta Old Town is sure to be muy caliente as it transforms the historic Old Town, creating bustling mercado, non-stop music, live entertainment, lucha libre wrestling, and a huge display of lowriders and other incredible autos. Get ready to shake your maracas to over 40 live Latin bands and groups on the Cafe Coyote Stage, Mariachis and the Ballet Folklorico competition in the historic state park. Between the music, feed your curiosity and love for history by exploring the museums, specialty shops and the lively streets where you can purchase an array of merchandise.
Rooftop Cinema Club showing The Big Lebowski (1998)
Rooftop Cinema Club just arrived in San Diego, and will be showing films atop Manchester Grand Hyatt San Diego. With its stunning views of the city from every angle imaginable, Rooftop Cinema Club is revolutionizing the movie-going experience in its unique and one-of-a-kind setting underneath and among the stars. Open to adults 18-and-over. Ticket prices start at just $17 per person for a single deck-chair underneath the moon and the stars. Showing is at 7:30pm
Enjoy a free Key of She concert in The North Chapel, see Malashock Dance School's Junior Company performances in Dorothea Laub Dance Place, meet David Krimmel and view Sky Mosaic – a new outdoor art installation, explore the A Shot in the Park exhibition at California State Parks in Barracks 26. Located at the Art District at Liberty Station. Event begins at 5pm.
First Friday Art Walk: Music At The Museum With Sarah Rogo 
Head to the Oceanside Museum of Art to enjoy pay-what-you-wish admission to explore the exhibitions and stay for the concert as Art Walk extends into the night with soulful songstress Sarah Rogo. The music starts and cash bar opens at 7:00pm.
Saturday, May 5
The Cinco de Mayo Celebration in Balboa Park is emerging as another signature community-driven event, co-produced by the Balboa Park Conservancy and the City of San Diego Parks and Recreation Department. Head to Balboa Park this Saturday from 11am-6pm. People of all ages are invited to experience one of the region's largest free Cinco de Mayo events at the first annual Cinco de Mayo Celebration in Balboa Park, featuring Mexican-themed music and dance performances, colorful horseback riders, strolling mariachis, hands-on activity booths for kids, arts and crafts vendors, food trucks, and more.
Kids Art Class Mother's Day Card Making
Located at the Bonita Museum & Cultural Center from 12 -2pm, kids can craft their perfect Mother's Day Card to give their mom's on the special day.
The celebration of music, dance, and culture in Southern California includes panel discussions, workshops, performances, DJs, and yoga sessions throughout the weekend. Immerse yourself in the music, art, and community at the Worldbeat Cultural Center, which will play host to the festival on Friday and Saturday. This 2 day event is happening from 3-5 pm on Friday and Saturday.
24th Annual EastLake Cycle & 5K and Technology & Innovation Fair
Explore majestic hills, a stunning lake and exceptional running trails along the Chula Vista Park District while participating in either the 25 Mile Road Bike Ride, the 18 Mile mountain bike ride or the 5K community run/walk. New to the event this year is a Technology & Innovation Fair that highlights the purpose of the event, supporting technology in the schools. Attendees will be able to explore technology and stem themes. This event is a fundraiser hosted by EastLake Educational Foundation (EEF), a nonprofit organization committed to supporting technology enhancements in the EastLake public schools. 
Get your tickets here.
You can help create a more humane San Diego for companion animals and wildlife across our region by joining us at the Walk for Animals on Saturday, May 5 at Liberty Station. Whether it's providing an animal with a temporary home to heal, helping a family adopt a new pet, or rescuing animals from emergency situations, your participation in the Walk for Animals helps make this lifesaving work possible. You and your canine companions will have a great time as we celebrate our love for animals, while raising vital funds for San Diego Humane Society. $40 for adults & $20 for children. Race begins at 7:00 am.
San Diego Tacos & Tequila Festival @ Liberty Station NTC Park 
Local breweries will be serving unlimited samples of over 100 craft beers including summer specialties and seasonal items. Attendees also will be able to indulge in complimentary tequila samples from eight featured tequila brands while fifteen of the top restaurants in San Diego serve up signature tacos priced between $3-$5. There will also be two stages with DJs and live music from Red Not Chili Peppers, Los Chido, and headliner Vokab Company. Get your tickets here.
Winemaking Demonstration @ Curds & Wine
See just how easy it is to make your own wine, at home or on site. Go through all of the basic steps of making wine from kits, from start to bottle. This will be an interactive demonstration, you will have an opportunity to take part in winemaking steps hands-on. The demonstration will take about two hours, and then you can start your own wine. This event is FREE and takes place from 1-3pm.
Migos & Margaritas Bar Crawl, Gaslamp
Grab some amigos and join the bar crawl for drinks and jams with Migos & friends. The bar crawl will be hitting up some favorite spots in the Gaslamp for a full afternoon of fun.  With your ticket you'll get free food, exclusive drink specials, and the dope sounds of DJ Cutlos Supreme and DJ Drumright. Get your tickets here.
Sunday, May 6
Upscale Charity Bake Sale @ HERB & EATERY 
A baker's dozen of San Diego's top pastry chefs and bakers will provide signature baked goods—including internationally inspired creations—at the 2018 Chef-Driven Bake Sale in support of Monarch School Hosted by local food writer Erin Jackson of DiningOut and Edible San Diego, the high-end bake sale will be held at Herb & Eatery from 10:30 a.m. to 1 p.m. General admission (starting at 11 a.m.) is a $10 donation. Once inside, all baked goods are $5 each. Admission is free for kids. 
Starting at the NTC Park at Liberty Station at 8am, the race will be followed by a family friendly 5K walk at 9:00 a.m. Participants will receive a collectible race medal and are encouraged and invited to attend the post-race celebration, including a Kid Zone with bounce house, obstacle course, carnival games, diaper dash contest, Family Resource Fair, merchandise vendors, food trucks and exotic cars. Attendees are invited to show their spirit by dressing up as their favorite hero! No matter if it's Superman, Wonder Woman, Police Officer, Firefighter, Soldier or even a Doctor, all heroes are welcome. Registration fee for walkers is $30 for adults and free for children under 12. Runners' fee is $45 for adults and $15 for children under 12. Participants are encouraged to raise funds and awareness for NICU families by creating a team and a personalized fundraising page.
Fiesta de los Penasquitos: Street Fair and Parade
The day starts with a community parade celebrating community groups and local schools. The festival features three stages of live music and performances including The Bayou Bros., the Martin Coughlin Band, and the Dirty Martinis. Also on stage, performances from Three Treasures Cultural Art Society, Samahan Phillipine Dance Company, and Southern California Ballet. New this year is the addition of the PQ Beer Garden serving beers from local breweries. Plus food from around the world, arts and crafts, carnival rides, and a kids fun zone. Community service awards and Volunteer and Business of the Year presentations on the Main Stage. The FREE event from 10 am – 5 pm.
The Mom Made Market @ the Del Mar Fairgrounds
The Mom Made Market is back for its 4th summer market in San Diego and we will be returning to the Del Mar Fairgrounds in O'Brien Hall. There will be plenty of room for strollers and tons of vendors.Shop from over 200 local #mommade shops and enjoy tons of onsite entertainment with your kids. This event is taking place on Saturday & Sunday from 10am -5pm. Ticket Price: $5 Parking fee collected by Fairgrounds.
Wine Tasting @ Historic Rancho Guejito
Spend you Sunday wine tasting at Historic Rancho Guejito, est. 1845. The vineyard is now open to the public every Sunday. Featuring a hay bale tractor tour of our blooming citrus groves and vineyard. With live acoustic music by local artists and gourmet food from various San Diego food trucks. The landscape is virtually untouched from a time when California was but a colonial province of Mexico. Wines are crafted from the nurtured vineyards of the historic Ranch, grown among isolated meadows, high mountains, forests of Coulter pines, and centuries old, rare Engelmann Oak woodlands. Four, (1) ounce Tastings $10.00 Four-ounce glass of any wine $8.00 Enjoy tractor tours, yard games, and walks around the farmhouse grounds for free.