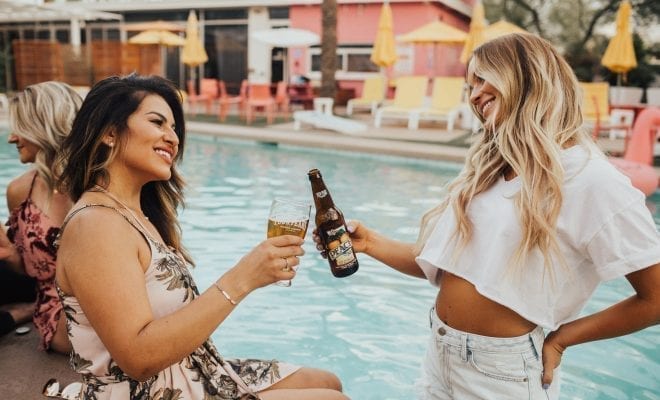 Entertainment & Events
This Weekend in San Diego 4/12-4/14
By
|
The weekend is back and San Diego is bringing you the best family activities, nature walks, heart-warming plays, new art exhibits, and more! As the weather warms up, San Diego's bustling farmers' markets are sure to be filled with the freshest produce and gorgeous plant arrangements. There's no shortage of activities this weekend, find out what else is going in America's finest city.
Friday, April 12th
The La Jolla Concours d'Elegance Presented by LPL Financial and Pacific Sotheby's International Realty will be returning to the stunning shores of La Jolla, California, Friday, April 12th through Sunday, April 14th, 2019. The 15th Annual La Jolla Concours d'Elegance will showcase 150 of the most exquisite automobile displays in the world. Earning the reputation as one of the finest internationally renowned classic automobile showcases in the United States, the La Jolla Concours continues to attract discerning car enthusiasts from around the globe.
Classical Academy High School presents this live stage musical set to the rockin' rhythm of its Oscar and Tony-nominated top 40 score (the soundtrack album reached #1 on the Billboard charts and sold over 15 million copies!). Based on true community events that include a city ban on dancing, Footloose celebrates the wisdom of listening to young people, and learning to guide them with a warm heart and an open mind. The show begins at 4:00 pm.
On Friday, April 12, at 9 a.m. head to the San Diego Museum of Art to see the Art Alive exhibit. Over 100 floral designers work will be on display for you to explore with the other 12,000 guests.
Explore the swap meet this Friday to find hidden gems and walk away with new treasures, starting at 11 a.m.
The 5th annual Mom Made Market is coming back to San Diego at Frist Presbyterian Church of Oceanside starting at 4 p.m. Check out the new sales and bring the whole family out for a Friday adventure.
It's time to celebrate the weekend with $5 Fridays at 710 Beach Club starting at 5 p.m. Bring out your friends for an adventurous night out filled with your favorite drinks.
Come out to Carruth Cellars on Friday at 6 p.m. to celebrate two new wine releases. There will also be live music at the event.
Inspired in part by the adventurous spirit that fuels the culture of street sports, Volta explores the themes of celebrating differences and unique qualities in a world where technology often isolates people from one another rather than freeing them. Catch the show at the Del Mar Fairgrounds at 4:30 or 8:00 pm. Tickets start at $49
Michael Kosta is a standup comedian, TV host and former professional tennis star (ranked 864 in the world, as he is quick to self-deprecatingly admit). Most recently, Kosta made his debut as a correspondent on The Daily Show with Trevor Noah. Kosta is no stranger to the world of talk shows. He was the host and co-executive producer of The Comment Section for The Kardashian Network (formerly E!) and co-host on Fox Sports 1's, Crowd Goes Wild. Don't miss his live performance at the American Comedy Company in Downtown at 7:30 pm. Tickets are just $9.00
California Ballet presents a reimagined version of "Cinderella" by new artistic director Jared Nelson. Nelson's visionary choreography breathes new life into the timeless story of the little cinder girl with big dreams, her malicious step-family, and the dashing prince who steals her heart. Set to Prokofiev's classic score, this production elevates classical ballet for the contemporary audience. Nelson will also be giving a pre-show lecture an hour before every "Cinderella" performance. The run time is two hours, including one intermission. The show begins at 7:30 pm, tickets start at $25.
Saturday, April 13th
The Carlsbad Premium Outlets will host an Easter Eggstravaganza on Saturday, April 13th from 11am-2pm. Visitors can enjoy face painting, coloring and crafts, as well as a complimentary Easter Egg hunt around the center at participating retailers. Plus, the Easter Bunny will be available for free photos – just bring your own camera/phone.
Gather at Giardino for a weekend pop-up pilates and cooking class. Start with a Pilates Mat class led by Vai Fitness, and end with a Ravioli Cooking Class by Chef Marco. The classes are $55, which includes the pilates and cooking class, plus ravioli to eat after.
Catch the best of Asian and Asian American cinema during the 2019 SDAFF Spring Showcase. Spanning 8 days, see the newest and hottest films from China, Indonesia, Hong Kong, South Korea, the Philippines, Vietnam, the US and more. The 8 day festival will take place at Ultra Star Mission Valley at Hazard Center at 7:00 pm; tickets start at $9.
You don't need to drive any farther to see this spring bloom. Batiquitos Lagoon Foundation on Saturday at 9 a.m. for beautiful views. Enjoy the wildlife and the scenery for a relaxing day.
Enjoy a trip to space with the whole family at The San Dieguito River Valley Conservancy at the San Diego Archaeological Center at 10 a.m. Explore the new exhibits, educational meetings, and other interactive activities.
Sunday, April 14th
If you enjoy the outdoors and sport-fishing, come out Saturday at 8 a.m. at H & M Landing. Enjoy a full day dedicated to cooking demos, fish fillet demonstrations, live music and entertainment, and other contests that you can enter.
This family event is taking place at Embarcadero Marina Park South to raise awareness of depression and anxiety in teenagers. Tickets start at $15.
Enjoy wine and beer as you indulge in avocado-heaven. There will be guacamole contests, best dressed avocado winners, and live music, along with shopping. The delicious event starts at 9 a.m.
Join your two loves together of Beer and Nomad Donuts at Thorn Street Brewery with tickets starting at $14. Pair your donut with your favorite beer and enjoy a beautiful day of tasty treats starting at 11 a.m.
"Right this way, your table's waiting." The Coronado Playhouse offers the immensely popular musical about life at the Kit Kat Club in Berlin in the 1930s. The Nazis are rising, but "you are invited to leave your troubles outside and be entertained." Julia Cuppy directs, with choreography by Jaese Lecuyer. The show begins at 2:00 pm; tickets start at just $22.
Love good food and wine? You won't want to miss Meet the Chefs, one of San Diego's best food and wine events. This exquisite culinary experience treats over 350 guests to sample signature dishes from over a dozen premier restaurants and chefs in San Diego, complemented by an extensive selection of wines and champagne. The Hilton's poolside area lends a beautiful atmosphere to enjoy an afternoon of fantastic food, wine, auction items, opportunity drawings, and live music. All proceeds raised will directly benefit Casa de Amparo. The event begins at 12:30 pm; tickets start at $150.